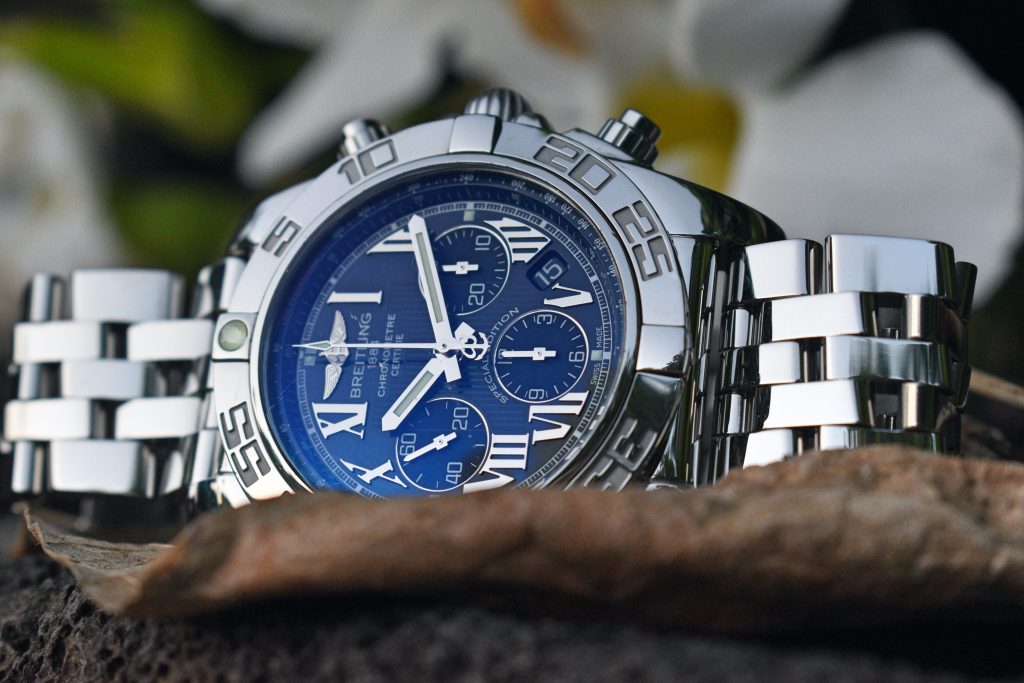 Used and Pre-Owned Breitling Watches For sale 
 Just as with any mechanical watch, scheduled maintenance is a thing. You should be servicing it early unless it has an issue, and many times, the schedule is simply overkill. Breitling does recommend a service every 4-6 years, but realistically, double that is perfectly fine. If you are looking at a ten year old watch, you do want to make sure it has been serviced recently.
They Have a Unique Style
There are plenty of watches that perform the exact same function as a Breitling. The thing about breitling is that you will not confuse it with any other watch brand. There's nothing ridiculous or extreme about the Breitling style, but it's just that, Breitling style. When you buy a preowned Breitling, anyone familiar with the brand will just know you are wearing one. Just look at the Navitimer World, an icon of modern Breitling. That bezel with the slide rule is a Breitling fundamental. 
One idea you will find on many Breitling models is the high gloss finish in the metal. It is a stand out finish, and has become synonymous with the brand. The finish even graces their bracelets, which are arguably some of the most comfortable in the business. Rest assured that when you buy a preowned Breitling, you are more than likely going to be making a statement.
One more amazing model with a unique style is the Professional. It may be quartz, but in the Breitling world, that's not really a bad thing. The analog/digital fusion of this watch hasn't been matched in style by any other manufacturer. It is a real tool watch that will never leave your side. A faithful companion, if you will, that will never be mistaken for anything other than a Breitling.
They are Involved With Some Big Names
Now Breitling isn't focusing on "luxury sports" such as Formula 1(which yes, they were heavily involved with a few years ago), but instead, are focusing on relevant, real-world sponsorships that make sense within the brands segments, air, land, sea, and professional.
Starting with air makes sense, it was the Navitimer and Chronomat, the later with the famous slide rule, that truly helped Breitling take off. Followed by the sale to Ernest Schneider, a pilot and watchmaker, Breitling has had aviation in it's blood for years. When you buy your preowned Breitling, often images are conjured up of the bright yellow on the Breitling Jet Team or that bright yellow Extra 300 barrel rolling though the sky. It's been a wonderful relationship between the sky and the navigation instruments used by pilots, the Breitling.
When you look to the sea, it was a natural evolution. In the 1950s, man had already conquered the sky. Next up, the sea. Dive watches were all the rage at the time, enter Breitling. Breitling didn't release just any dive watch, they released the Superocean. They combined dive watch utility, with style. It became a beloved watch among the new age of deep sea explorers. With continual evolution, you have some of the most unique divers available today. 
Continuing to land, take a look at the Endurance Pro. This watch was on the wrist of 21 year old Tadej Pogacar when he took the win at the 2020 Tour de France. It was his first French Tour, first win in France, and sure to be the first of many. The Endurance Pro fits any active lifestyle, whether it's cycling through the mountains of France, or hiking the trails of the might Redwoods, you can't go wrong with an Endurance Pro on your wrist. True to the nature of the active individual, the Endurance Pro comes with color. You can buy one preowned with trims in yellow, blue, white, orange, and red. It comes with a Pulsometer utilizing the chronograph so even in the most excruciating environments you can push your muscles through, you can make sure your heart can take it.
Things to Look for When Buying a Breitling Watch
As with every luxury watch brand, when buying a preowned Breitling, you do have to be careful with fakes. The one nice thing about Breitling though, it's not as popular as the big 5 brands, the holy trinity of Audemars Piguet, Vacheron Constantin, and Patek Philippe, Rolex, and Omega. These 5 brands have major issues with blatant fakes. Breitling is not immune to this, but it is nowhere near as prevalent. Finding the right seller is always the way to go. He will guarantee the authenticity and take care of you if something isn't right. 
Be careful of hidden fees when buying your preowned Breitling. On Value Your Watch, we are not required to collect sales tax. Other sites may do that, On a $5000 Breitling, that's an extra $300. If you purchase from an in state seller, he may be required to collect it, but as long as you do your research on the seller, you can buy a wonderful preowned Breitling at a significant discount to new. 
How to Find the Preowned Breitling to Buy
Finding the right Breitling watch for sale requires a lot of work unless you know what you are looking for. Value Your Watch offers a great selection of Breitling watches for sale.
Just remember, it always comes down to who the seller is. Sometimes the watch deal seems too good to be true. You don't want to risk purchasing a Breitling watch from a dishonest person who can potentially scam you.
You might look at different marketplaces and realize that a watch is priced well, but you will need to pay fees such as sales tax, which are charged even if you are purchasing the watch from individual sellers. On Value Your Watch, we are not required to collect sales tax. Only local, in state sales may require it.
Buying Preowned Breitling Watches
Buying preowned Breitling watches is such an adventure. Considering Breitling builds watches for adventurers, it's only natural. Land, sea, or air, Breitling has the watch that fits your lifestyle. If your idea of adventure however, involves fine dining in a suit, They have that covered as well. No matter what you are looking for, buying a preowned Breitling watch can cover that need. One of the advantages had by Breitling was the fact that they had been privately owned their entire existence up until CVC Capital partners bought out the company between April 2017 and November 2018. 
Here are some of the best reasons to buy a preowned Breitling watch. 
They are true adventure watches
They have a unique style
They are involved with some big names
They are True Adventure Watches
This may seem odd in the information age, but these watches have function. Everything that has been replaced by electronic equipment can be replaced by these watches. If you are a pilot, the sliderule on a Navitimer still functions as it should. If you are a diver, the Superocean bezel rotates one way and indicates your dive time exactly as it should. If you are a nature buff, the Avenger does anything you want and more. If you are going on a date to a five star restaurant, both the Premier or the Chronomat can handle the task. No matter the adventure, Breitling is an incredible company that can handle any situation you throw at it. 
When buying a preowned Breitling, never fear because you know it will be a fine companion. This rugged adventure nature gives you a second benefit. Very rarely will you hear about a Breitling needing unscheduled service. If you do, it is a brand that can be serviced anywhere. If you want to send it to Breitling for service, it won't cost you too much either, with the average chronograph service costing about $500, and the non chronograph services being about half of that. Either way you can get Breitling to do it, or your local watchmaker to do it quicker for the same price. 
If you are going to buy a preowned Breitling, it's a good idea to ask about service.
Breitling Watches
Showing 1–32 of 110 results
Showing 1–32 of 110 results