Rolex Officers Watch 9ct Pink Gold, Submarine Hermetic 1924
Rolex
Founded in 1905 in England by Hans Wilsdorf and Alfred Davis as Wilsdorf & Davis, the partnership became known as the Rolex Watch Company in 1915 and moved to its new Geneva headquarters in 1919. The success of the wristwatch can be largely attributed to many of Rolex's innovations which made the company one of the most respected and well-known of all luxury brands. These have included its famous "Oyster" case — the world's first water-resistant and dustproof watch case, invented in 1926 — and its "Perpetual" — the world's first reliable, self-winding movement for the wristwatch, launched in 1933. These would form the foundation for Rolex's Datejust and Day-Date, respectively introduced in 1945 and 1956. Also and equally importantly, Rolex is known for its sports watches, such as the Explorer, Submariner and GMT-Master launched in the mid-1950s.
Why This Watch Is Important
In 1926, Hans Wilsdorf, founder of Rolex, filed a patent for a watertight watch case that would go on to change the course of horological history. The Rolex Oyster was, however, just one in a long line of similar cases conceived to do the inconceivable; conquer the elements.
During the First World War, the advantages of dustproof and waterproof wristwatches became of strategic importance. Rolex, being a relatively young, adaptable and dynamic company, was able to capitalize on the opportunity by producing reliable officer's watches for the British and Allied Forces, and this became a key factor of Rolex's early success. Indeed the superiority of Allied Forces watches is often cited as a significant contributor to the success of the British and allied forces.
Rolex's very first waterproof watch, however, was the Submarine. Also known as the Hermetic, this model is the origin of all Rolex waterproof watches, including the Submariner. Released in 1923, it solved the problem of water ingress via the winding crown by encasing the watch in a second sealed case. This second two-piece outer case, screwed together to form an effective seal against the elements. This simple yet effective design proved popular and sold well in many parts of the British Empire, including India and Burma.
Although quickly superseded by the Oyster case in 1926, the Submarine Hermetic is an interesting artefact from an era when watchmaking was entering a new frontier. Mankind was testing the boundaries of the known world, with intrepid explorers just venturing beneath the surface of the ocean. As Rolex's first waterproof wristwatch, the Submarine Hermetic is the origin and forerunner to the Submariner, and with demand so high for Submariners from the 1950s and '60s, its aquatic ancestor deserves a spot in any Rolex collector's watch roll – especially given its relatively modest price!
The Dial
The wonderful looking ivory cream dial carries Breguet style black numerals with delightful blued steel Cathedral hands. The dial surface is lightly engraved with a guilloche effect which is hard to capture in the images, but catches the daylight beautifully. The railway track minutes ring frames the dial perfectly.
The dial is correctly signed 'Rolex', with 'Swiss Made' at the very bottom of the dial.
This is the original dial which has stood the test of time beautifully.
The Watch Case
The 32mm diameter outer case, in two halves, unscrews to reveal the inner case. This and the inner case are made of 9ct pink gold. The inner case is attached by a hinge in order allow it to swing out to access the winding crown. The hinge and fit is as solid and as nicely fitting as it was when new.
The inner case is constructed in three pieces, also of 9ct pink gold. The case-back of this inner case is hinged to provide access to the movement, as is the bezel to access the dial. These hinges and the fitment of the bezel and inner case-back are perfect.
The inner case-back is signed W&D for Wilsdorf and Davis, which was the original trading style of the Rolex Watch Company. This also carries Swiss 9ct hallmarks and the case serial number 19872 which dates this watch to 1924.
The outer case is shaped a little like a bowl with a screw-down lid. This was designed so it can be screwed down tightly, to make it waterproof. This was an effective method of protecting the movement for use in the humid climates and damp and dusty conditions for which it was designed. The watch was sold and distributed for both military use as an officer's watch, and as an early sports or explorer's watch. The design worked, so it was quite a successful and popular model until the Rolex Oyster cased watches with a sealed crown were released in 1926.
Unscrewing the outer case each time you need to wind the watch became impractical and inconvenient once the more superior Oyster cased watches took the market. These became hugely successful, with both the cushion and octagonal designs. For these reasons, the Rolex Submarine Hermetic is an interesting artefact, but not of much practical use today. This is therefore very much a collector's piece and while it works and runs reliably, it should not be considered for anything other than occasional use, to test the movement.
Although the hermetic case would soon be supplanted by the now-iconic Oyster case, which was patented in 1926, the Rolex Hermetic is an interesting artifact of an era when watchmaking was entering a new frontier. Mankind was just testing the boundaries of the known world, with intrepid explorers just venturing beneath the surface of the ocean; as one of Rolex's first waterproof wristwatches, the Submarine paved the way for the Submariner. And with Submariners from the 1950s and 1960s becoming so popular, its aquatic ancestor deserves a spot in any serious Rolex watch collection.
The Movement
The original movement here is referred to as a Rolex Rebberg movement and it was this movement which helped to establish Rolex and make the company famous. It was made by the Swiss Aegler company, with whom Rolex formed a partnership. Rebberg is a Swiss district where the factory that produced these movements was located. The movement is a 15 Jewel, 9¾ Ligne, meaning this is the smaller-sized Rolex Rebburg movement.
This movement is fully signed, with 'Rolex, 15 Jewels, Swiss Made' as seen on the winding wheels. The Rebberg was available in two grades, the best of these, as found here, has 15 jewels as opposed to the standard 7. The two types had entirely different finishes, the plates of this deluxe version being covered entirely in an engine-turned pattern. The basic 7 jewel Rebberg has less decoration. When buying a 15 jewel Rebberg, it's best to be sure this finish is there, as over the years and as the values of early Rolex watches have climbed, some winding wheels on 7 jewel Rebberg movements have been changed for the Rolex signed '15 Jewels' version in order to try to increase the value. A 7 jewel Rebberg has a plain finish whereas the 15 jewel type here is far more highly decorated, and these two grades should not be confused.
As part of the restoration of this watch, the movement has been overhauled and serviced by our vintage specialist watchmaker. This involves dismantling the watch to all its component parts and careful inspection under high magnification, then replacement where necessary with only original parts before careful reassembly and adjustment.
Please note, Rolex watches of this period are reliable and accurate by the standards of their day. However, they need to be treated with some care, so while perfectly suited for special occasions, we would not recommend this watch for everyday use.
*Please note our 12 months warranty is only applicable if the full list price is paid.
The Box and Papers
Although there are no original papers with this watch, the movement, case numbers and hallmarks all match, dating the watch to 1924.
Detailed particulars will be included with our purchase receipt for your interest and security. A separate insurance valuation for the replacement value of this watch will be provided at the time of sale along with our unique 'Lifetime Authenticity Guarantee' which states: "If this watch proves to be anything less than 100% genuine, authentic and original, a full refund will be given at any time".
The Strap
A high-quality bespoke Italian dark chestnut leather strap has been made by hand to match this watch, which is identical to the type which would have been originally used. This has been made to fit a medium sized wrist, or larger. This will not fit a small size wrist.
In Conclusion
We have here a very rare and important Rolex watch which is in tip-top condition and running reliably. This is a highly collectable watch from horology's most famous name which will provide an excellent financial investment as well as be something to treasure and enjoy! This watch will make a wonderful addition to any Rolex collection and also an excellent investment and heirloom piece, especially if kept in such good condition.
Even though vintage gold Rolex watch prices continue to climb, we still feel sure that examples such as this are underpriced. As time passes and the world market for vintage gold Rolex watches continues to grow, a finite supply inevitably means prices will climb ever higher.
A word about our prices – We always try our hardest to acquire the very highest quality watches we can find, before restoring them to the highest possible standards. We then offer these at the fairest prices we can, taking into account our pre and post sales care and service. This approach means we will never be the cheapest, but nor will we be the most expensive. Indeed there are some well-known stores in West London which are very successful, charging between two to three times the price you see here. We therefore consider our prices to be very fair, given the quality of watches we have to offer.
We are happy to accept PayPal as this is the quickest method of payment. However, if you would like to pay by UK cheque or by UK bank transfer we will be pleased to assist you with this and pass on a 3% transaction saving to you. Similarly, if you wish to pay by International SWIFT or Bank Wire Transfer, we will provide you with our BIC / Swift number and our IBAN number.
Please check the import duties and any taxes your government may apply, these are different for each country and unfortunately out of our control.
We understand there may be some 'loopholes' that may help you avoid these charges, however attempting to use these could impact our ongoing ability to serve our growing international customer base.
For those that happen to visit the UK on occasion we are of course more than happy to store your watch until we can meet you in our offices in Kensington, London, and your watch directly to you there.
Please note, we welcome part exchanges, along with outright purchases of similar watches for us to restore, service and list. We can also offer Watch Service, Watch Repair & Watch Restoration, please see here.
If you have any questions please call 020 7727 7095 or 07515 949 250 or if calling from overseas on +44 7515949250.
We are here, ready, available and awaiting your call!
Finally, please enjoy some time spent viewing our other fine vintage gold watches!
Thank you.
Vendor Information
Store Name:

Vintage Gold Watches London Ltd

Vendor:

Vintage Gold Watches London Ltd
Address: Kensington Pavilion
96 Kensington High Street
London
W8 4SG
United Kingdom (UK)
No ratings found yet!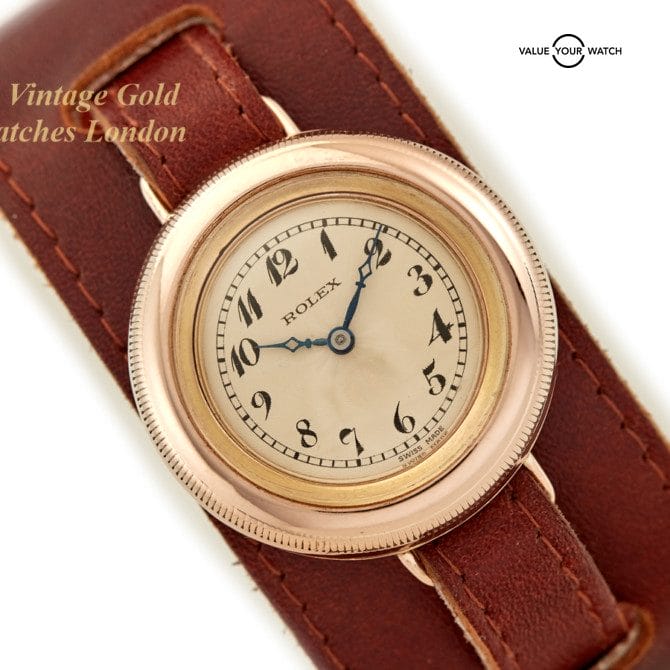 Rolex Officers Watch 9ct Pink Gold, Submarine Hermetic 1924