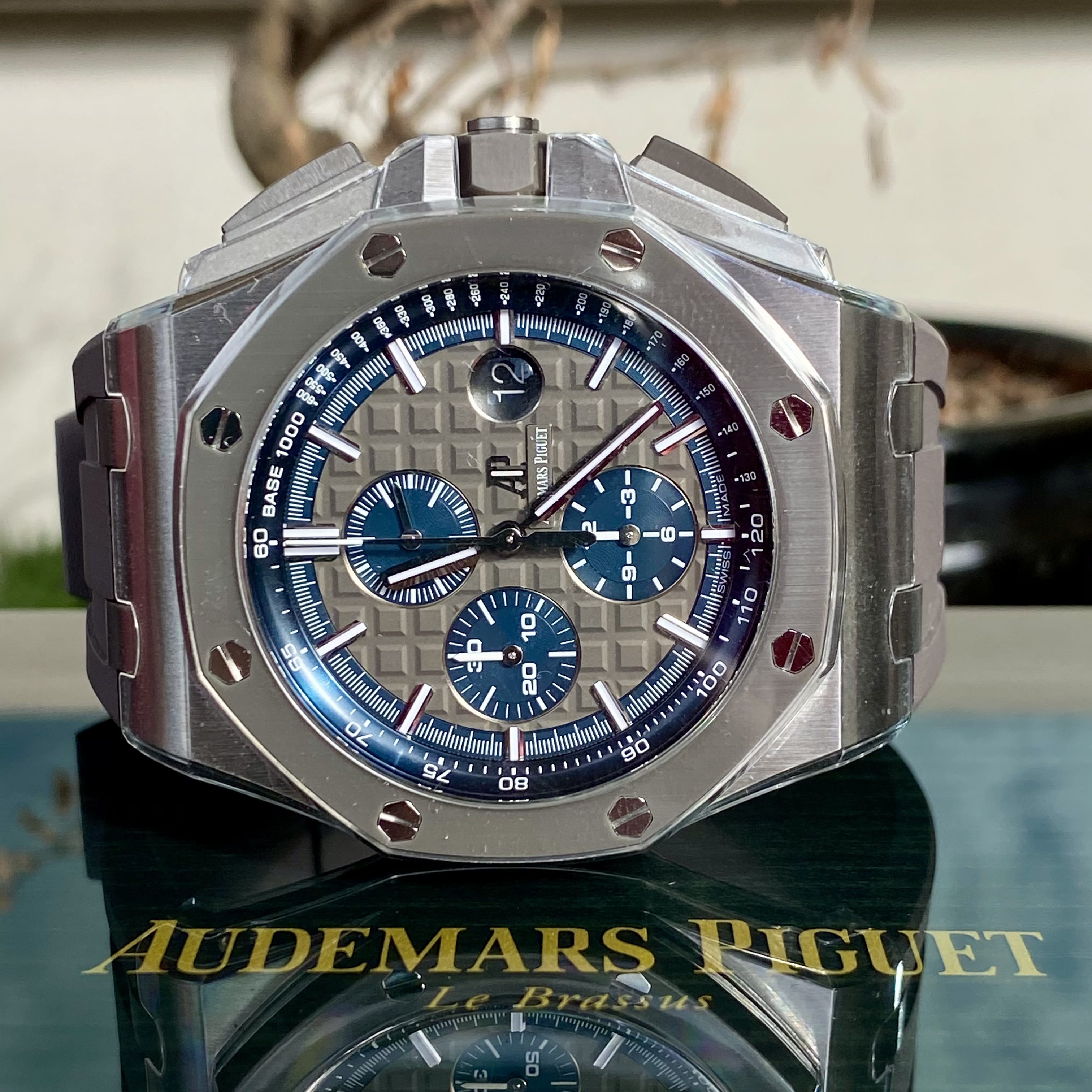 Audemars Piguet Watches for Sale
Buying preowned Audemars Piguet watches really becomes a divine effort, mainly due to the brand's heritage and illustrious nature. When you are looking to purchase a preowned watch, Audemars Piguet is in a class by itself. Only three watch brands command the same respect, and Audemars Piguet is one of the two that are still private owned.
Audemars Piguet started with the merger of two master watchmaking families. Together they introduced true innovation. They have some of the most complicated, thinnest, and revolutionary movements in the game, including the world's first minute repeater movement for a wristwatch, and the award winning Grande Complication.
The most significant advantage when purchasing a preowned Audemars Piguet is the value. It is normal for a preowoned Audemars Piguet sport model to be worth more second hand then new. This is due to the fact that most people can not buy an Audemars Piguet new, and are forced to buy preowned models. The good news for you, is if you do decide to buy a preowned Audemars Piguet, the watch is almost guaranteed to hold its value, if not appreciate.
Here are the top reasons to buy a preowned Audemars Piguet
Audemars Piguet Watches Hold Their Value

Audemars Piguet Has Iconic Designs

Audemars Piguet Consistently Attracts Top Brand Ambassadors
Audemars Piguet Watches Hold Their Value
Supply and demand is king in the watch world. People want what they can't have. In 2018 Audemars Piguet only produced 40,000 watches. These watches sell out immediately and drives the preowned marketplace. Since they are not readily available new, and there are such a limited number of watches produced, buying a preowned Audemars Piguet generally requires a premium. 
Due to the technical prowess and limited availability of watches, buying a preowned Audemars Piguet watch can truly be an investment, especially their super popular Royal Oak Offshore lines.
Not every preowned Audemars Piguet can be considered an investment buy, but you can be sure that if you're not after a super hot model, the pieces will generally not lose any value
Audemars Piguet Has Iconic Designs
Gerald Genta was an active watchmaker in the 70s, and was one of the biggest names involved in the saving of the Swiss watch market. The Royal Oak, a Gerald Genta design, was revealed at Baselworld in 1972. Popularity was immediate and a legend was born. 20 years later, to celebrate the anniversary, Audemars Piguet commissioned a talented Emmanuel Gueit to design the larger Royal Oak Offshore. Proving just as popular as the original, it guaranteed that buying a preowned Audemars Piguet Royal Oak/Offshore keeps you attached to the top of the luxury sport watch world. 
The Millenary is more recent icon in Audemars Piguet's lineup. An oval case, domed crystal, and offset dial give a three dimensional look, as well as provide a view of the balance wheel. The calibre 4104 is reversed to reveal more components on the dial as opposed to through an exposed caseback. Buying a preowned Audemars Piguet Millenary opens you up to a modern classic. A design like none other, that few could have pulled off as well as Audemars Piguet.
Audemars Piguet Consistently Attracts Top Brand Ambassadors
If you look at the Royal Oak Offshore, one of the things you will find is the number of special edition pieces. These were designed together with an icon as an ambassador. Some of these names are Shaquille O'Neil, Michael Schumacher, Arnold Schwarzeneger, Jay Z, you get the idea. With features such as the 2 and 3 reversed(in reference to Shaq's iconic #32), and pusher guards(the T3 Offshore) Audemars Piguet does some interesting things with special watches.
You also have the brand ambassadors that can be seen sporting their very own Audemars Piguet. Serena Williams, Steph Curry, Denzel Washington, John Mayer, Novak Djokovic, are some of the illustrious names that have had their wrists graced with the presence of Audemars Piguet. Buying a preowned Audemars Piguet puts you in some elite company.
Things to Pay Attention to When Buying Preowned Audemars Piguet
Yes Audemars Piguet has fallen into the same cycle as other major swiss manufacturers. They are so iconic that they have fallen prey to the Chinese knock off syndrome. You really do have to pay attention to the watch you are purchasing. Over the years, cloning has become so good, you may want a professional to inspect any purchase you make when buying a preowned Audemars Piguet.
One way to buy a high quality preowned Audemars Piguet is to find the right buyer. These buyers do their research openly and transparently so they can give you the value you deserve. They rely on reputation, and can't afford to have it ruined with a fake. Many of them are either watchmakers themselves, or work closely with one.
If you are one to do your own research on buying a preowned Audemars Piguet, feel free, and when ready to purchase, you can contact any number of trusted preowned watch dealers. If the search does not interest you, feel free to have your dealer do the search for you. Many of the best dealers will find the watch of your dreams, even if they do not possess it right now.
How do You Find Audemars Piguet Watches to Buy?
Finding the right Audemars Piguet watch for sale requires a lot of work unless you know what you are looking for. Value Your Watch offers a great selection of Audemars Piguet watches for sale.
Just remember, it always comes down to who the seller is. Sometimes the watch deal seems too good to be true. You don't want to risk purchasing an Audemars Piguet watch from a dishonest person who can potentially scam you.
You might look at different marketplaces and realize that a watch is priced well, but you will need to pay fees such as sales tax, which are charged even if you are purchasing the watch from individual sellers. On Value Your Watch, we are not required to collect sales tax. Only local, in state sales may require it.
Audemars Piguet Watches
Showing all 14 results