Almost all watch manufacturers have a dive watch category these days. It has become quite a ubiquitous genre and one that produces excellent sales numbers for any company that includes one in its product line.
Why are they so popular? I must confess that my musings on this subject are purely subjective and completely based on my own emotions. The dive watch evokes a certain sense in its wearer. It is part rugged adventure seeker, risk taker, and a person that ventures into the unknown knowing full well the perils that await but confident in one's ability to handle anything thrown in one's way.
These are all elements that I believe a majority of men, myself included, aspire to have, even as we daydream our way through our 9 to 5 drudgery and come home to our milquetoast reality. Who doesn't want to be that dashing superspy that saves the world and gets the girl? It is this aura around the dive watch that makes it so desirable for most men. It is also handsome on the wrist and is easily at home in casual wear and has enough sophistication to be worn with evening wear without missing a beat!
All that said, enter the Breitling company under the helm of Leon Breitling who was then succeeded by Willy Breitling when Leon passed away. They were pioneers of the tool wrist watch, developing the first wrist worn chronometer widely used by military aviators, the Navitimer. This phenomenal watch became an indispensable tool for pilots, and because of its widespread utility, became the de facto standard in the world of general aviation.
After Breitling conquered the aviation world with its Navitimer, it now sought to venture into the ocean depths. A new, unknown, and exciting world that the public was now starting to take great interest in. The 1950's saw great underwater achievements with the likes of Jacques Coustou on board his ship, Calypso, filming his diving explorations all over the world, the bathyscaphe Trieste, submerging to the deepest part of the ocean, the Challenger deep in the Marianas trench, and the first nuclear submarine, the USS Nautilus, making the first transit under the North pole ice without having to surface.
Breitling's entry into this wet world was the SuperOcean. It was first introduced sixty three years ago in 1957 and it quickly became iconic in the diving world. Using its tried and true marketing methodology of targeting professionals and military in an industry, Breitling immediately eked out a market share from the likes of Rolex and Omega, who had already introduced excellent dive watches to the market.
Going up against these two, Breitling knew it needed a product that would be superior to Rolex and Omega's dive watches. Omega touted its Seamaster to be waterproof to 62.5 meters or 205 feet while Rolex's Submariner was waterproof to 100 meters or 328 feet. When the Superocean came out in 1957, it boasted an astounding water resistance of 200 meters or 656 feet! Because of this unheard of capability, the Breitling SuperOcean became the most popular and sought after dive watch of the era… and it wasn't just the watch's depth capability, the watch design was ultra functional, utilising large numerals and hands, making it easy to read in murky underwater conditions and looking quite attractive on one's wrist.
A few years later, always seeking to innovate, Breitling introduced the SuperOcean 2005 in 1964. It had a "slow motion" setting that would allow the dive duration to be measured by the chronograph hand completing a full circle of the dial in one hour instead of one minute as was customary in other chronographs. It was a great feature but had its flaws.
Because it took a full hour for the chrono hand to go around the dial, there was a worry that the chronometer might have stopped and the diver none the wiser. Remember, the automatic chronometers were still a decade or so away so these were hand wound watches and thus, given to "operator error" if the diver forgot to wind his watch before diving.
Breitling solved this by adding a colored disk above 6 o'clock. If it was Black, it meant that the chronograph was not running or had stopped, Yellow meant it was running, Black with a yellow dot meant it was paused. Truly some great engineering from Breitling. Well cared for examples of these today fetch north of $12K!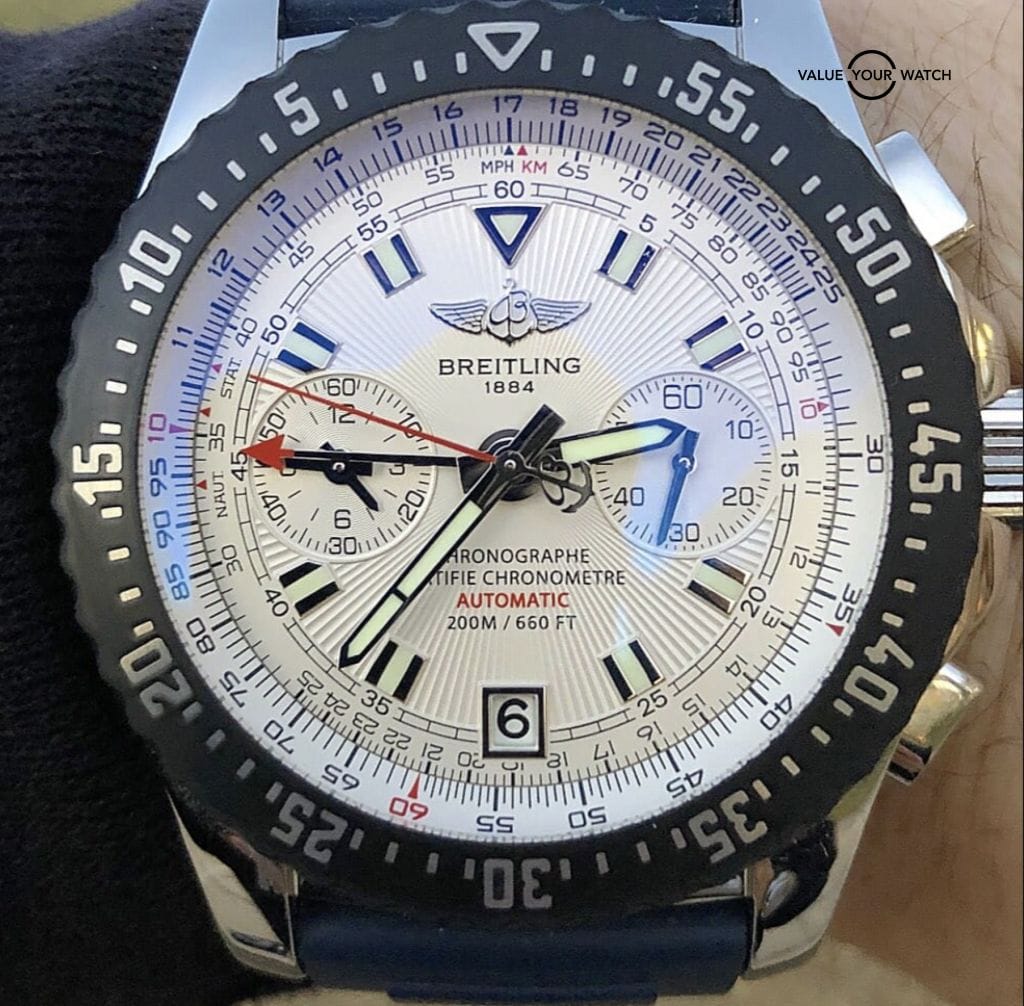 Breitling continued to innovate, introducing the Chrono-matic movement in 1969, jointly developed by Breitling, Heuer, Dupois Depraz, and Hamilton, it was the first automatic chronograph and incorporated the twin pushers that we are all familiar with in our chronographs of today.
They incorporated the Chronomatic into their SuperOcean line in 1971 and also introduced tritium for the lume on the indices. This created a great demand for these wonderful watches.
As all watch aficionados know, the quartz crisis of the late seventies and early eighties almost killed the Swiss mechanical watch industry and unfortunately, Breitling was not immune from this. Inexpensive and highly accurate Japanese movements flooded the watch markets and Breitling succumbed to the threat in 1978 and shut down operations.
It was revived by Eric Schneider, an avid pilot, in 1982 and under his leadership, Breitling took off once again. In 1995, a new SuperOcean dive watch made its debut. Based on the Breitling Colt design, it was called the Colt SuperOcean ref# A17040. It sported a 41.5mm case diameter and utilized the Breitling Cal 17 movement, based on an ETA 2824 movement, it was automatic and had a date window at 3 o'clock and could withstand underwater pressures to 1000 meters or 3300 ft.
As quoted from Breitling: "Matching the specifications of the U.S. Navy's combat swimmers, the SEALS, the COLT SUPEROCEAN was designed as a truly professional diver's watch. The COLT SUPEROCEAN features the strongest, most rugged watchcase ever designed by Breitling; its steel back is 3mm thick while its 3.7mm-thick crystal can withstand pressures equivalent to one ton."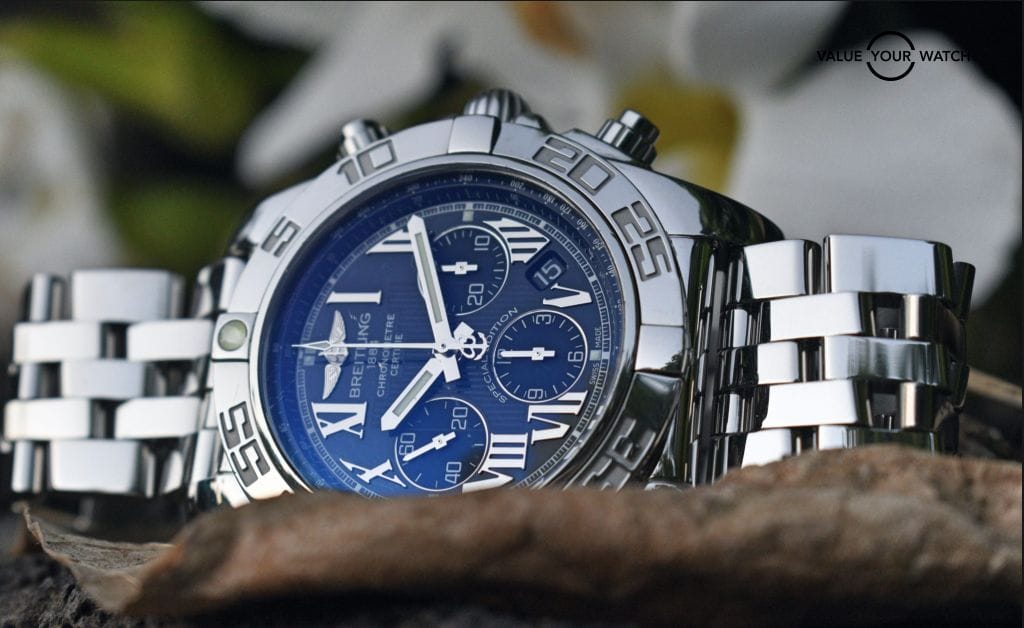 In 1999, the Colt SuperOcean professional was released and its depth rating was now an unbelievable 1524 meters or 5000 ft! It also included a helium valve to ensure the crystal didnt pop off during ascent. During this period, the watches started exhibiting colored dials like blue and orange, providing a pop of colour for those that desired it. These watches now were all COSC certified and the mineral glass crystals were replaced with sapphire crystals. Casebacks were also emblazoned with the lettering: "CHRONOMETRE OFFICIELLEMENT CERTIFIE", French for Officially Certified Chronometer.
In 2000, Breitling dropped "Colt" from the watch name and it became just "SuperOcean" once again. The SuperOcean and SuperOcean professional (A17340 and A17360) were discontinued in 2002 and a new model took its place. Called the SuperOcean 2002 or "Queen of the Seas", this new reference was the A17360 and the case size increased to 42mm. This name was changed in 2003 to "King of the Seas".
In 2007, to commemorate the SuperOcean's 50 year anniversary, Breitling introduced the SuperOcean Heritage Collection. It came with different strap materials and two sizes; 38mm and 46mm.
The SuperOcean Heritage II came out in 2017 for the 60th anniversary of the Superocean and now had a shock resistant movement the B20, developed jointly with Tudor, and a new material for the bezel ring, ceramic. It was designed to resist scratches and the case sizes available were 42mm and 46mm. The B20 movement has a power reserve of 70 hours.
The SuperOcean Heritage II or "SOH II" in watch circles, has accumulated a large following of aficionados because of its classic and beautiful styling. It is an elegant watch, especially on a "beads of rice" metal bracelet and can be combined with black, blue or bronze dials on rubber, leather or metal straps.
What more can I say about the Breitling SuperOcean? I've run out of superlatives! I have owned the A17340 reference, but the SOH II, It's difficult to resist this gorgeous watch! I've admired it from afar and am now on a quest to acquire one. Maybe I will become a Super Spy 😉
Written by Stephen Semenchuk
With Acknowledgements to:
Garrett Parker, Money Inc
Altro from Watch You Seek
Breitling source
Wikipedia