Everyone that adulates luxury watches knows about Chrono24. It is the largest platform for buying and selling high end timepieces. If you don't know about it, I strongly advocate checking out the site and becoming savvy with it. However, as we have observed, Chrono24 is changing little by little, and we are looking at it from the perspective of, is there better.There are fees on top of fees, and then they affix additional fees to that. What do you really get for all this? Is it actually worth it? Well there is one new marketplace we are going to look at that is trying to make things better for the preowned watch market, both for patrons and for vendors.
Value Your Watch is an up and coming marketplace. The goal of the site is to make it effortless for anyone to trade their timepieces. Whether you're a dealer or an individual, anyone can utilize the marketplace to obtain the watch of their dreams, or to sell the watch that someone has been pining over for years. Naturally, any newcomer is immediately compared to the best. On that premise, this article is conceived.
While selling a luxury timepiece can seem like an arduous task, both operations make it simple. The same is true if you are looking for your grail. How do you find that perfect watch? You come to one of these marketplaces, and today we will be examining both sites. We are looking at this from a dealer's perspective today, since that is how I personally utilize the sites. This is arguably the most important part of any watch trading journey. If nobody sells a watch, nobody can buy a watch. I am going to put these side by side so we can see if Chrono24 is still the best.
Step 1. Setting up Your Account
When establishing your account on Chrono24, you begin with the act of entering your email address. If you have not opened an account yet, you will automatically go to a "Welcome!" box where you will register your password. At the bottom of this box, you have two options, "Register" and "Register as dealer".
We will start with the standard registration. After you enter your new passwords, click "Register" and you are done. You are all set up. Nothing more to it.
Now let's look at setting up a dealer account. Once you enter your email, you will be directed to the "Welcome!" box again. If you are a dealer, you will select "Register as Dealer" instead of "Register". You will be brought to a prompt to start your 30 day free trial.
After selecting the start your 30 day free trial, you will be taken to a form to fill out with your business information. This includes business name and phone number, etc. When the form is complete, you can advance to step two. This step contains more business information such as address and tax information. Now you are going to advance to step three. Step three is your payment information. Once you enter this, click on step 4. Step 4 is your trusted checkout payout information. You will enter your banking information here. If you opt out of trusted checkout, you can skip this step. There is an option at the bottom of the screen. Now you will be directed to a screen which requires ou to upload all of your business information, such as licenses, personal id, personal information, etc. There are a lot of documents you will need to upload to set up a dealer account. As you can see, it takes a LOT of work to sell as a dealer on Chrono24. Paperwork on top of paperwork.
The fees for selling on Chrono24 are pretty high. To set up a dealer store, the monthly fee STARTS at $84. That is for the light package, which includes the highest commission fee structure. Pricing for the premium package skyrockets to $250. Keep in mind, this only applies if you sell less than 25 watches. After that, prices start increasing at a rapid pace, up to $970 per month for even the Light Package. The biggest dealers can pay $2500 per month. On top of paying Chrono24 at least $1000 every year, you still have to pay a commission. I guess this isn't too different to what happens in real life. You pay rent, and pay a commission to your salesperson. It makes sense, but it just seems awfully high.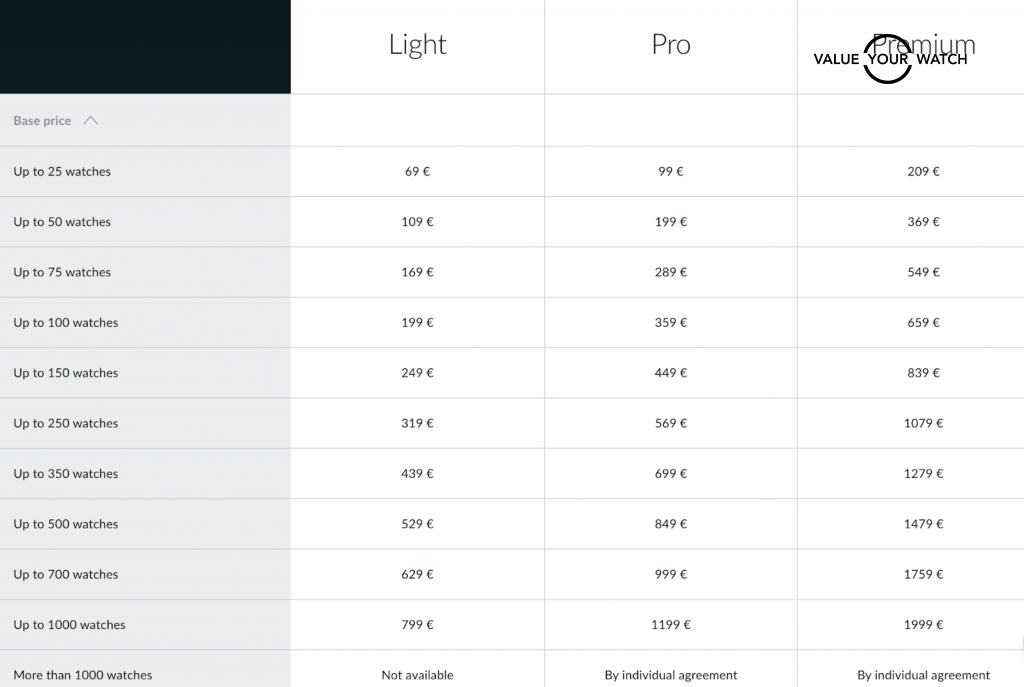 When erecting your account on Value Your Watch, it's actually far smoother. Under register you simply enter your email and password and select "register as vendor". It will automatically bring up your business and personal information and allow you to select your subscription, right from the same page. It will take you to a second screen where you put in your billing information and place your order. Simple as that. You are logged in as a seller and no further actions are needed. The fees are also quite excellent. The most expensive plan is a monthly $29 subscription. If you pay annually, it actually comes in around $25 per month.
I would say from a setup point, Value Your Watch is super easy and doesn't require a whole bunch of information to get started. Individual sellers have it just as easy on Chrono24, but we are here for the dealer accounts after all. Value Your Watch definitely makes this a smoother, more straightforward process, and much cheaper. $300 per year or $3000 per year, that is definitely a consideration when setting up with either marketplace.
Step 2. Listing Your Watch
On Chrono24, listing on the desktop website is super easy. The first thing I do is use the reference number search on the top of the listing page. This will find the watch I am selling and pre-populate multiple options for me already. One of the benefits of Chrono24 is the years of data they have collected. It has general pricing guides as well as activity on different models. During your listing, there is a selection to see where Chrono24 comes up with its price suggestion. Upload photos and write the description. Once that is all filled in, hit that save listing at the bottom and Chrono24 will review and then post the listing.
Listing on the Chrono24 app is just as easy as the desktop. The first line you can enter your reference number of the watch. It will once again populate the desired information. You can upload your photos and write your description. It also gives you a suggested price and you can roll with that, or select your own. Once the information is good, just press save listing. The listing will be reviewed by Chrono24 and posted.
Both methods of listing are streamlined quite well. I have never had an issue with either, although every once in a while the app can act up a bit, which is quite normal with any app. I am using the Android version of the app, and others I know on iOS have similar experiences, however I have not run into any such issues.
Turning our attention to Value Your Watch, we can see that on login, we are taken to our dashboard. The dashboard menu includes a product button. Clicking on that will take you to all of your products. This is where you find the Add new product button at the top. Click on that and a super simple box will pop up. All you have to do is enter the product name, enter your prices, select the brand, and enter your description. This is a more manual process. You're not going to get all the data population like on Chrono24, this doesn't have the database. It also has far fewer fields as well. This can be a drawback for some, but in other cases, a retail client can be getting information overload when looking at Chrono24 listings. There are plenty of customers that love this information so include it if you like. It is up to you how you would like to present your listing. You don't have to worry about a review period and your listing is live as soon as you post it.
One feature I love about the Value Your Watch listing is the discount box. I have utilized this in a couple different ways. The first one is to list the MSRP as the price, then list your price as the discount price. Customers love that. When you post it this way, the MSRP will be crossed out, and your discounted price will be bright red. On the lead photo of your listing, it will show a bright green discount percentage. It looks exceptional set up in this manner.
Another powerful way to use it is to schedule a discount. Yes, when you price out your listing, the discount box has a schedule button included. If I want to run a sale for say 4th of July weekend, I can schedule a 3 day discount, or a month if I so choose.
Between the two platforms, I can tell you that Value Your watch is far easier for dealers. If you are selling as an individual, however, there isn't much of a difference.
Step 3. Selling Your Watch
There's no doubt Chrono24 is the largest preowned watch marketplace. This is a major plus when selling your watch. Nobody is going to buy it if nobody sees it. Traffic is king and nobody knows that better than Chrono24. If in fact If you sell a brand new Breitling for the same price as a brand new Rolex, the Breitling will actually cost you .5% more to sell. Rolex is the king in the preowned markets, and you are incentivized to sell them. Is it right? I don't like it, but there's nothing wrong with it. The more Rolex on the site, the more traffic. The more traffic, the more people see your timepiece.
Speaking of cost, there are some hefty commissions when selling on Chrono24. They aren't unreasonable, in fact they are cheaper than most other sites, but you will have to take them into account with your pricing. Not all fees are equal, though. The fees will change based on your account type and the watches condition and brand. Here are a few examples of the fees.
Watch
Light
Pro
Premium
Panerai Good Condition -$4497
7.5%Fee -$337.25
Revenue -$4159.75
6.5%Fee -$292.31
Revenue -$4204.69
5.5%Fee -$247.34
Revenue -$4249.66
Tag Heuer Good Condition -$1800
8%
7%
6%
Rolex New watch -$9997
5.75%
4.75%
3.75%
As mentioned before, a brand new Breitling sold for the same price as a Rolex incurs an extra 0.5% in commission fees. Traffic is important, and if you're not selling the names that drive traffic, you will be paying for it.
The nice thing is, dealers don't have the same restrictions private sellers do. Dealers are allowed to sell their watches elsewhere, so your business information is visible on the watch listings. Since most of you have an actual business, there is a good chance some of your timepieces will sell before someone buys them on Chrono24. With this in mind, you will be ok with someone contacting you directly to purchase a watch from you.
With extras, Chrono24 allows you to turbo boost your listings. You are able to make your listings a TOP listing. It will show up on the top page of every search your watch is tagged in. This is a very powerful tool because you already have exceptional traffic, and when that traffic searches for something, the first thing they will see is you. You simply buy some credits and use them towards boosting. The starting price is about $6 per credit.
If you do sell directly on the site, you will receive the benefit of the Trusted Payment service. You do not ship your watch until Chrono24 has verified the payment is good. They will not release your money until the buyer has received his watch. The only caveat is you must be a verified dealer in order to receive the other benefits from Trusted Payments. Dealers that aren't verified, and private sellers, are exempt from receiving assistance from Chrono24.
Outside of that, you don't get much help from Chrono24 when selling. You basically are on your own to do your promotion and drive people specifically to your listing. Fortunately, there is enough traffic to the site that it isn't that big of a deal.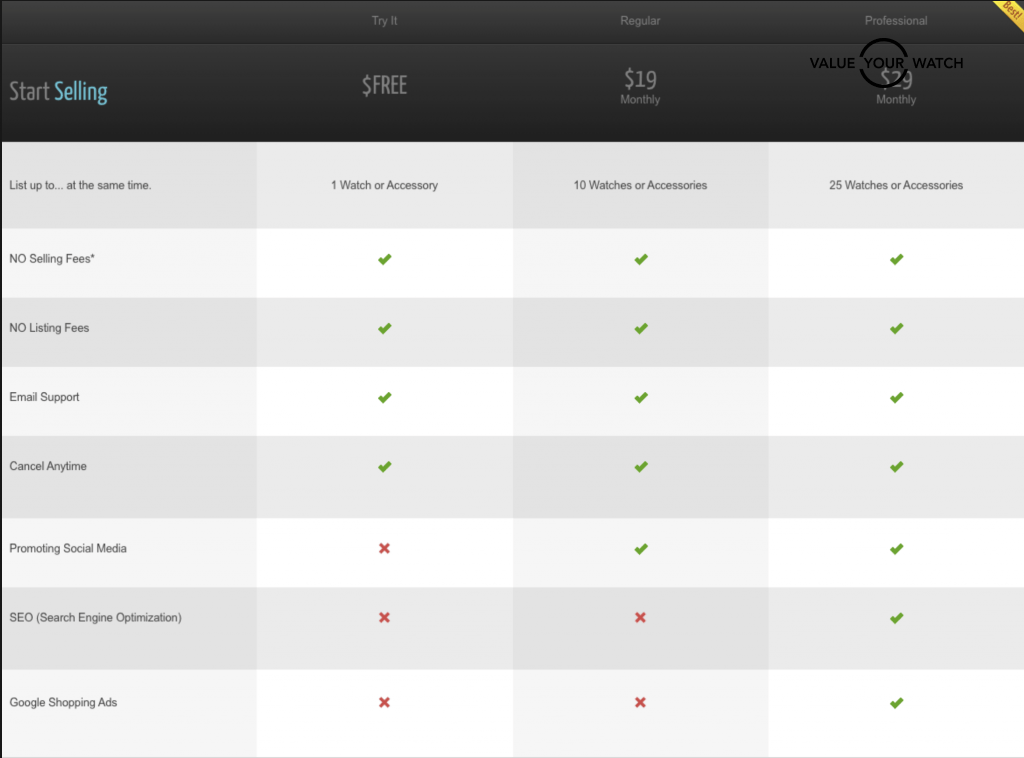 Value Your Watch does things a little different. It's a new website, so the traffic isn't as high. However, the website is constantly evolving and taking new steps to get the site, and your listings, in front of more people. Paid memberships get their timepieces featured on Value Your Watch social media. This includes Instagram and Youtube. Many of the better listings will receive 10,000 views on the video.
If you decide to opt for the professional membership, Value Your watch will also utilize SEO to drive your listings as close to the top of Google results as possible. You will also be featured on Google Shopping. Recently Value Your Watch introduced a real special boost to your professional level memberships. For $10 per watch, Value Your Watch will post your listings on Watchuseek Forums. This will enable people to find your listings on Watchrecon and Watchcharts as well as other popular scapers. This will get your listing in front of thousands of people.
One thing that is fantastic about Value Your Watch is the fact that the seller's information is not hidden. You can view whatever information the seller provides. You can also view their social media profiles. Any information you supply to Value Your Watch is available for a buyer to take in. You can do your own research on any seller, meaning buyers can contact you however you allow. This entices people to build a relationship and trust. It makes it more comfortable dealing with someone. If a buyer is being shady, and not giving you certain pieces of information, feel free to walk away.
If you so choose, you may allow bank transfers and credit cards to be utilized directly on the site. As we all know as sellers, a bank transfer is very secure. You can verify the funds quite easily, and it's almost possible for buyers to commit fraud. Once you are comfortable that the funds are clear, only then will you ship the watch.
If you do want to accept credit cards, you will sign up with Stripe. Stripe is one of the more secure ways to take credit card payments. Each credit card transaction is accompanied by a buyer score. Stripe will tell you if there are any signs of fraud connected to a certain person. If it has a poor score on Stripe, feel free to get into contact with the buyer. Only if you feel comfortable will you ship your watch. If someone has a very good score with stripe, you can be well assured that the person is genuine, and as is the case with many Americans, just use their card for everything. Just remember, Stripe integration is completely optional and you have every right to not accept it.
Because Value Your Watch does not contain fees, they aren't trying to trap you into using their site. You don't have to sell directly on the site. The information you provide is public so any buyer can contact you, and the two of you can do business however you so please.
Value Your Watch is not required to collect sales tax. The only fees at all are charged by Stripe which are easy to avoid. Some of you may be required to collect sales tax if it's a local deal, but you probably already know about that. The majority of sales can be completed free of any fees whatsoever which allows you to keep more money in your pocket.
Overall, there are many benefits to a sale on Value Your Watch over Chrono24, but their traffic just can not be ignored. I think it is better for the selling aspect, but I love the lack of fees on Value Your Watch. I think this is the only decisive advantage Chrono24 has over Value Your watch.
Step 4. Receiving Your Funds
One of the things Chrono24 utilizes is their trusted checkout. The buyer pays Chrono24 directly, and Chrono24 verifies the funds before telling you to ship. Once you ship, Chrono24 will hold the funds until the watch is delivered. Once that happens, your funds should be available in about two days. Being a dealer, direct payments are an option. If the buyer utilizes one of your direct pay options, you will receive your funds according to the method chosen, such as one to two days for bank wire, or upon delivery in the case of PayPal. There is nothing groundbreaking here, except the trusted checkout. It provides some safety for both sides of the deal. If you are not a trusted dealer however, Chrono24 makes it difficult should an issue arise, so be careful with that.
When selling on Value Your Watch, you collect payment however you want. On the site, you can set up your bank for wires and Stripe for credit cards. In typical fashion, if you only accept bank payments, you just wait for funds to clear and you're all set. If you do choose to set up Stripe, it's actually a safer way to accept credit cards. Stripe gives all transactions a score based on their huge database. Since many Americans use credit cards for everything, it has got some powerful information to help protect you. The money is yours in the typical 2-3 days. If a transaction is marked as higher risk, feel free to decline. If it has the lowest risk score, you can be almost guaranteed you are dealing with a legitimate buyer. Since the information you supply is public, you don't even have to do these at all. You can deal with a prospective buyer however you want. It's your watch, your account, you make the rules.
For trusted dealers, Chrono24 May have the edge, but when it comes to collecting your money, I think Value Your Watch has the edge for the rest of us. I prefer the use of and the setting up of direct bank transfers here than the trusted checkout on Chrono24.
Conclusion, Is Chrono24 The Best?
I think we have shown that Chrono24 is the king, but there is a new marketplace that is coming in fast. It will take time, but Value Your Watch is showing signs it is here to stay and will be gaining market share on a rapid basis. They are both excellent resources if you are a dealer of fine preowned timepieces. I will definitely be utilizing both sites in the future, there is no reason not to. I will specifically be looking to drive traffic to my Value Your Watch listings, however. The cost savings on the site are just too good to pass up. Sure there are the forums, which I do utilize, but there is no way to sell directly on them. Value Your Watch will definitely be my marketplace of choice, but I can't argue the domination that Chrono24 does currently have. Fortunately, I am not as limited as I used to be a couple years ago. I will definitely be utilizing both sites, but will be driving as much of my traffic as possible to my Value Your Watch listings. The cost savings are fantastic.
Open your free account at Value Your Watch Today