Looking for the best watch marketplace? The right one will vary based on your needs, the quality of the timepiece, whether you're buying or selling, and a myriad of other factors. On this page, we'll break down some of the most well-known options and give the pros and cons of each, so it's easier to choose the one that's right for you.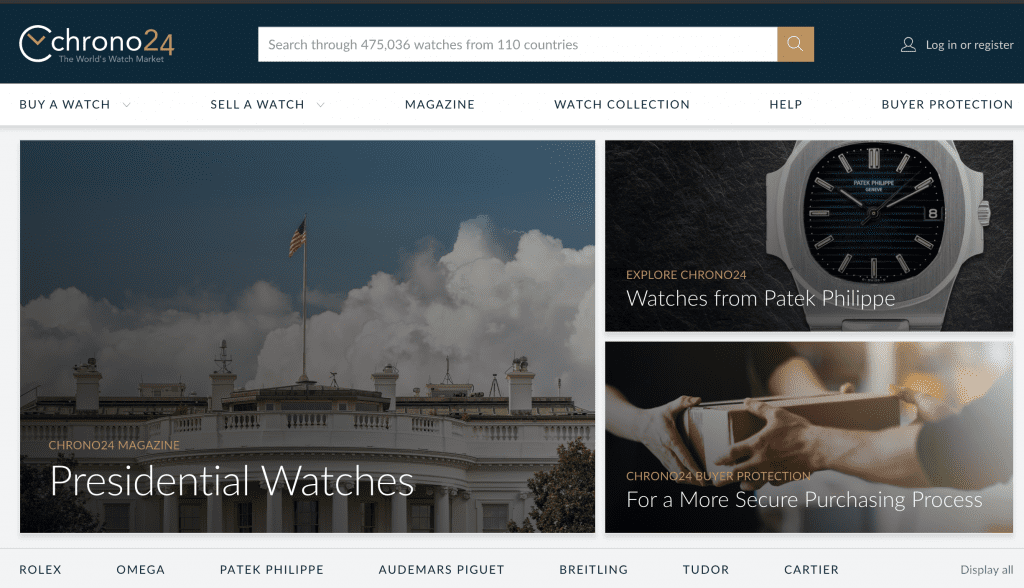 Chrono24
The premise of Chrono24 is good. They are the largest online marketplace for the watches.The site offers a global watch marketplace and assures buyers that the timepieces are all authentic and says it has several safeguards in place to protect shoppers. That being said, it presently has a 1.5-star rating on Sitejabber and a 1-star rating on Complaints Board with more complaints around the web from buyers who placed an order but either received nothing or received a fake. The general sentiment in these situations is that the site does nothing to help.
Cost to Use Chrono24
Regular sellers do not pay a membership fee, but a 6.5% commission is charged on each sale, up to $299 when they list the watch which. Dealers pay a reduced commission fee ranging from 3-5% depending on the package selected. Monthly rates for this start at 69 € (about $80).
ValueYourWatch.com
Value Your Watch is an up-and-coming watch marketplace that turns the industry on its head. In an effort to provide greater transparency, the site asks sellers to link their social media profiles and gives vendor information alongside each listing, so buyers can see who they're really working with. It also does not charge sellers a commission fee, but rather has a monthly subscription-based service, making the service more attractive and affordable for private sellers. Plus, sellers can get offers from multiple buyers at once, ensuring they get top-dollar for their timepiece. Although the site is newer, early reviews are very positive.
Cost to Use Value Your Watch
There are never any commission fees* on ValueYourWatch.com and listing/ selling a single timepiece is free. Monthly subscriptions are available for those selling more than one. Subscriptions start at $24 per month.
* In case you choose a payment processing party, like PayPal or Stripe, as your payment method,they might charge you a processing fee. But Value Your Watch will NOT be charging you anything.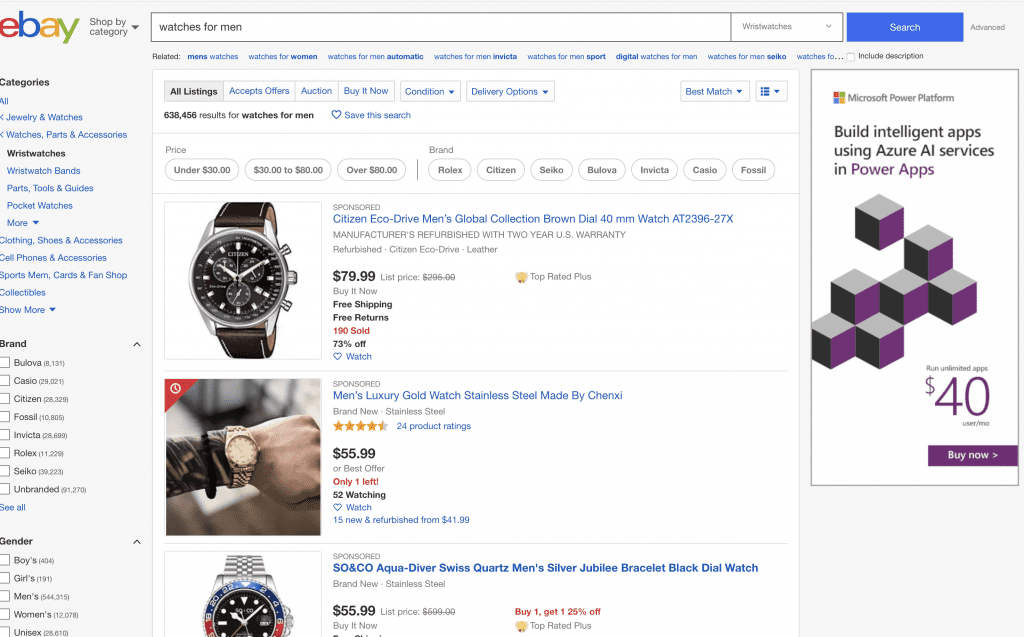 eBay
As a general marketplace, eBay runs the gamut. People turn to it to sell all sorts of things, from odds and ends discovered as an estate has been closed through collectables. However, one big challenge eBay has had, particularly with luxury items, is a high number of knockoffs. There are countless guides to avoid getting scammed while using the platform, but they all typically surround only purchasing from sellers with great reputations. Recently, eBay announced that it's starting an authentication program in select markets to combat this, which could be a boon for buyers. However, if it's structured like the luxury handbag authentication program, sellers can expect to be hit with a hefty 20% fee, which they will either have to absorb or pass onto buyers. Bear in mind, the timepieces start at $500, meaning the lowest-priced watches will likely now see a $100 price increase, while finer options may genuinely increase by $10,000 due to their participation in the program.
Cost to Use eBay
As a regular seller on eBay, a 10% seller fee is charged on each sale. Sellers have the option of opening a "store" as well. This costs around $28 per month and caps the seller fee at $250. It's also worth noting that sales started on the eBay platform must be completed through PayPal, which typically docks the seller about 2.9% as the payment is processed.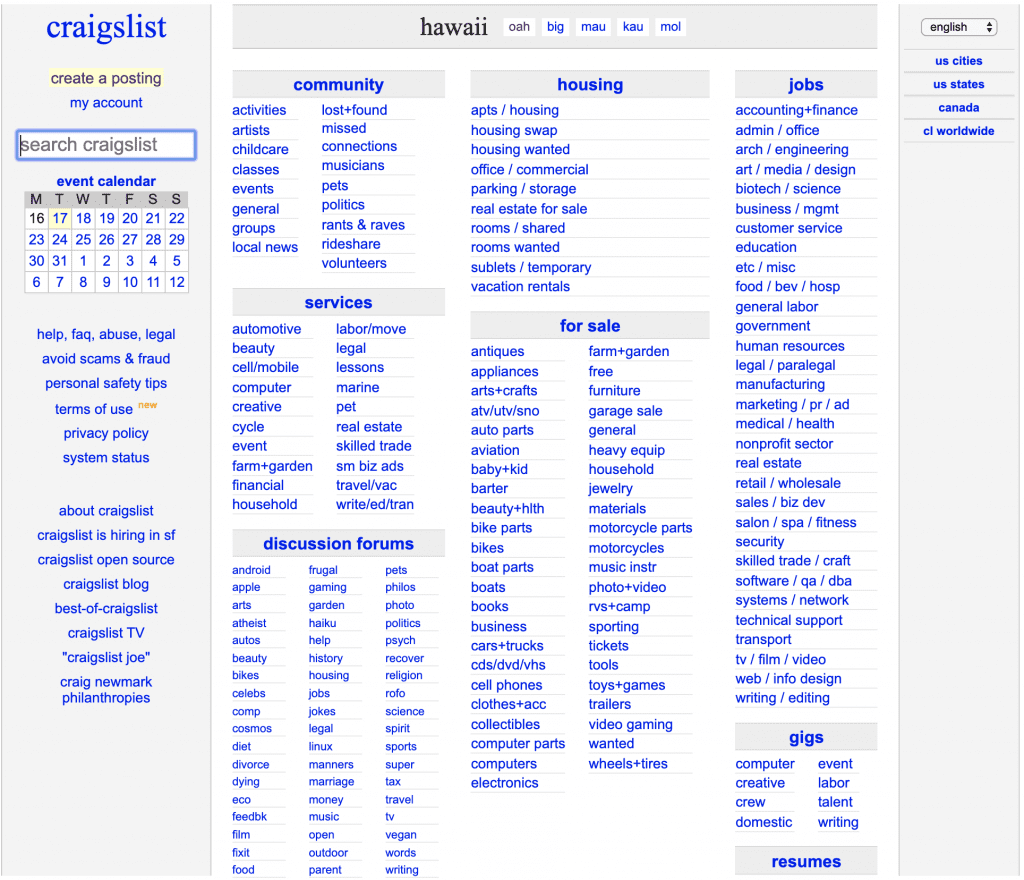 Craigslist
Like eBay, Craigslist has a bit of everything. It's totally possible to find someone who has just cleaned out their attic and is unloading vintage timepieces at great prices, simply because they do not want to keep them anymore. The advantage it has over eBay is that many people who live in your town use Craigslist. That gives you the chance to check an item out in person before you hand over any cash. That being said, many people advocate for doing these types of exchanges in a police parking lot, and for a good reason. The platform has now been linked to more than 100 murders, according to the Washington Post. That doesn't even take into consideration the high number of robberies, fraud reports, and other crimes associated with the site.
Cost to Use Craigslist
There is no fee to use Craigslist.
Facebook Marketplace
When Facebook announced it would allow people to sell goods a couple years ago, the Internet was abuzz with excitement. It was slated to, in theory, offer people transparency with sellers, as one could easily look up the individual who was selling and ensure they were legit before making a purchase. Moreover, people have the option of buying local, so they can see the item in person before they take the plunge. It was expected to make Craigslist obsolete. Unfortunately, it didn't work out that way. Business Insider recently reported on the site. "Despite Facebook's best intentions, it doesn't take long to run into sellers making money out fake goods on Marketplace. Business Insider picked three of the most counterfeited brands in luxury— Rolex, Gucci, and Tiffany — and found a large number of fakes being sold at a fraction of the price of the real thing," the article said. Facebook is working on algorithms that will spot fakes and pull the posts, but for now, buyers are on their own and have no recourse when issues arise.
That would mean the best way to use the service is to meet the seller in person, but that can also be dangerous, as one seller discovered. A Tennessee man met up with someone who wanted to buy his watch for $200. When he stopped to count the cash he was handed, the buyer turned a gun on him.
Cost to Use Facebook Marketplace
There is no fee to use Facebook Marketplace.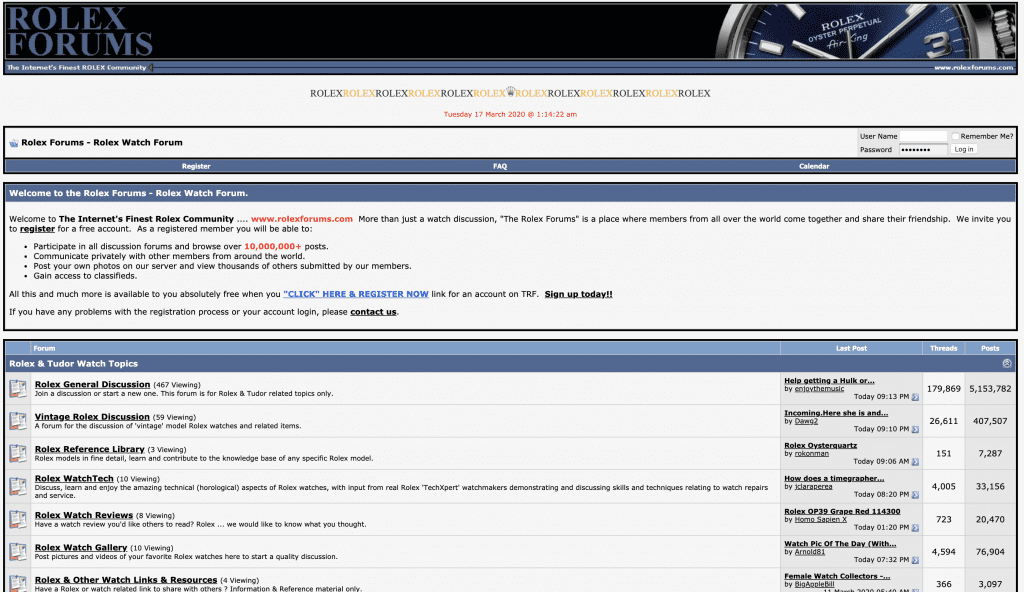 Rolex Forum
Forums are great when it comes to sharing information. In fact, when you get into the brand-specific ones, there's a great deal of camaraderie and knowledge being shared. You can get to know people fairly well as the months and years pass, so transactions made through the sites can be good for both buyers and sellers. The downside, of course, is that they're not regulated and quite a few fakes get listed too. To avoid this, it's generally best to purchase from someone who has made the "trusted seller list." Though unofficial, those who make the list typically have long standing reputations on the forum.
Cost to Use the Rolex Forum
The Rolex forum only allows Pledge Members to list watches for sale. To become a Pledge Member, a donation of $28 or more to the site is required.
That would mean the best way to use the service is to meet the seller in person, but that can also be dangerous, as one seller discovered. A Tennessee man met up with someone who wanted to buy his watch for $200. When he stopped to count the cash he was handed, the buyer turned a gun on him.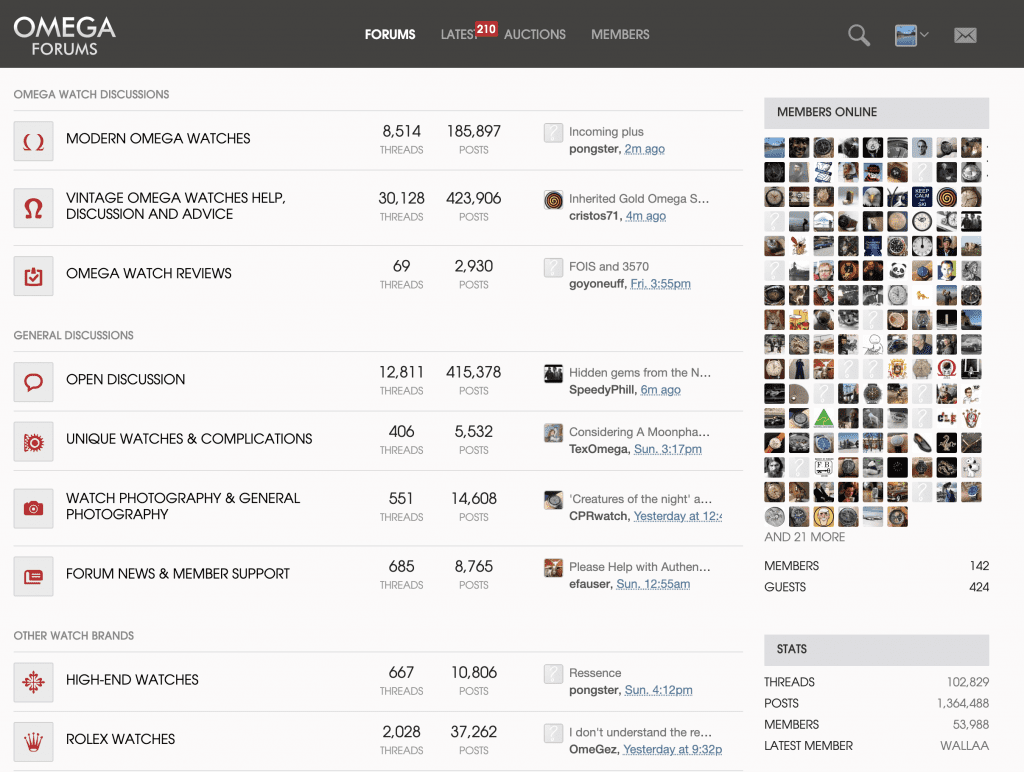 Omega Forum
Like the Rolex forums, Omega forums are great for connecting with other aficionados. Sites do attempt to monitor those doing any selling and watch for fraudsters, which limits it to some degree. However, the biggest benefit here, as is the case with other brand-specific forums, is the community behind it. Comments and histories are searchable, so if you're buying and selling through one, always be sure to connect with someone who has been on the forum for an extended period of time. Those who go there to scam don't typically last long, so if you're connecting with someone who has been active for a year or more and is involved in the community, your transactions will be more secure.
Cost to Use the Omega Forum
Although there is no direct fee to post watches on the Omega forum, the privilege is restricted to active members only. This means you must typically have about 200 posts over a longer period of time and have recent posts too.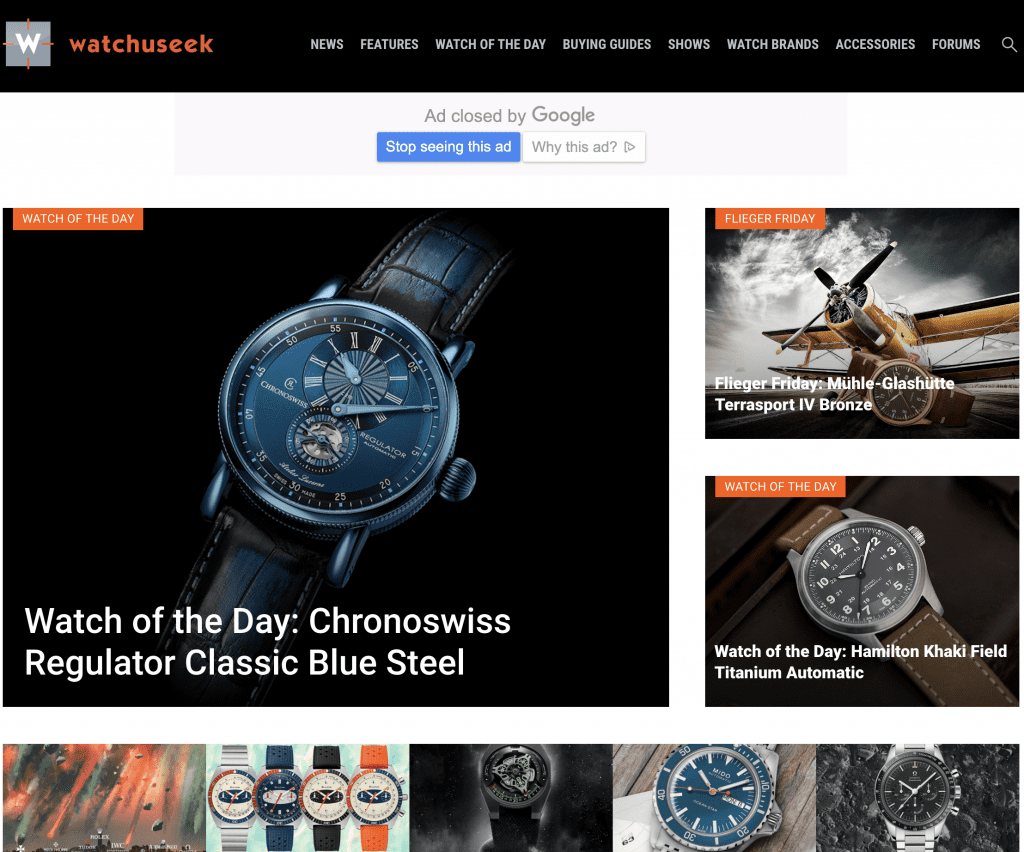 Watchuseek
A final forum worth mentioning is Watchuseek. Like the other forum options, a lot of the experience people have relates specifically to the individual buyer or seller one works with. There are occasionally fakes posted and scams run and some people on both the buying and selling side will ask for references if you're new to the forum and are trying to work out a deal. That being said, there is some security in working with people who have longer histories on the forum.
Cost to Use Watchuseek
There are no fees to sell through Watchuseek. However, the site does require that you have at least 100 posts before you're allowed to post watches for sale.
Use Our Watch Marketplace
As you can see here, many of the common complaints regarding watch marketplaces involve fakes, safety risks, and high fees. ValueYourWatch.com does away with all these concerns by creating an environment which promotes transparency and allows sellers to list in a cost-effective (and fair) manner. Find out what your watch is worth or browse the watch marketplace now.