If you are like most of the people who enjoy watches, you become addicted to buying more watches, and you cannot stop with this healthy addiction. At least I think it's healthy anyway. When you are planning to sell the watches you might not enjoy as much or just want to get rid of them, you might have a challenging time to determine the watch value at this specific time.
So many experts tell you, what your watch is worth, but really, it comes down to how much is somebody willing to pay for it. Remember, somebody else's trash might be somebody else's treasure.
How can I find the watch value on my own? That should be your main question, or at least to know where to get the most accurate market value of your watch you might want to sell.
Watch Value: Determining Current Market Value
To determine the current market value of your watch, you will need to do some research to find out what is the going price on the secondary market.
The best sites for watch values.
eBay
Chrono24
Value Your Watch
watchpatrol.com
watchrecon.com
mywatchmart.com
All the sites mentioned above will help you with your research. You will be able to see what the specific watch just sold for or it's listed for.
For Example:
If you are searching for an Omega Speedmaster Hodinkee Limited Edition on eBay, you will be able to see on each platform the asking prices of the watch. The watch value you are looking for is the average of 3-5 watches listed on each platform.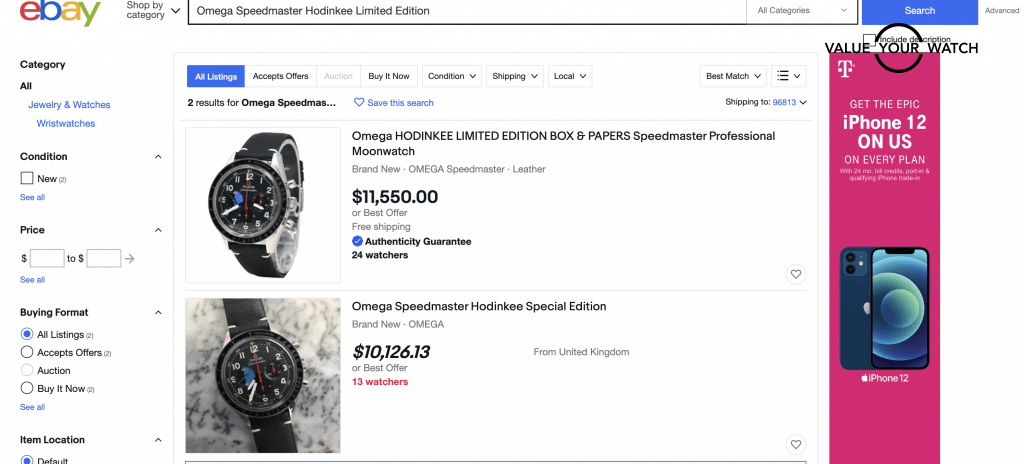 To get at least one more reference point, look at watchrecon.com which aggregates many watch site. This will save you a lot of time.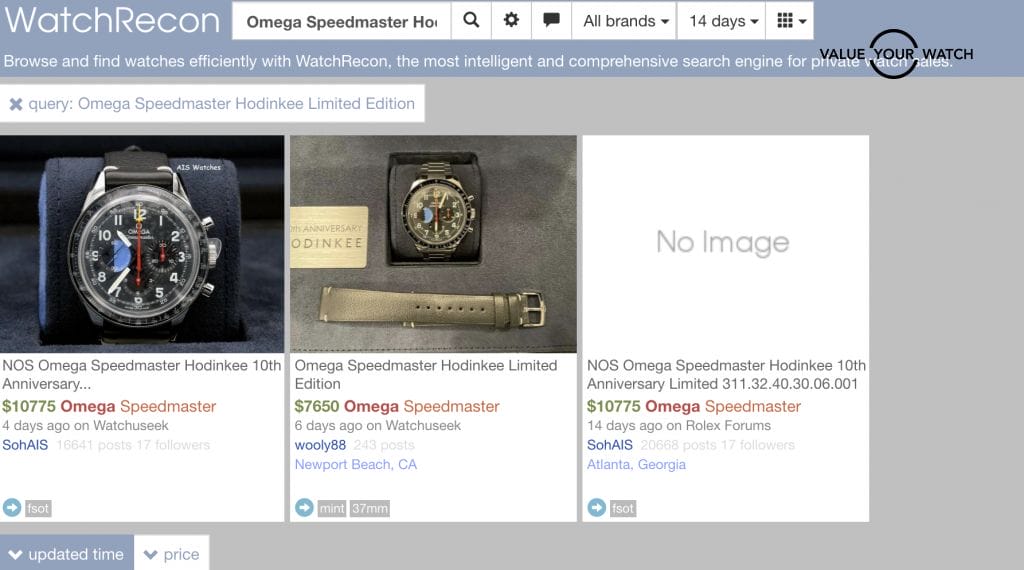 When you compare the prices on eBay as well as on watchrecon.com, you can see that realistic watch value would be around $10,000 at the moment of the search.
Luxury watch values can be volatile as much as stock. There might be a watch brand you might be familiar with. It's non-other than Rolex.
Currently, as I am writing this, there are many Rolex watches trading above MSRP which means, that if you can buy a watch directly from the Authorized dealer, you more likely make money, if you would decide to sell it right now.
The challenging part is to get the watch from them due to high demand. You think I am kidding about the cost of the secondary market value. Let's share with you one of the hottest Rolex watches.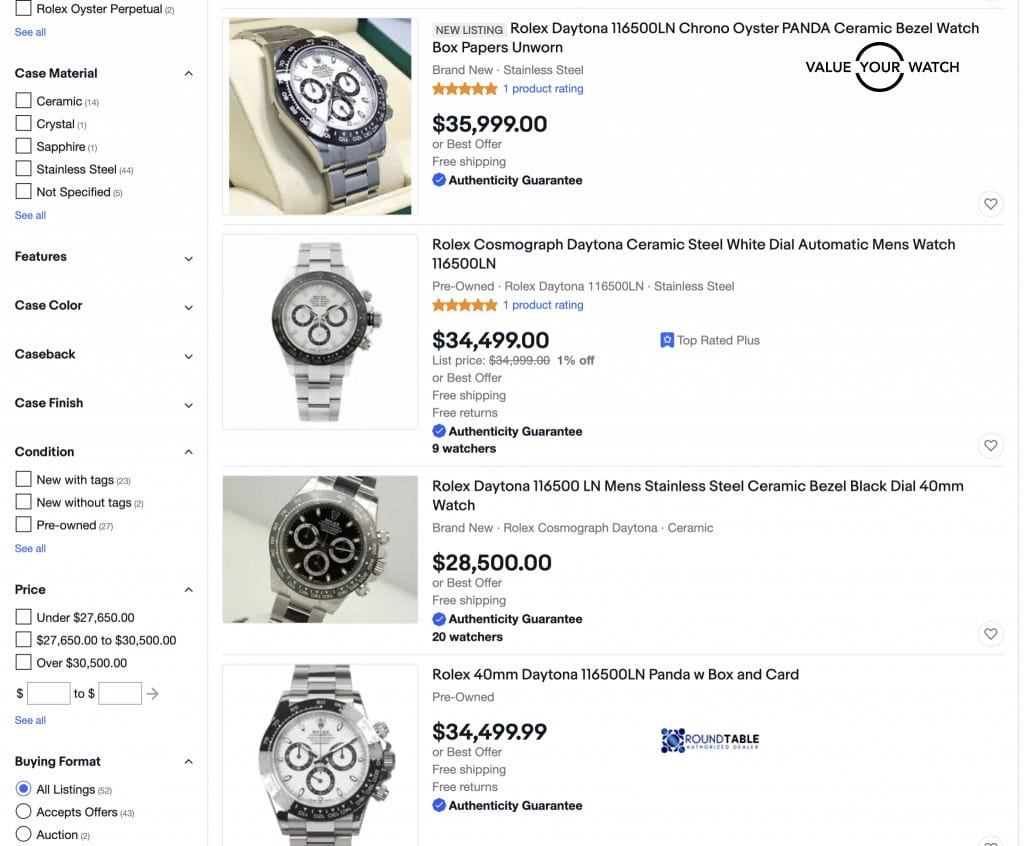 The price of this Rolex Daytona 116500LN is trading around $30,000-35,000…Yeah, I had one and I can tell you it's a beautiful watch. I highly recommend getting one directly from a Rolex store if you can.
Can you guess how much you can buy one form the Authorized dealer?
$12,400 + Tax
That's why it is important for you to know the watch value before you go ask other people what are they going to pay you.
Imagine you would go to sell this watch to your friend who is a reputable watch dealer. Due to his reputation, he would not have a hard time to sell your watch and would have two options. Buy it or cosign the Rolex from you. If he is going to buy it, he will more likely give you less than if he would cosign with him.
Due to the relationship you have with him, he would not low ball you regarding the price of the watch, however, if you go to somebody who you do not know, they might not tell you the true market value. That's why it is a good idea to know how to get the market value of your watch.