If you enjoy watches as much as I do, you might experience your watch not perform as it should, or god forbid, you drop it or damage it in some way.
You are going to look for a reputable watchmaker to repair your watch in your town, other state or you will contact the Authorized Dealer (AD), and they will be able to help by servicing in their store if they do not have a watchmaker or ship it out to the primary service center.
You might ask, how do I know what the best choice for me is. There are many great watchmakers, and the challenge is to locate the best one in your city or another state. The key is to be without your watch for the shortest time and being able to get the watch back in top shape.
Who is a watchmaker?
Watchmakers are people who repair watches, you can think of them as a car mechanic. In the past, we master craftsmen who were able to build watches and custom parts by hand.
There are not that many watchmakers who can do it anymore. I know personally about only one in Hawaii who is still able to make custom parts.
Since many watches are factory made, most of the watchmakers only repair watches to make sure they work as they should.
How to find the watchmaker in my town?
If you do not have any friends who collect watches or deal with watches, the best place is to start to look for a watchmaker is google search. Just search "watchmaker in (your town)," and you will be able to see some results.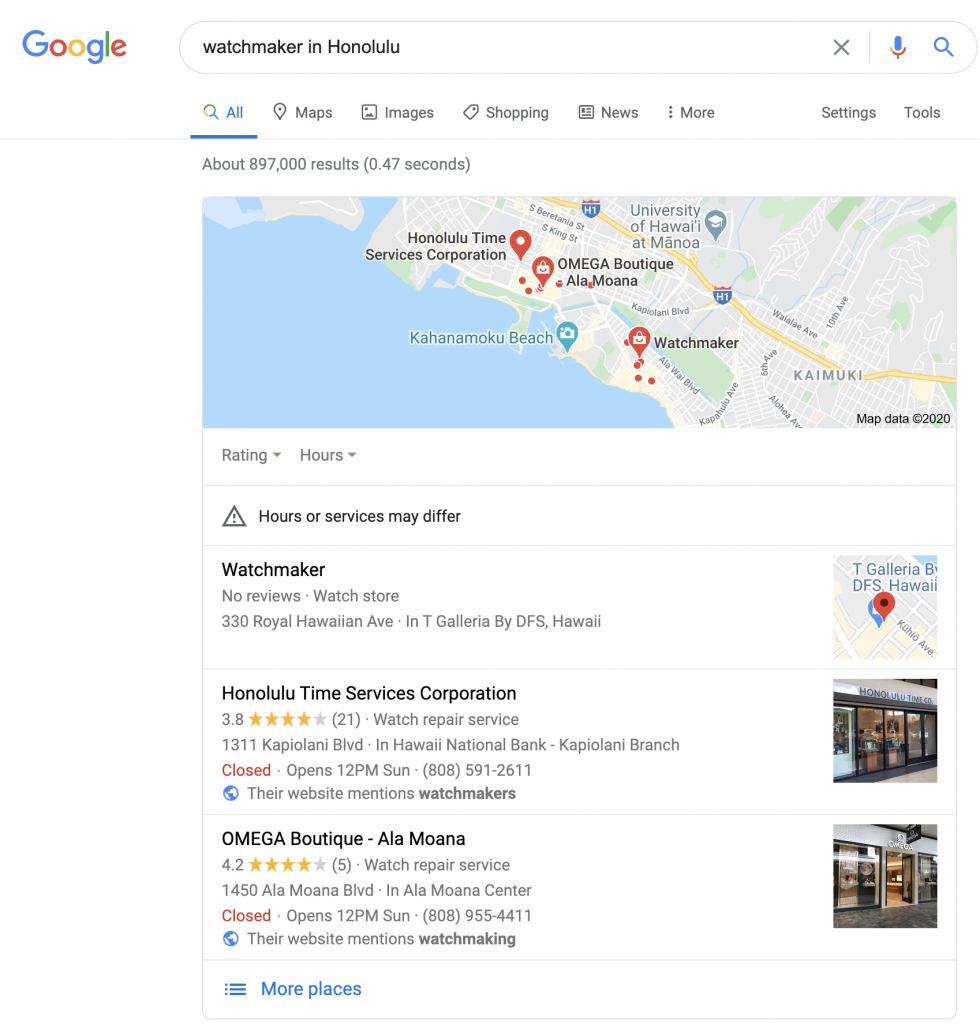 Click on the results and see how their site looks if they have any reviews from customers and what kind of watch service they provide.
The second best place is to use Yelp. Just search term "watchmaker" You will be able to read many reviews from people.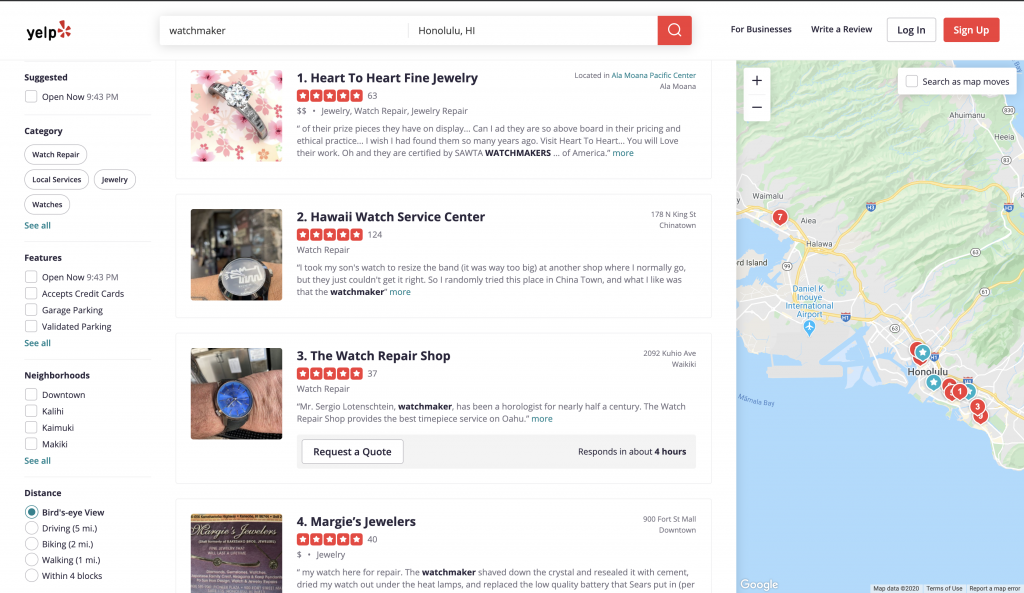 After doing the quick search, you might see the same watchmaker on google as well as Yelp. That's your starting point. There is a likelihood that those watchmakers have a good reputation and many people like them. Now you need to find out if you will like them as well.
If you are not having any luck with watchmaker in your town, look on the directory of the best watchmakers around the USA
What to look for in a watchmaker?
When searching for the right watchmaker, you always want to make sure, that they are the one, who can service the watches you have in your collection or planning to have it.
It would be useless for you to have a Rolex watchmaker who works on Rolex watches only, but you have only omega watches and not planning to buy Rolex.
Here are are the questions you should ask watchmakers:
What watches do you service
Do you polish watches
Are you able to get original parts
How much do you charge for partial and full service
Answers to these questions should give you a better understanding, if the watchmakers you are talking to the right one, however, you should ask these questions at least two different watchmakers and go with the one you feel is the right one for you.
For me, finding the right watchmakers is like finding a trusted car service mechanic. When you find the right person who you trust and you know they will be able to help you fix your watches, it becomes less stressful to own thousands of dollars in your watches.
Battery Exchange
If you have a quartz watch, which means the watch is powered by a battery, the cost of the new battery might be as low as $10. I have seen some people charging around $30 for the service as well. This type of service is one of the simpiest you can have done to your watch.
Regulating and Adjusting the Watch
By regulating and adjusting the watch, you do adjust the rate. The watch might change the rates in different positions. Ideally, its to get the average rate to zero error between the most common positions.
In my personal experience, two of the watchmakers who regulated my watches did not charge me anything…Which means, it does not take too much time to regulate your watch. You should not expect to pay more than $100 however,You might not even get a charge as well.
A Complete overhaul
Overhaul means completely service your watch. Think of it like your significant car service visit where they might find some issues with your car.
Same with you watch, when you send the watch for a complete overhaul, you might need to get new parts to make sure that the watch will be working like new again.
You might wonder how much does it cost to get a complete overhaul if You do not need any new parts? The service cost can go from $300-$1000+ depending on the watch as well as the age. Some vintage watches can be even more expensive because you might need a custom made parts.
Remeber, this would be the cost if you do not need new genuine parts. Some parts such as crystal, or bezel get expensive. For Example, a new bezel for Omega Seamaster Planet Ocean costs close to $300
Polishing a watch
Polishing its like a new paint job for your car. When a watchmaker does a great job, you get the watch looking like new, unless you had many deep digs on the watch case.
The costs of polishing your watch might range from $75-$200
If the bracelet is stainless as well as brush steel it takes much longer to polish due to two different materials used for the bracelet thats why the cost might be different.
This blog post should help you to find the right watchmaker in your city or at least to locate the right person to work on your watches. Soon, you will be able to find a blog post about the best watchmakers in the United States. Just stay tuned.
Buy a Watch Through Value Your Watch
The primary goal of Value Your Watch is to make buying a watch or selling one a simple and transparent process.
We're collectors and enthusiasts ourselves, so we know what it's like to be on both sides of the table.
That's why we integrated features that make it easy for you to research sellers before you speak with them, simple to contact them directly, and even offer escrow and authentication services too.
Plus, we take care of our sellers. We make it cost-effective for them to use our marketplace, so they can pass those savings onto you.
Head over to our marketplace to see how straightforward buying a watch can be.