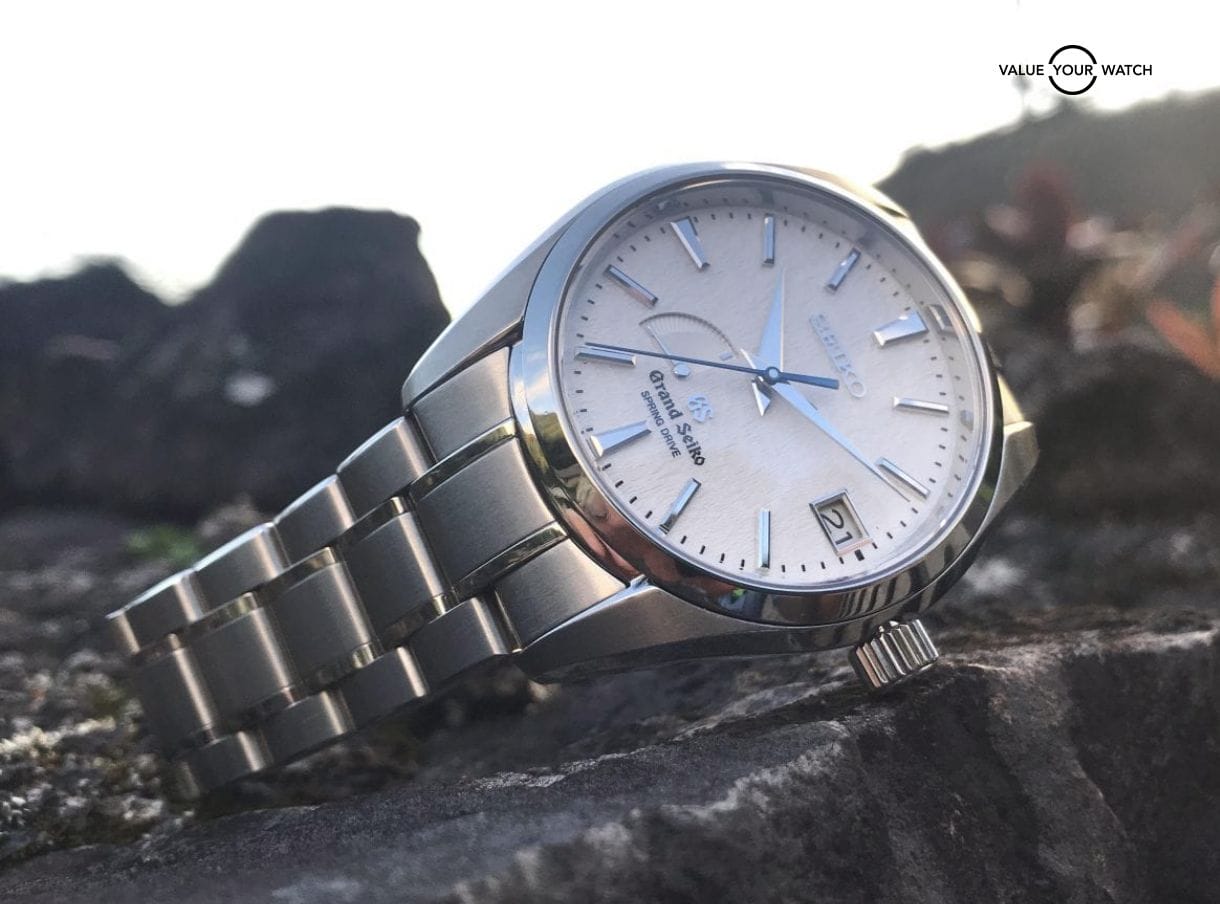 The year 2020 has been an exciting year, mostly negative, but exciting nonetheless. Between a microorganism trying to wipe us out, to being attacked by killer hornets, to the Atlantic Basin reaching Greek storm names for only the second time in history, there have been countless reasons to hole up in a bunker and wait the rest of the year out. In the midst of the chaos, two exciting positives happened this year; the 60th anniversary of Grand Seiko, and the 10th anniversary of Grand Seiko in the US.
Only in the last couple years has Grand Seiko taken off here. There has always been the Grand Seiko die-hard fans, heck even Seiko has them. Why did it take 8 years for the Grand Seiko line to be taken this seriously? It is often argued the clue is in the name. Read any blog or review involving a Grand Seiko timepiece, and you will inevitably read comments about not spending this kind of money on a Seiko. The Japanese Auto industry understood this, hence we have Lexus, Infiniti, and Acura. Nissan is one of the fastest-growing brands in the US, but you don't have the same argument involving their luxury pieces. I haven't heard anybody look at an Infiniti and say I would never spend that kind of money on a Nissan. If you do, it is nowhere near as prevalent as with Grand Seiko. The best part is, that QX60 you see everywhere is built in Smyrna, Tennessee, right next to the Altima. The same can't be said about the Grand Seiko. Walk into Shizukuishi Watch Studio, and there isn't a single Seiko being made.
Generally, when people think of Seiko, two things come to mind; the Seiko 5 found at every major department store for a couple hundred bucks, and the quartz crisis. Cheap watches, and the near destruction of the pride of a nation. Next year, Seiko celebrates it's 140th anniversary. 2023 is the 110th anniversary of the Laurel, Japan's first wristwatch. Seiko is older than both Rolex and Breitling, as well as only being six years younger than Audemars Piguet, three beloved Swiss brands. Seiko has a long heritage, so why does it not demand the same respect? There is a small chance it may have to do with the Seiko 5 and the quartz crisis, the latter of which didn't have to happen.
In the sixties and seventies, the Swiss were actively involved in the quartz race against the Japanese. They released many of their own quartz timepieces in the seventies, including the world's first certified quartz chronometer. What happened then? The Japanese took the technology and ran with it while the Swiss didn't think it would be a worthwhile investment. At the time, Swiss mechanical timepieces were still dominant in the world. 50% of all watch sales at the time were Swiss, however, quartz watches were cheaper, and more accurate. Led by the US and Japan, quartz started to take over. Seiko even put a 15 year pause on their own mechanical watches. The number of Swiss watchmakers dwindled from around 1600 to about 600 and many of the remaining couldn't survive by themselves. This led to a bad taste in many people's mouths. Casio, Seiko, Timex. These quartz watches dominated.
Obviously the Swiss industry survived, and with it came the return of the Grand Seiko in 1988. While the swiss were going in many different directions, the Grand Seiko was following "the Grammar of Design" rules laid out by Taro Tanaka in 1962. He realized the finish of his high end watches was leagues behind the Swiss. Something had to change if he wanted to challenge them. The rules were weakened some to allow for different designs in the 70s and 80s, but inevitably, Grand Seiko returned to this design route quickly. For twelve years, Seiko was making high beat and quartz Grand Seikos, while at the same time, refining a brand new technology that Yoshikazu Akahane had been developing for the last 21 years. Spring Drive. Spring Drive was first utilized in 1999, but it was another five years before it was acceptable for Grand Seiko, it had to have 72 hours of power reserve. The idea was that after work on Friday, you would take the watch off, and Monday you could put it on for work and it would still be powered. They were looking to take any advantage they could. The legend was born. Why, however, did it not take off in the western world. If you are not familiar with Spring Drive, it is either an automatic watch regulated by quartz, or a quartz watch powered by an automatic movement (depending on who you talk to). This had the benefits of quartz accuracy but never needed a battery. No matter how you look at it, the technology is impressive. This replacement of the escapement with an electronic circuit made a few people uneasy, but didn't stop everyone. The fans arrived, and in 2010 Seiko announced the Grand Seiko to the rest of the world.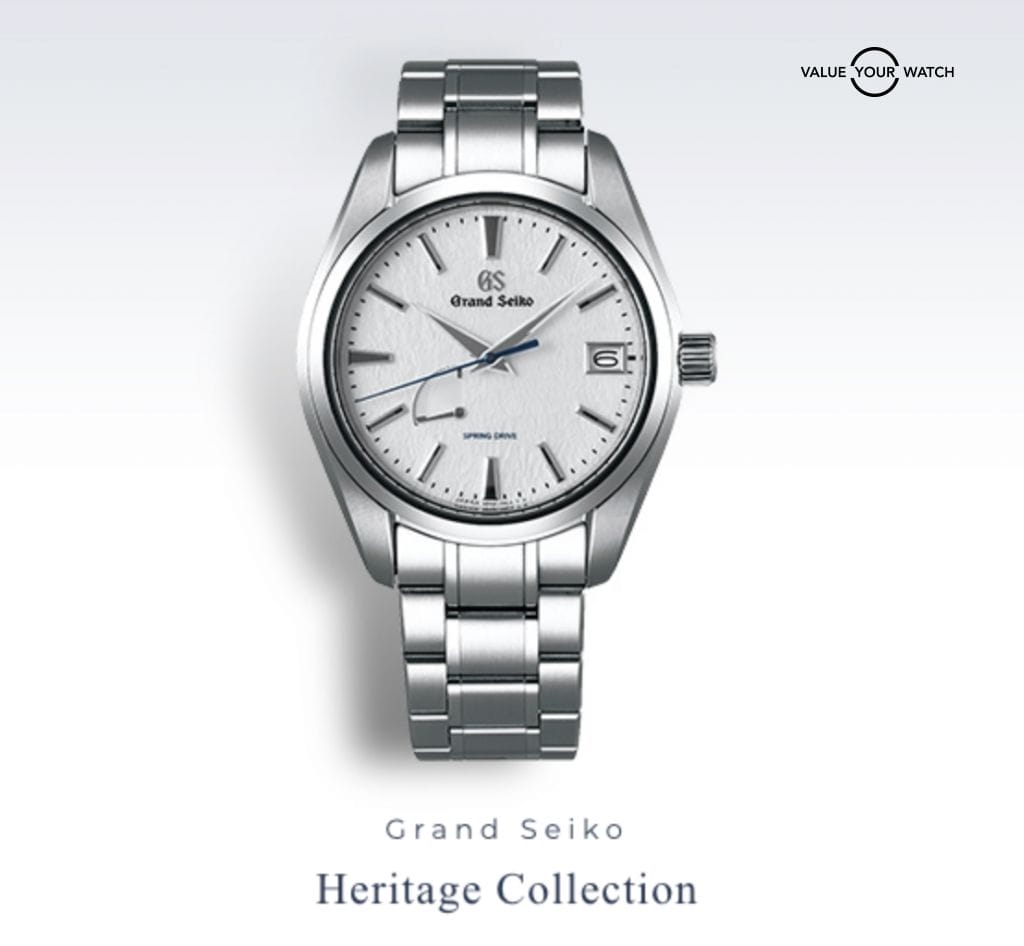 Where to purchase Grand Seiko
Currently there are very few places in the US that sell Grand Seiko. Many people still consider Grand Seiko "just another Seiko". Seiko's own team in the US told Akia Naito that the hurdle was too high for Grand Seiko to make an impact in the market. Mr. Naito basically told the management, if they weren't confident enough, to leave. Brice Le Troadec was brought over from Omega and he realized that people were excited about Grand Seiko. Yes, the naysayers still existed, but there was generally a positive vibe around the brand. One of the benefits that Mr. Le Troadec brought to Grand Seiko was relationships with Omega Authorized Dealers(why so many Grand Seiko retailers sell Omega). Still, it was difficult to convince some that Grand Seiko would sell. It took a complete restructuring in 2017 combined with a new marketing team that really got Seiko firing on all cylinders. Grand Seiko became a separate company.
Americans are huge on name recognition, as mentioned earlier. One question some people have, is Seiko already had a premium brand in Credor. When Seiko wanted to go upscale, what was stopping them from using that name? It's always speculation at this point, but could Credor have been enough of a disconnect to make the viability of the line happen quicker? Credor is a Japan only name. Is the Seiko connection both a gift and a curse? As always, we can only guess, and here we have the Grand Seiko line in the US. One huge stepping stone for the brand was a place on the shelves of Watches of Switzerland. Through education, and factory support, the Grand Seiko line is officially on the lips of high end watch collectors.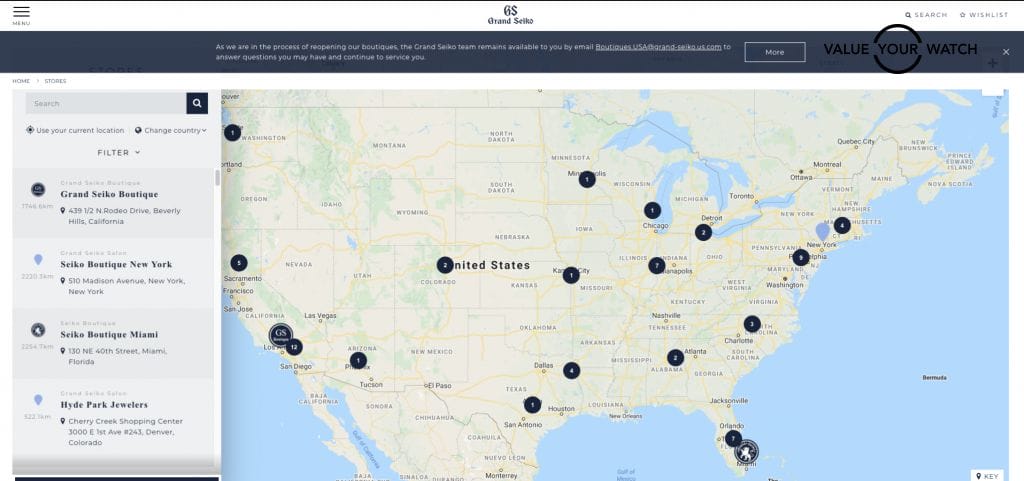 Should you purchase Grand Seiko?
What does this mean to the average watch collector? Well, probably nothing, but Grand Seiko is a brand that many people may want to look at, if they haven't yet. Just read through the mostly positive reviews. Many of them are sponsored, but it will still give you some great information. The dials are stunning. The cases are finished at a master level (it is called Zaratsu polishing, and is often matched with "hairline finishing"). The movements have a stricter than COSC chronometer standard that is an in house requirement. They have dressy watches, sporty watches, precious metal watches (including a $185.000 platinum, diamond, and sapphire wristpiece). Limited edition, they have it. Ladies, they have it. Their average watch is made with "high-intensity titanium", far more scratch resistant than standard titanium and stainless steel. Then you have the second hand. This true sweep of the hand is mesmerizing. It captures the essence of time. It is always moving in a steady, uninterrupted motion. Due to the nature of this movement however, some purists are not fans of it. That is fine, the Grand Seiko can satisfy that purist in you with the Hi-Beat automatic. Just about any watch with the Spring Drive can be had with this 10hz movement. At this point however, you may get better accuracy out of a Rolex. Anybody can buy a Grand Seiko new, and if you want used, it will not command the same premium (yet). And for those that want the Grand Seiko craftsmanship, with a more cost effective movement, you can't go wrong with the 9F quartz watches. Not everybody will find a replacement for what they are looking for, but many will.
Rolex vs Grand Seiko
Let's take a look at two of Rolex's most popular models; the GMT Master II and the Submariner. The GMT Master II is a 40mm GMT with that wonderful two color bezel. This watch is extremely difficult to beat. There is a reason it's value jumps 50% before it leaves the store. However Seiko does have a couple options that don't have a 10 year waitlist, and won't cost you a first born child to purchase. The Grand Seiko SBGE series. It is a 40mm ceramic bezel GMT watch. It also comes with the Spring Drive Movement. The one thing it is missing however is that two color bezel. In order to get that, you can step up to the SBGJ series. Here you get a two color sapphire crystal bezel with Lumibrite, however you do have to step up to a 44mm case size, as well as step down to the Hi-Beat Automatic movement. The nice thing about this pair, is that they are triple time watches. Track 3 time zones at once if you so choose. The edge of the dial contains a 24 hour scale for the GMT hand. It also has the bi-directional rotating 24 hour bezel typical of any GMT watch. Overall, the GMT Master II is still the king of GMTs, but this Grand Seiko pair does a very good job of scratching that itch, while having a bit of technical superiority over the Rolex.
The Rolex Submariner is a classic dive watch, you know the watches that will never see the ocean, much less a swimming pool. Watches so iconic, they have nicknames; Hulk, Kermit, Bluesy. 41mm, ceramic bezel, this is another hard to beat line from Rolex. I can't sit here and say that Grand Seiko has it covered, but they do have a couple fine options in their own right. The SBGA watch is available in steel and titanium. It has all the classic features; screw down crown, uni-directional bezel, slide adjusting bracelet for dive suits. The two advantages to this watch are the removable bezel for cleaning dive debris, and spring drive accuracy. It does have it's faults however. At 44mm, it is a large watch. Second, it's only rated to 200m, which let's be serious, are either of these watches doing any serious diving? Next up Grand Seiko also has the SLGA. It's a limited edition piece and has the 600m resistance rating. This would be a great choice for those looking at the deep boy watches. It comes in at a massive 47mm and has all the features a dive watch should have. Plus, being made of the high-intensity titanium Grand Seiko is known for, it's stronger and more scratch resistant than the steels from the big boys. Is it better than the Sea Dweller or Planet Ocean? I can't say that it is, but it has it's place.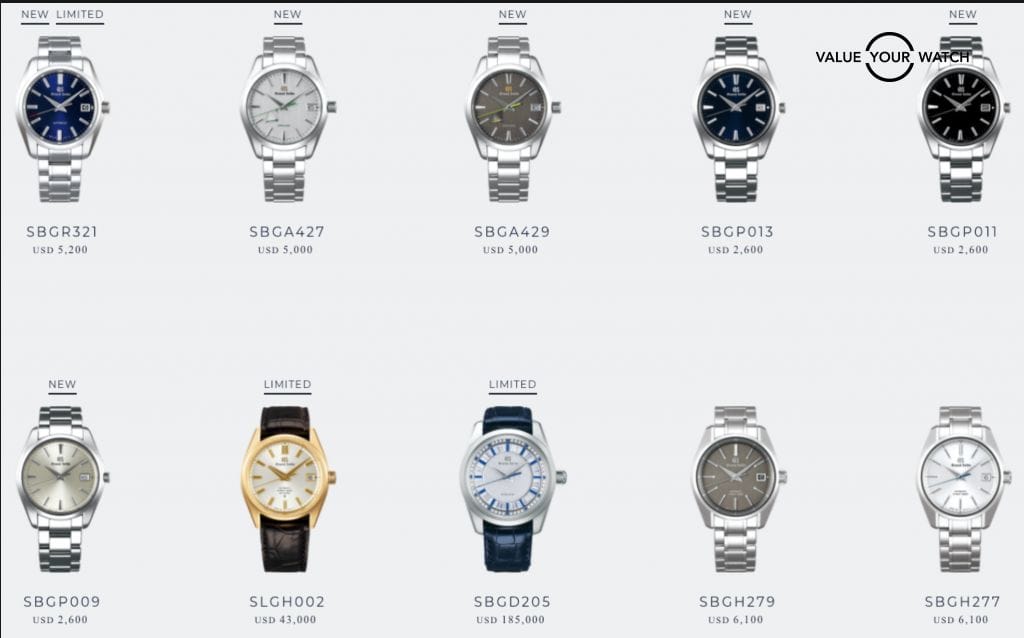 Where I think Grand Seiko really shines however, is their Heritage and Elegance lines. Datejusts, Premiers, DeVilles/Aqua Terras, this is the realm that Grand Seiko gets noticed. Their US only releases, The Japan Seasons Special Editions, are watches in the Heritage collection to celebrate the 24 seasons Japan recognizes. Special textured dials with unique color treatments, combined with master craftsmen finishing, create a watch that is spectacular. The 40mm case size is perfect for the majority of the public, and it's hard to take your eyes off the dial treatment. When you combine that with the smooth sweep of the spring drive, it is a mesmerizing experience. Someone could say Grand Seiko is just putting pretty dials on the same old watch. My answer is, I don't see any reason to change it. The proportions and shape are excellent, and at first glance, you know what this watch is. If the case size is too large for you, they have the standard issues with 37mm cases, and the Elegance collection has 38mm cases with 28mm or 31mm cases in the women's line. You can also opt for the 41mm Heritage cases for those who need that larger presence. In addition to the styles already listed, it makes for an impressive portfolio for such a young brand.
Conclusion
If you draw one conclusion from reading this, it should be that Grand Seiko makes a high quality luxury watch. If you draw a second conclusion from reading this, it should be that Grand Seiko is far from perfect. If I must admit, I am left wanting with their sport collection. Does Grand Seiko have to pursue this line to the extent of the Swiss? I hope they do, as the most popular swiss watches are luxury sport watches. I am a firm believer in the concept of the more competition the better. There is Seiko, but people looking at Europe for their watch, are never going to give Seiko a first look, much less than a second. When you get to their Elegance line, it's as if the options provided are random. I would like to see a setup similar to the Datejust and Oyster Perpetual. The Heritage line is truly the highlight of their portfolio. It has a specific design element they are able to work around to create some true gems.
Overall, I feel the majority of people will find a great deal for a watch they were not expecting to love. Are they Swiss killers? Not at all. Are they high quality Swiss alternatives? Absolutely. Are they collectors pieces? Right now it's really only "The Snowflake" and the limited edition SBGA387 that are there currently, but some other pieces are creeping up there in price as we speak. It's way too early to tell what's going to be the future for the brand, but the present is looking good so far, and I don't feel that the Seiko name is truly a detriment to Grand Seiko.
The Blog post was written by Chris Freeman