Collecting watches at a discount is something most people would like to do. If you don't want to save money or think money is just a piece of paper, you may not care.
In my experience, when talking to friends who like to collect watches, I've never had anybody tell me, "I want to pay the full price instead of saving 30% on the exact watch I want."
Of course, some watches are much harder to get at a discount, but the secret is to buy pre-owned. You will be surprised at how much money you can start saving by collecting watches from a secondary market.
Some people think that buying pre-owned watches is like purchasing a used car, but that's a huge misconception.
When you service a watch, you will make the watch run like new, and you even get a warranty. There's no need to service the watch by the manufacturers because the price is relatively higher than your local watchmaker. But sometimes, you have to send it to the manufacturer because the watch parts are not available.
In the end, if you like to save money, here are the tips on how to start collecting watches at a discount.
Which watches to buy?
Understand the Depreciation Curve?
Where to buy watches at a discount to start watch collecting?
1.Which Watches to Buy
This is the question many first-time watch collectors are searching for all the time, especially if they don't know where to start. There are so many watches with so many different movements and histories that picking the right watch for you is not as easy as it might sound.
Here are the questions you should ask yourself.
What watch brand do I like?
How much money am I willing to lose?
Which watch movement I want?
What material should the watch be made of?
What activities am I going to be using the watch for
What watch brand do I like?
You need to ask yourself, do I want to start collecting the watches everyone likes, such as Rolex, Omega, or Patek, or will I focus on the micro brand watches because I like their mission and innovation.
There are so many choices, and you will need to spend some time researching and asking people on various watch forums what they think about that watch you are interested in.
Seeing watches on a YouTube watch channel is not the same as feeling the watch on your wrist and seeing all the details, like having the daylight hitting the dial from different angles when the color changes. The feeling of the steel on your wrist and the weight will give you different emotions when you are wearing the watch.
If you are fortunate and have friends who own the watch you are considering, you should go and see it in person. You may or may not be pleasantly surprised about how the watch makes you feel, and the hunt for the right watch will start all over.
How much money am I willing to lose?
If you are like me, you hate to lose money, unless you don't really care. There are people among us who buy because they want that specific watch, and losing money on depreciation does not bother them. If you are one of those people, great, if not, you should be thinking about the happiness and satisfaction you will get out of the watch even if you are going to lose some money because the watch depreciates a lot.
Which watch movement I want?
There are three major watch movements. It would help if you got familiar witch each of them because you might realize that Manual-wind is not something you really like. Every three days, you might have to wind the watch to keep the power going. Or you might enjoy the automatic movement where you can see the rotor charging the power reserve if you have an open case back.
Last but not least, some movements are powered by battery, aka quartz. These movements are the most accurate timekeepers; however, they are not as popular as automatic watches.
What material should the watch be made?
Do you want to purchase the watch, which is using gold, platinum, titanium, or steel? The material used will make the watch feel entirely different. If you want light and durable material, titanium might be the choice, or if you wish to preserve value in an economic downturn, the gold watch might be a better choice. Some stainless steel watches are trending at premium compared to gold watches.
What activities am I going to be using the watch for?
Last but not least, questions you should ask yourself before starting to collect watches at a discount are to know what you want to use the watch for. If you are an active person who likes to dive, you should be getting a watch designed for diving. Or, if you travel a lot, the GMT timepiece might be one of the best choices for you because you want to know what time it is back home. Many different watches will fit your style, but you need to know what style you want to fit in.
Now that you know what questions you should be asking before searching for watches to start a collection, it's essential to understand how much value each watch loses when you are going to purchase it.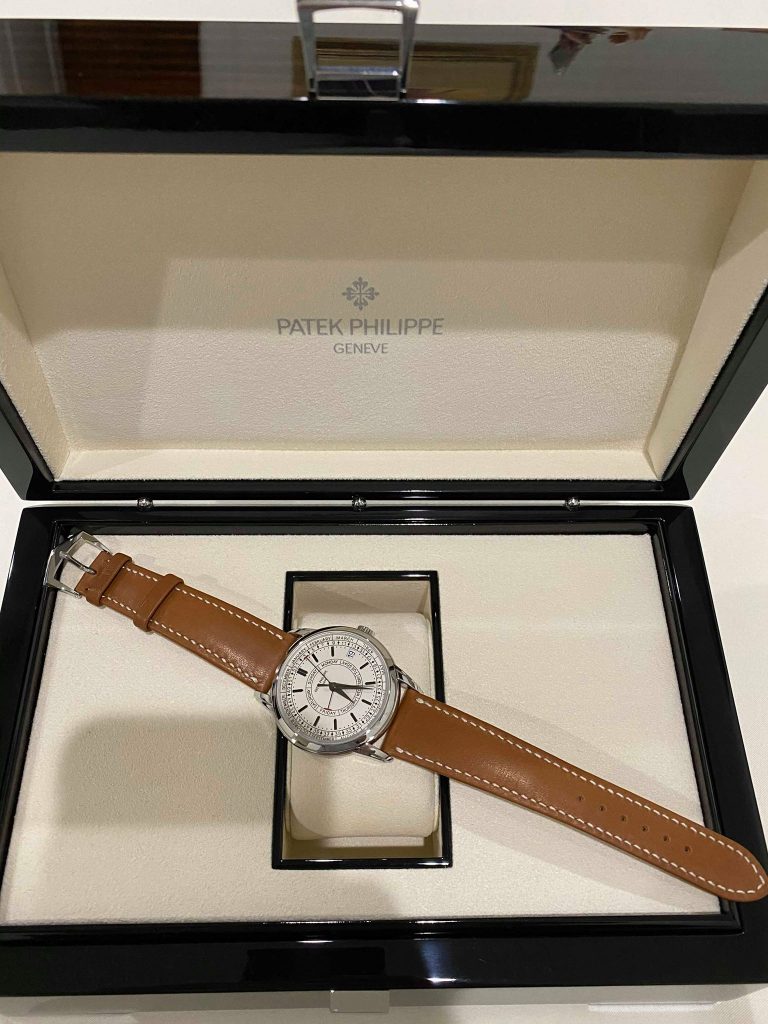 Understand the Depreciation Curve
Watches are like cars. When you buy a watch directly from a dealership, you might lose thousands of dollars. The most significant difference is that the secondary market of watches is enormous and growing very fast.
People are willing to purchase used watches rather than brand new from the authorized dealers because generally, they know that watches hold their value much better than cars. 
Many great watch search engines will help you understand the current watch prices across the internet around various watch platforms.
WatchRecon.com
myWatchmart.com
These three watch aggregate platforms will show you where a watch is listed with the current asking prices. However, that does not mean that's the price you are going to purchase the watch for.
By knowing what watches are listed for at the secondary market, you will be able to see the potential discount you could get when starting to collect watches.
For example, if you want to buy an Omega Speedmaster Moonwatch Professional Chronograph 42mm, you can see it see that a brand new watch costs $5,350.
Here are the prices of the secondary market…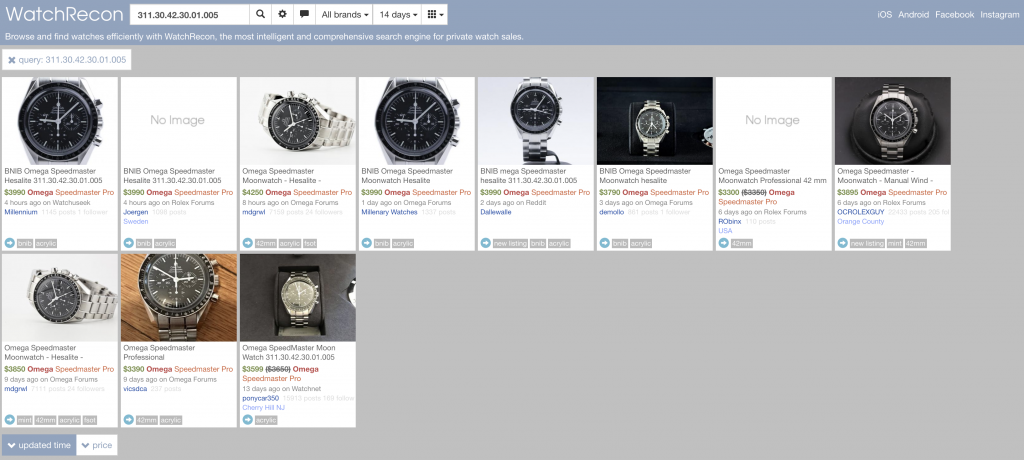 3.Where to Buy Watches at a Discount to Start Watch Collecting
Buying watches at a discount is something many watch collectors want. There are many online stores that offer luxury watches for sale, but do you know which once are more reputable than others?
Finding the right luxury watch websites is not the end, but the beginning of the hunt for your luxury timepiece.
Here are the best places to look for watches which are selling at a discount on the secondary market.
Rolex forum
Omega forums
Watchuseek
Watch Marketplaces
eBay
StockX
Value Your Watch
Chrono24
Craigslist
Facebook Groups
Bigger Watch Dealers
Jomashop
Bob's Watches
Tourneau
WatchBox
Crown & Caliber
All these platforms are great for finding the watches at a discount; however, you still need to know who the seller is unless you are buying directly from the big watch dealers who have solid reputation. You don't want to purchase a watch from someone who is not a trusted seller.
There is a good blog post I have written about the signs of a trusted seller. It will help you get familiar with what to look for in a seller.
By knowing who the seller is, you are eliminating the potential headaches from a good deal gone bad—some people are not as ethical as others.
Conclusion
Collecting watches at a discount is something most of the watch collectors would like to do because saving money is a good thing. When you know the specific timepieces you would like to start collecting; you will be able to focus on locating the right watches at the right price. There are so many great watch marketplaces that you can purchase watches at a discount and start growing your watch collection. In hopes to bypass the hard work, you can always find a watch dealer who will do the watch hunting for you.