Watch forums are still popular, even if many discussions are happening on other online platforms. When I was looking for the best and up to date resource to learn more about watches, I looked for various watch forums which allow you to buy and sell watches as well. If you do not like forums to sell watches for cash, you can look elsewhere.
Watch forums are a fantastic source of many very bright and not so intelligent people who like to share their passion for watches. When you get involved in various discussions, you will realize the value of being part of various watch forums.
Many forums have been around for a while. You will be able to see that some of the discussion topics have more than a million posts. The great thing about joining the watch forums is the price. It's FREE! Yes, it is free to join and read and learn about various watch topic. See the list below!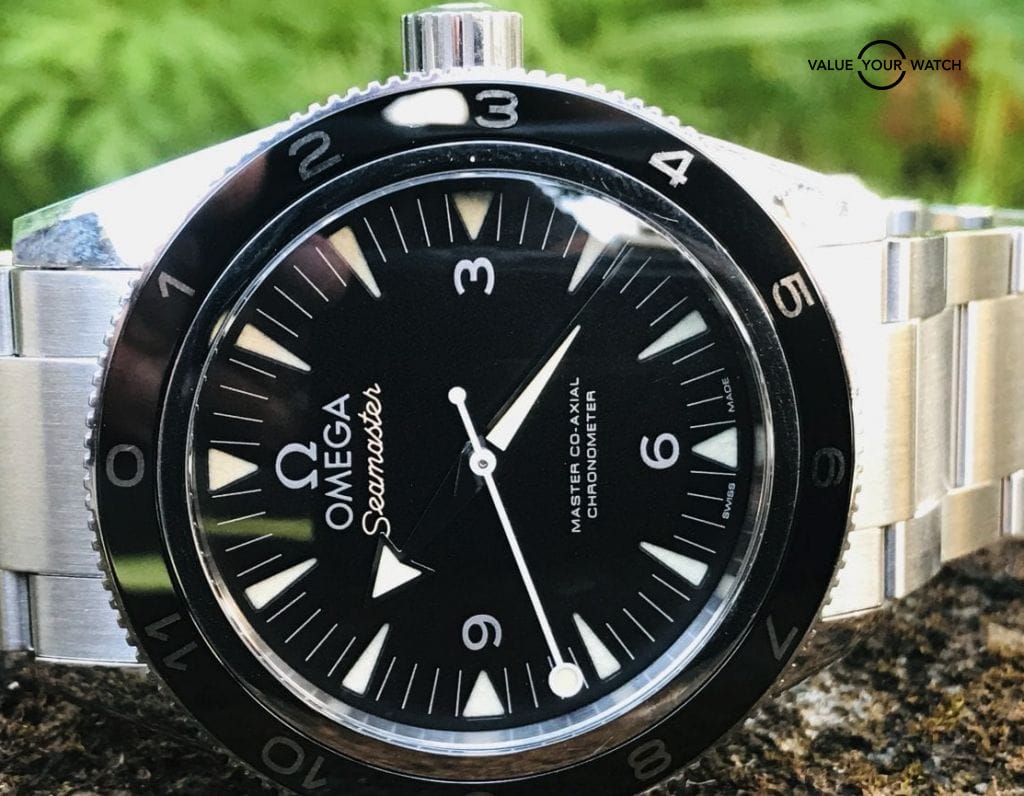 Rolex Forums
This watch forum is one of my personal favorites. There are many excellent Rolex discussion as well as any Watch related topic you might want to learn about it.
Threads:740,952 (2021) ,684,302 (2020), 659,769 (2019)
Posts: 11,047,758 (2021),10,202,041 (2020) 9,831,252 (2019)
Members:250,061 (2021), 238,068 (2020) 230,367 (2019)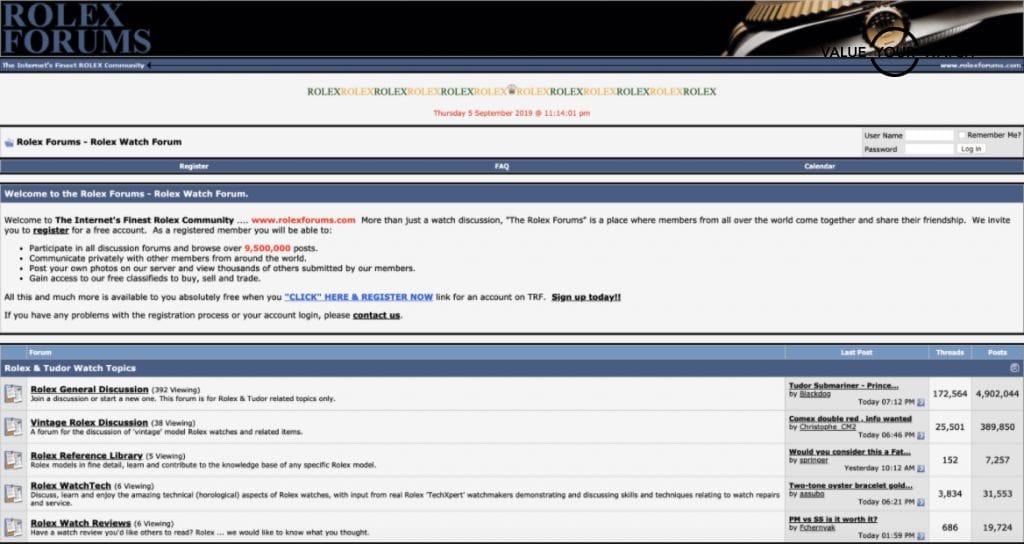 Can you buy or sell watches on Rolex Forums? Yes, you can buy and sell watches on this forum. If you would like to sell a watch on this watch forum, the only requirement is to pay $30 to become 2021 Pledge Member.
When you are planning to purchase watches from the forum, make sure you will check out the seller's references. Always make sure that you "buy the seller first."
Watchuseek Forum
https://forums.watchuseek.com/forum.php
Watchuseek is the most significant watch forum in the world. There is so much discussion that you can spend years just reading all of them. Just look at the statistics below.
Threads: 1,698,390 (2021), 1,698,390 (2020), 1,656,126 (2019)
Posts: 17,700,000 (2021), 15,995,817 2020, 15,462,834 (2019)
Members: 432, 353 (2021), 424, 353 2020, 414,728 (2019)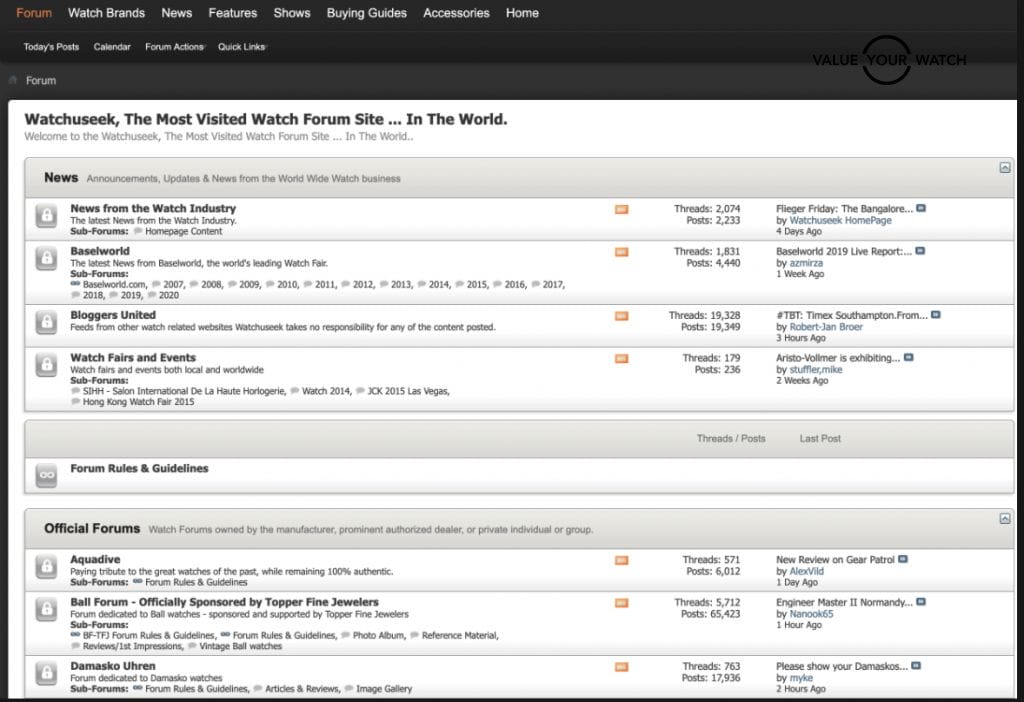 Can you buy or sell watches on Watchuseek? If you joined just to sell, you have two options. You have to contribute to the discussion with 100 quality posts. Speed posting is not allowed. Or the second options is to become a sponsor where you pay a fee to be able to list watches for sale.
When buying watches, you should wet the seller as well and know their reputation on and off the forum. The reputable sellers will make it easy for you to feel comfortable to deal with them.
Omega Forums
As a person who loves Omega watches, I have spent many hours reading various topics at the Omega Forum. You can learn about other watches as well but mostly. This watch forum is not as large as the previous once, but the watch community is very tight.
Threads: 116,311 in (2021),100,386 (2020), 93,480 (2019)
Posts: 1,561,367 in (2021) ,1,329,802 (2020), 1,233,468 (2019)
Members: 61,391 in (2021),52,654 (2020)48,931 (2019)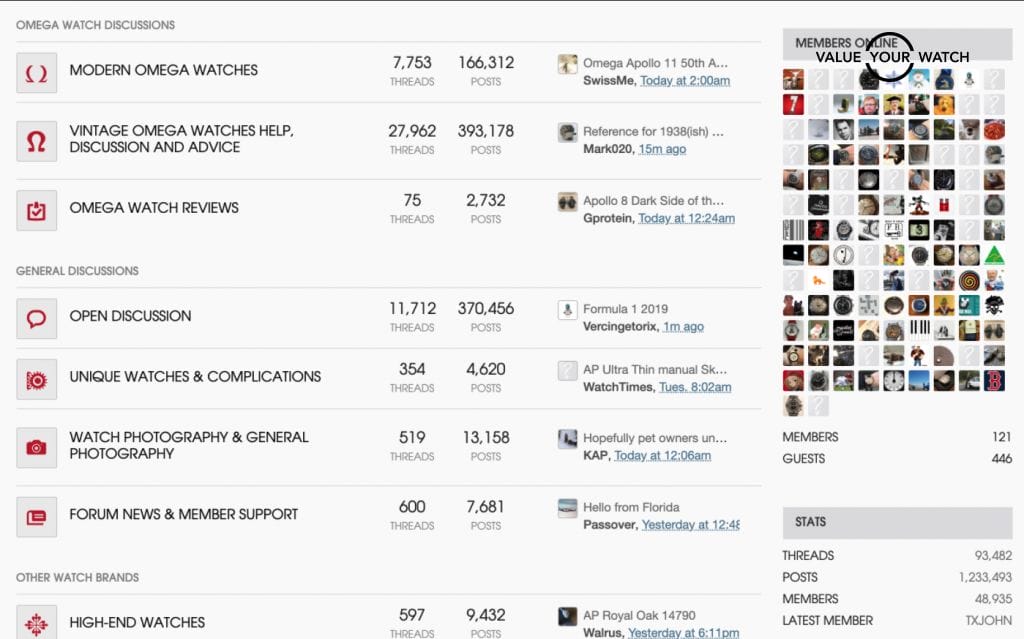 Can you buy or sell watches at Omega Forums? Yes, you can. Similar to Watchuseek, you need to contribute to the forum by at least 200 posts before you can sell. Also, if you are a dealer, you can submit your credentials, and you will be able to sell as a dealer as well. In exchange, you still need to contribute to the discussion to provide value to the watch community.
Vintage Rolex Forum
https://www.tapatalk.com/groups/vintagerolexforum/
You probably guess right, this forum is about Vintage Rolex watches mostly.
Threads: 243,300 (2021), 238,300 (2020) , 235,600 (2019)
Posts: 591,000 (2021), 576,600 (2020), 568,000 (2019)
Members: 14,440 (2021), 13,304 (2020), 12,702 (2019)
The Watch Forum
This Watch Forum started in 2001 as a forum for RLT Watches customers. This forum is based in the UK.
Threads:?
Posts:954,999
Members: 43,814
Watch Talk Forums
https://www.watchtalkforums.info/forums/forum.php
Threads: 76,496 (2021), 75,543 (2020),75,145 (2019)
Posts:706,412 (2021), 699,245 (2020), 696,421 (2019)
Members: 43,217 (2021), 42,541 (2020), 41,026 (2019)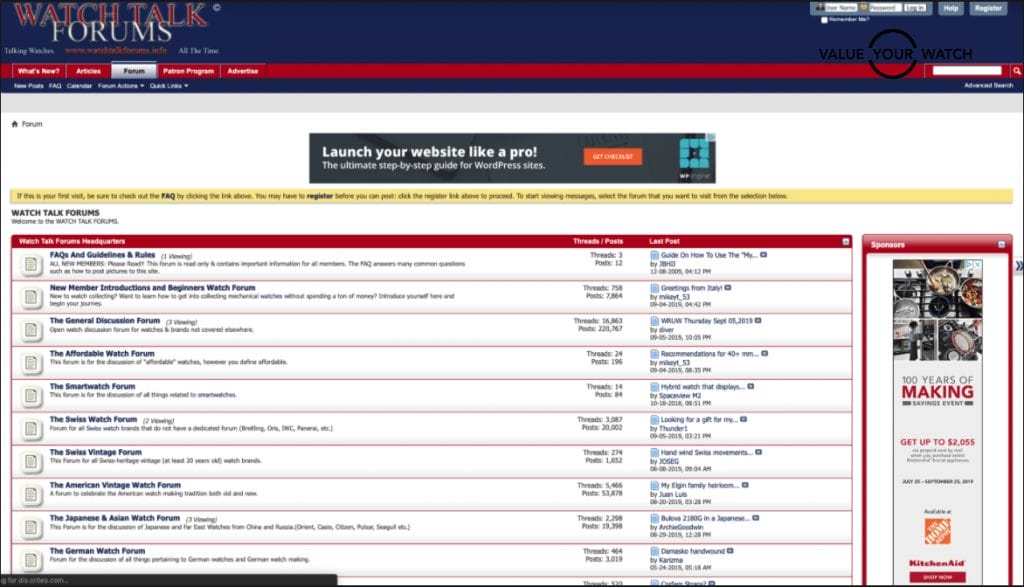 Can you buy or sell watches on this platform? Yes, there are two different categories — individual sellers as well as Vendors. When you are sale as an individual seller, you need at least five posts and be in good standing.
Watch Freeks
The Watch Freeks is not as active as the other platforms I have mentioned before. You will be able to find valuable topics to become more knowledgable about horology
Threads:??? (2021), 64,218 (2020), 63,594 (2019)
Posts: 789,700 (2021), 755,961 (2020), 749,445 (2019)
Members:23,900 (2021) 27,222 (2020), 26,842 (2019)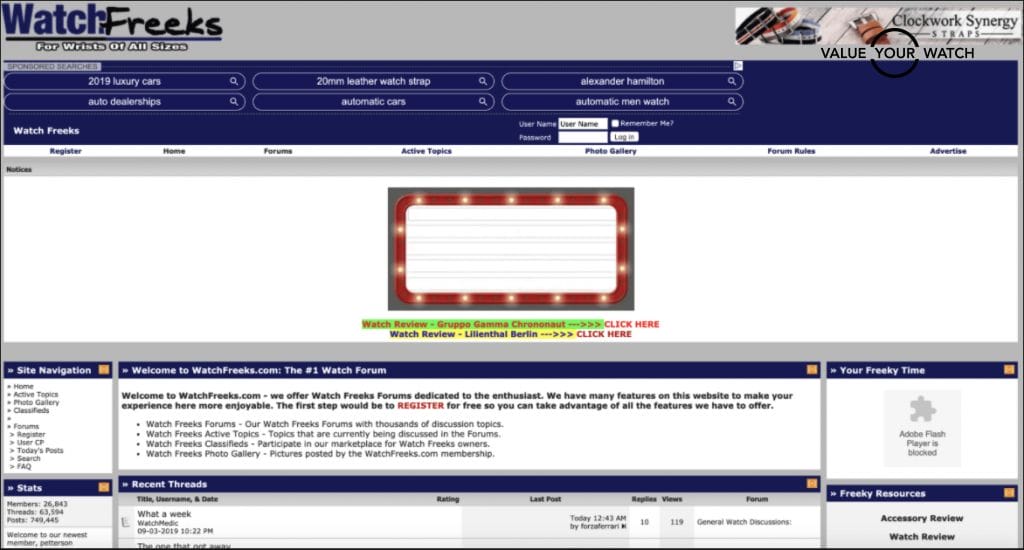 Can you buy or sell watches at Watch Freeks? Yes, you can, here are the requirement according to their website. "Minimum of 75 posts and have been a member of the forum for more than 60 days."
Canadian Watch Collector
As the name says it, this forum is specifically made for people who live in Canada. Even in the registration form, they want to know where you live.
Threads:53,853 in 2020 & 50,023 (2019)
Posts:283,380 in 2020 & 256,662 (2019)
Members:10,809 in 2020 & 10,244 (2019)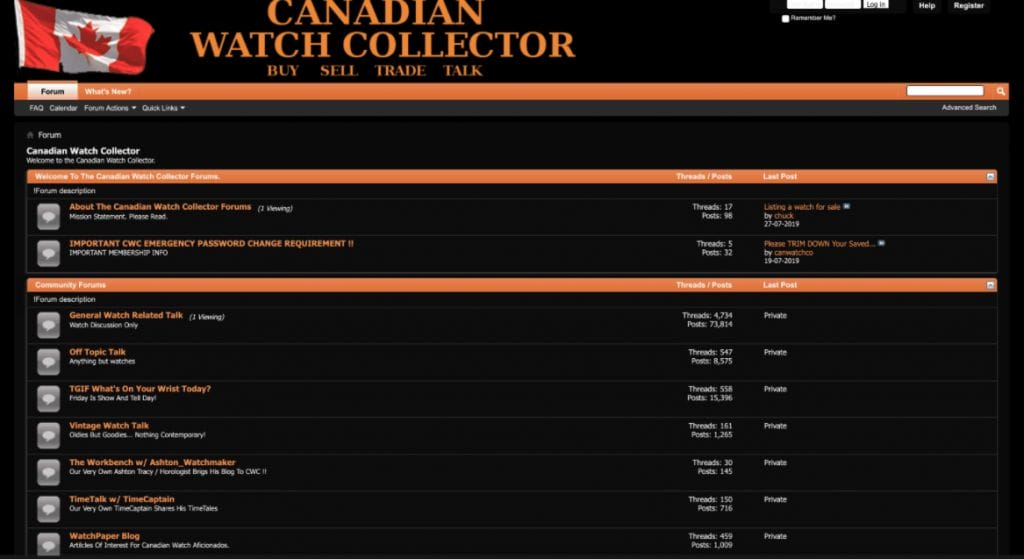 WatchProSite
According to the side, this discussion forum was "Established in 2001 with a team 25 brand moderators located on five continents, bringing you up-to-the-minute coverage and discussion on novelties in the watch world and all that is important to our horology focused community. We cover all the major luxury brands from Patek Philippe, Audemars Piguet, Chopard, Hublot to Cartier, Rolex, Omega and many more."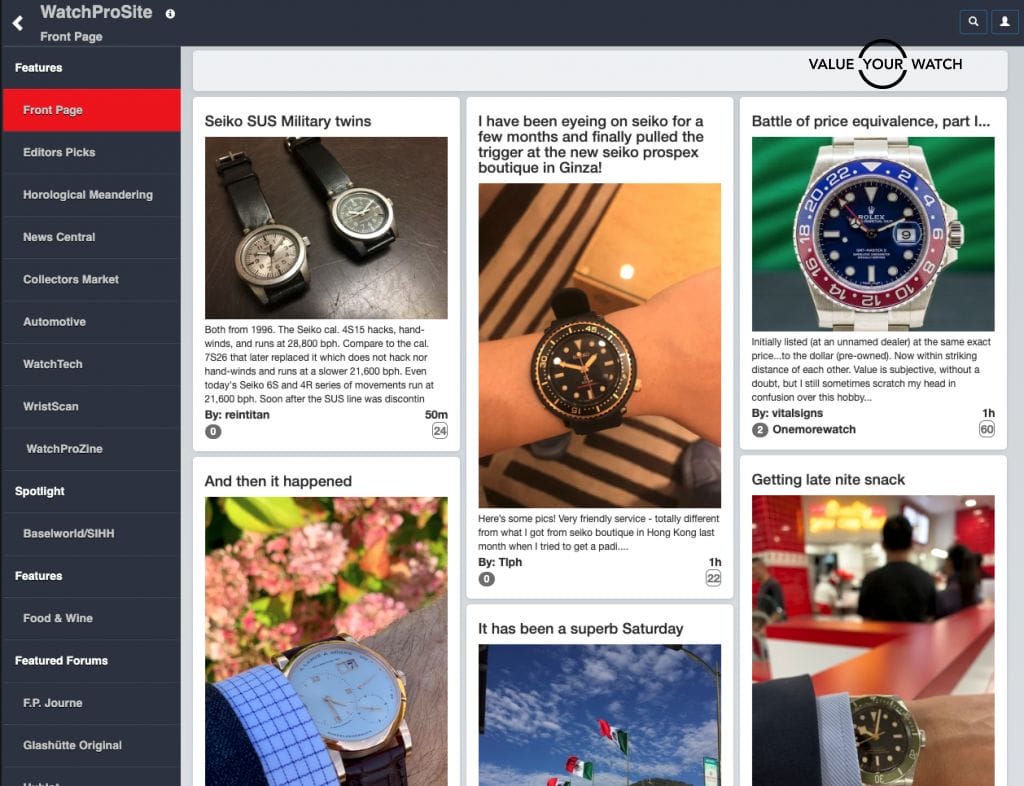 Chronocetric
Chronocetric is one of the largest non-commercial resource for watch collectors and enthusiasts of Omega and other fine wristwatches. The site is online since 1998.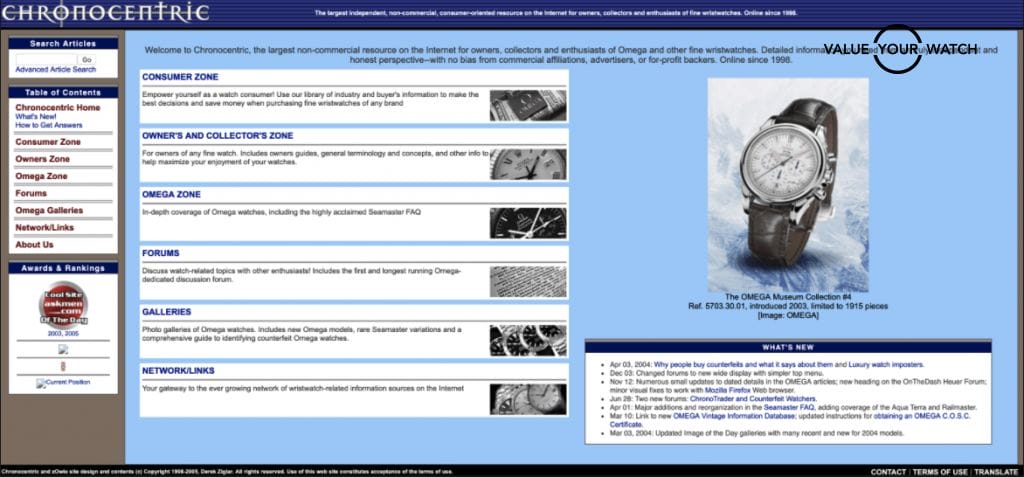 Timezone Forum
The Timezone forum used to be the most visits forum in the world, however after the years, new watch forums started. I still have a hard time to use this forum due to the way it's set up, but you can find a lot of valuable information.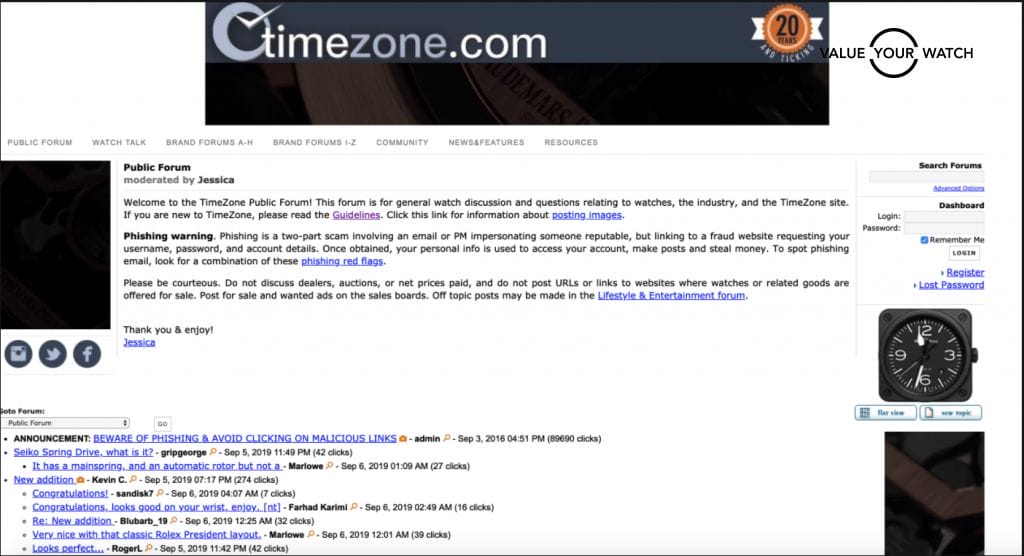 Watchnet.com
Similar to Timezone in the way of harder navigation, this online website is focusing more on selling and buying watches compare Timezone forum, which has many great discussion.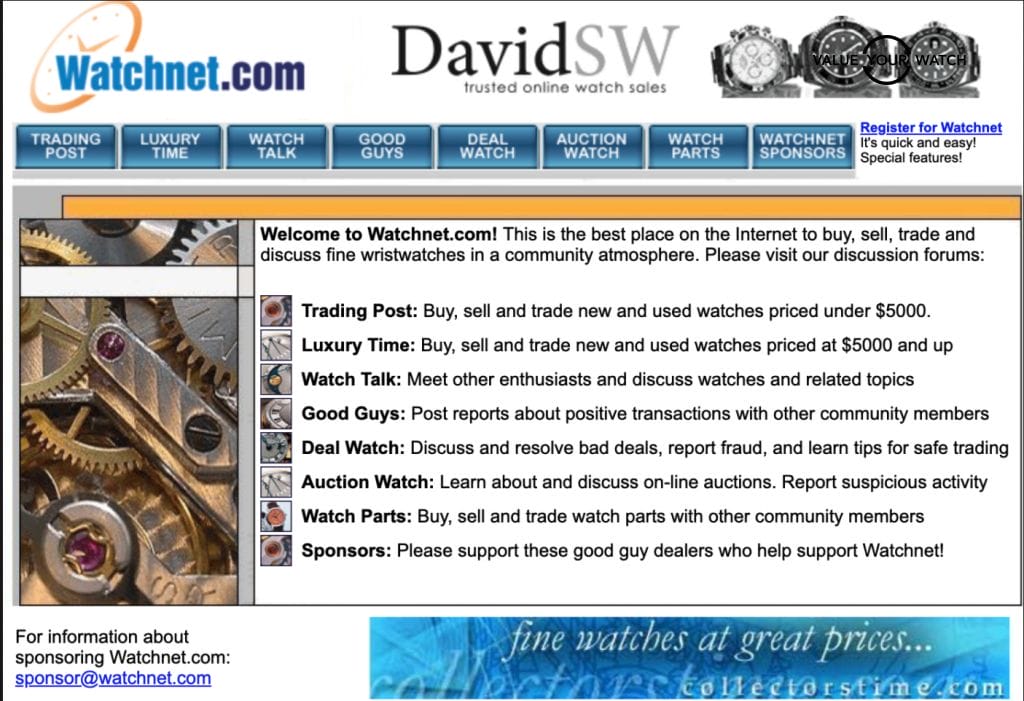 These are one of the best online resources for you in 2021. When you are looking to buy some watches, you can use watchrecon.com or mywatchmart.net which searches many forums for the specific watch you are searching for. It will save you time and you can compare prices as well.
From my personal experience, I would not stick to only one forum, because each of them has specific horology experts who do share their knowledge with the rest of the members. I remember looking for specific information about my Omega watch, I thought I would find it at the Omega Forum. The answer was at the Rolex forum. You never know where the answer will be unless you spend some time searching.
This watch blog was written by Honza Hroch the founder of Value Your Watch Marketplace.