When I first started to sell watches for cash, I had a challenging time to find the best places to sell. I knew that Pawn shops and Jeweler stores would buy watches, but also I know that they do not pay a lot for the watch.
I wanted to find the best places where I could sell my watches for cash fast and without any headaches. I found out that there are four major categories
Pawnshops
Watch Dealers/Jewelers
Online Watch Dealers
Sell On Your Own
---
Get the highest offer from Trusted Buyers at Value Your Watch
Each of these options has its benefits as well as disadvantages. Basically, it comes down to how much work I want to do to sell my watch. The less work I put in, the less money I get for my watch. Plain and simple.
But, every single time I get an offer for my watch from the Jeweler stores and watch dealers, I never understood why I got offered so less than what I thought I should get.
I started to learn more about how to find the current retail values of the watches I wanted to sell.
Here is an example. Because I like OMEGA watches, I search for the OMEGA Seamaster Planet Ocean 2209.50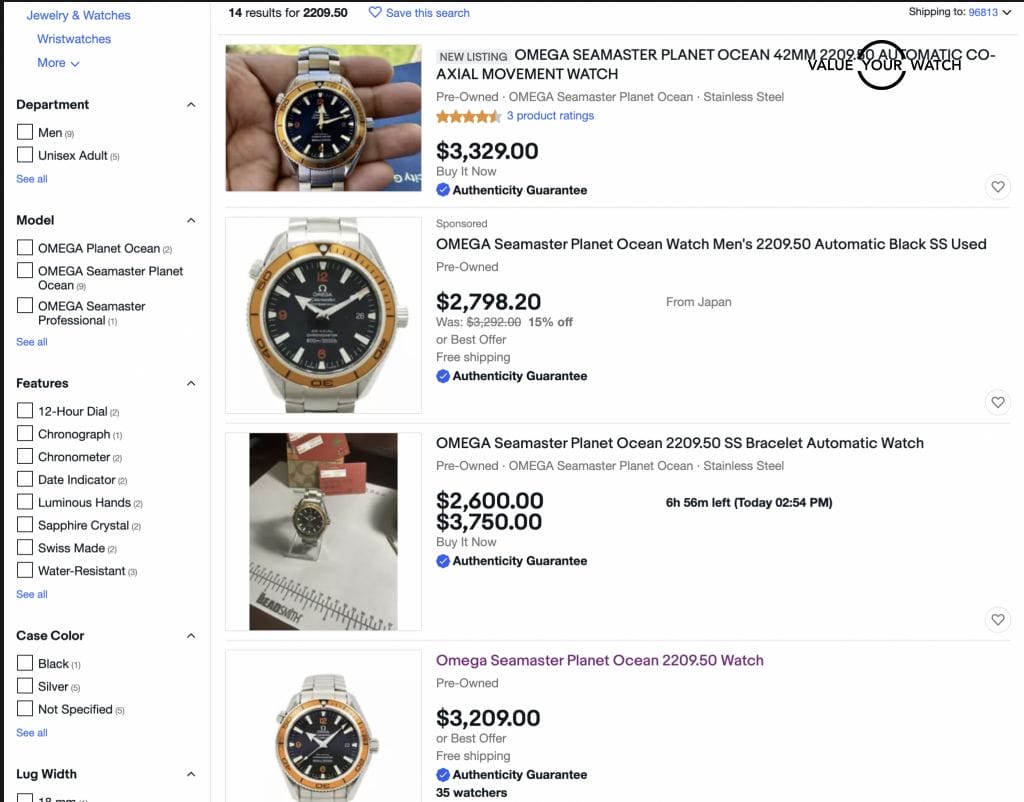 The average price is around $2,700, and the watch has some people interested (the Number of people watching) Assuming that the watch is relatively popular at that specific price.
Also, I click on the "SOLD" listing at eBay to see an actual price in which the watch was sold.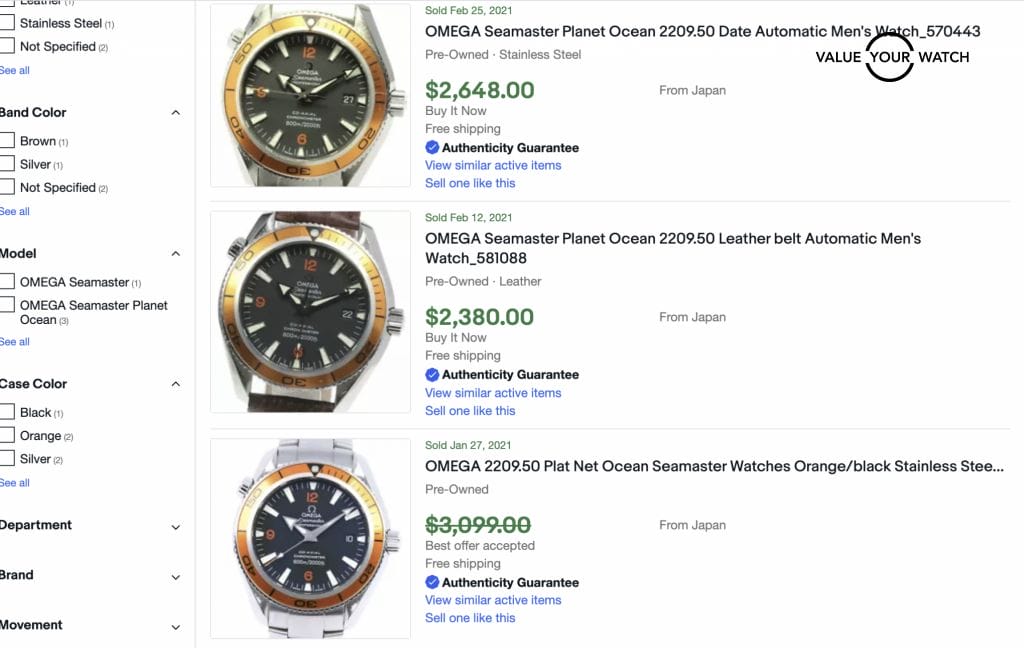 The sold price does not mean I cannot sell my watch for more; however, it's not a bad indicator for how much I could potentially sell my watch.
Now that I know the market value of my watch from eBay, I will look at the watch search engines which pool information from different sites.
MyWatchMart
WatchPatrol
WatchSignals
By using these sites, I can see how much the OMEGA is listed for sale all over the internet. By viewing the price, I can safely say that the watch market value is around XXX.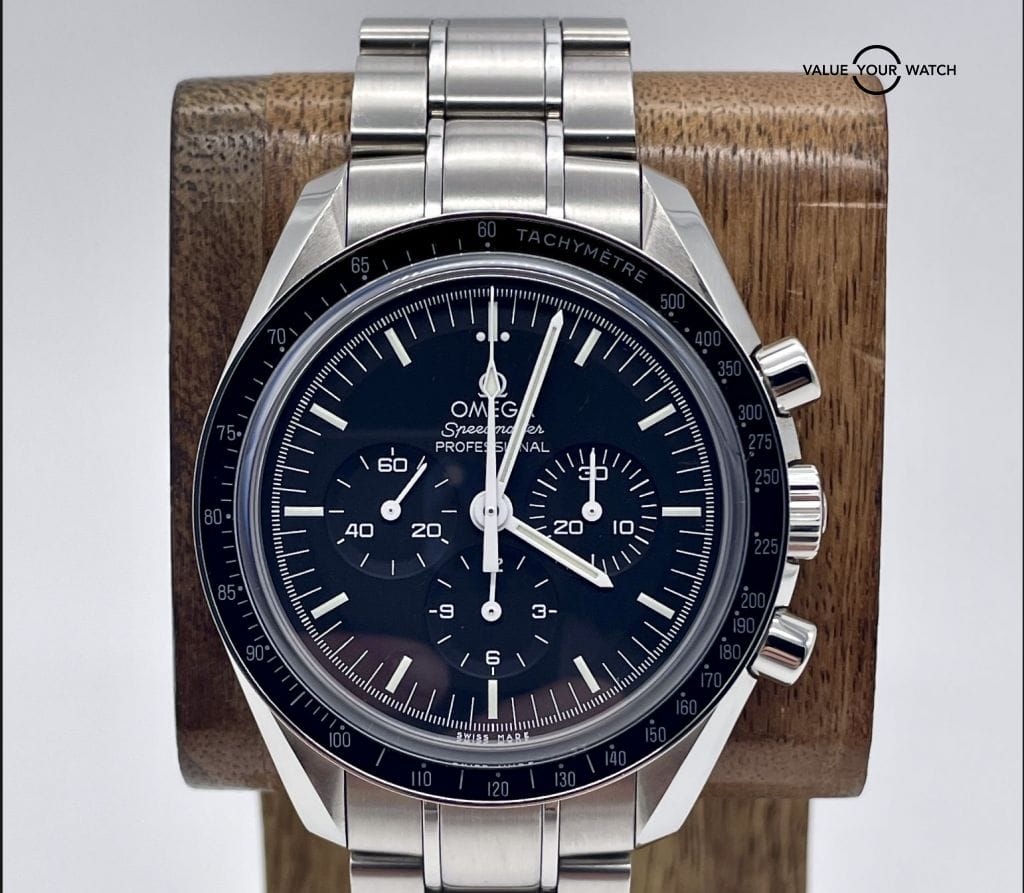 Because I have an overall idea of how much the watches are selling for, I can go to Pawnshop, jeweler, or a watch dealer to find out how much cash I can get out of my watch.
These businesses are here to make money, which I clearly understand. That's why I need to understand the costs they might be associated with. It's the same as I am going to sell the watch for cash on my own.
I need to know how much money I make after all the fees.
Fees can be charged for all the services required when selling watches for cash.
Taking Pictures
$20 to $100+ per watch
When I see amazing pictures of watches, I am going to click on that link or the picture rather than some junk picture, which is not showing the watch a great way.
There are professional photographers who are willing to charge for taking pictures, which can be as low as $20 per watch, but as high as hundreds of dollars.
Marketplace Platform Fees
Monthly fees $19.97 to $200+
Many platforms charge hefty fees to list watches on their platform. I have to pay a monthly subscription plus the processing fee, which can be much higher than 10% when selling watches. For example, when you look at 1stdibs, the fees prices are around 15%. That's $150 for every $1000, and it gets more expensive depending on different websites! When I list on eBay, the fees are around 13%, and there is a cap when selling watches on the total value of the sale, but I need to pay a monthly subscription to get the final value cap.
From my personal experience, many watch dealers and jewelers list on more than one platform to sell their watches. I do as well to get more exposure.
Shipping Fees
$50-$100
To ship watches within the USA by whether by UPS or FedEx, the cost is almost the same. USPS is a bit less expensive, but I get much less control when shipping with USPS. There are other companies that I could use to ship with, but I prefer UPS and FedEx. When it comes to the cost of shipping, you can safely say that the shipping cost around $50-$80 within the USA. It can be less if the dealerships have high volume and special pricing available. For me, to ship to the mainland from Hawaii with second-day air costs around $70. When it comes to international shipping, the cost is about $100 per watch.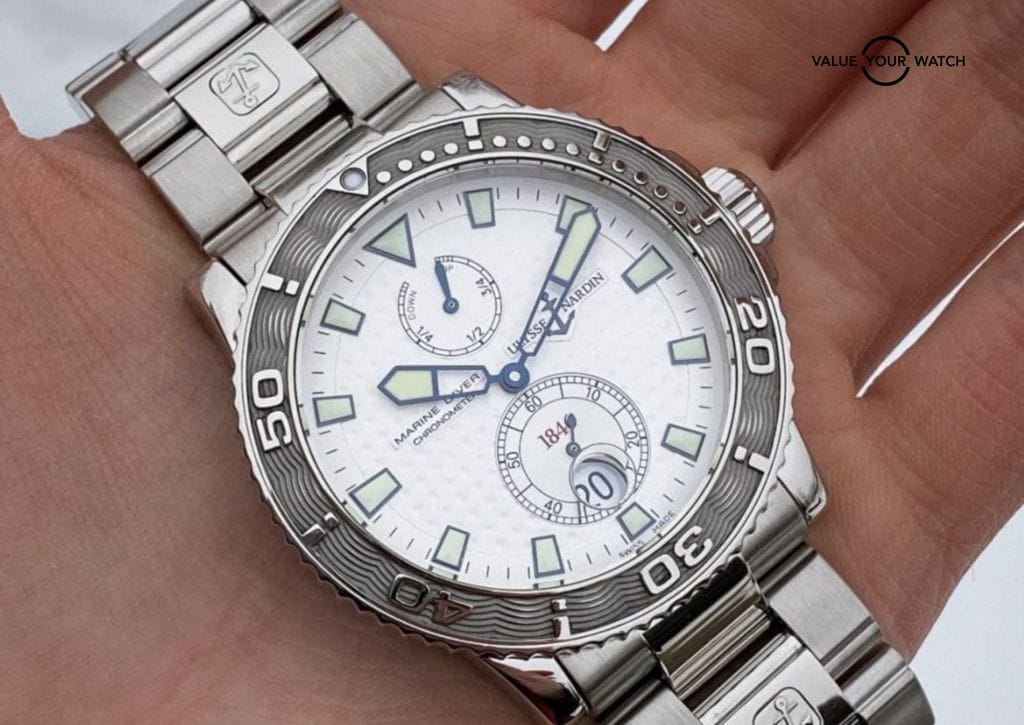 Watch Service Fee
$300 to $1,000+
Every single time, I get a watch, I put it on the timegrapher to make sure it keeps excellent time. Unfortunately, sometimes, the watch needs service, and it's not cheap. Even if I am using a local watchmaker, the cost of servicing watches is not cheap. When I sent my OMEGA Speedmaster MK40 for service to OMEGA, it was over $700 for the overhaul.
I can see why Watch dealers and Jewelers don't want to give you a reasonable price because the risk of having to service a watch is there and when that happens, it costs a lot of money. The issue with servicing some watches is that it's almost impossible to get some parts for some watches such as Rolex (Rolex does not sell parts) or some in-house movements that are hard to service, and only the manufacture can service it. That means it costs a lot of money to get the watch fixed.
Polishing the timepiece
$100-$200
Making the watch look like new can cost anywhere from $100-$200. Depending on the material as well as the type of bracelet.
New Accessories
$100-$300
Sometimes the watches are missing papers, need new straps and other accessories to make it a complete set for the retail clients. In general, a new watch box costs anywhere from $75-$150. Some boxes are even more expensive, especially the limited edition boxes.
New Straps and bracelets can cost anywhere from $200-$500 depending on the brands.
After looking at all the fees as a potential cost, the jeweler or watch dealer gives me an offer. I clearly understand why I might even get offered less than $1,000 on the OMEGA Seamaster Planet Ocean. That being said, not all the watches need service or extra accessories.
Selling watches for cash to Pawn Shops.
Selling watches for cash to a Pawn Shop is simple. In general, Pawnshops checks online marketplaces such an eBay to assess the market value and give me an offer. I have heard that they give 1/3 of the value in which the watch was sold online to make sure they do not lose money.
For example, if the watch is sold for $1,000, they will give me around $350. This also depends on the watch brand. If I am selling a Rolex Submariner that has recently been sold at $7,000, they might give me $4,500+ because they know that the watch is easy to sell.
Pawnshops are not known for paying a lot of money for the watches they are buying. It might be because they do not specialize in the watches as much as Watch Dealers or Jeweler Store.
When you really want to sell the watch for cash today, you need to locate the closest pawn shop in your town. The best way to search is to use google.com as well as Yelp.com.
As you can see from the picture below, there are many pawnshops below located in Honolulu. Now, I have to choose the one I feel is the best.
How to sell watches for cash to a Watch Dealer and a Jeweler Store.
Every single time, I have had to sell my watches for cash to a Watch Dealer or a Jeweler, I have had a pleasant experience. They told me how much they are going to pay me for the watch, and I understand the way they offer me their pricing.
Watch Dealers and Jewelers work similarly. When I get in the store, they will inspect the watch and see if everything checks out and the watch is not fake or a replica. If they don't know the watch and never had it, they do online research.
They have to do the same thing I showed above to find out the watch's current value. They want to make sure that they will not overpay for the watch.
After they know the value, they offer me a price for the watch. All I have to do is to decide if I want to sell the watch or not.
It is simple to find a local Watch Dealer or a Jeweler. Just a simple google search or Yelp search will show me the best options.
Because I can meet the Watch Dealer or Jeweler in person in my town, the transaction is fast and easy. If I am looking to get cash for my watches today, this is a very good option in my opinion.
If I want to shop around and see what other offers for my watch are, I will look online as well because some of the watch dealers online might offer a higher cash offer than the local stores.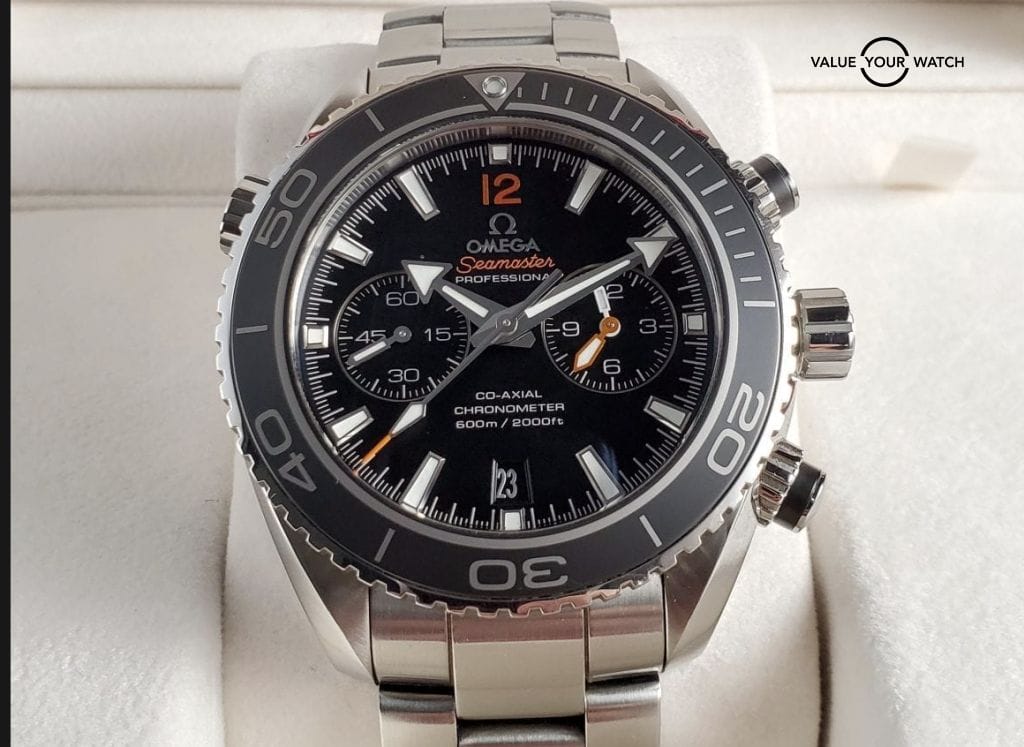 Sell watches for cash to an Online Watch Dealer/ Jeweler.
Selling watches to an online store is simple as well. However, by selling the watch for cash online, I have to do more work than just going to a store and showing them the watch. Also, getting the money is not as fast as going to a local store where I can just walk in with the watch and leave with cash.
The process
The first step is to fill out the online form, the watch dealer has online. In general, it is the basic information of the watch.
Brand of the watch
Reference number
Box and Papers
Pictures
etc.
When I submit the form, it might take a couple of days to get an offer for the watch. If I like the offer, I ship the watch to the potential watch dealer. Generally, they pay for shipping, which is nice.
When they receive the watch, they will inspect it if it has all the links, box, and papers, if it needs service, etc. Then only will they give me a firm offer? From personal experience, the offers are usually less than what they gave me over the email.
Yes, it does suck when I am expecting to get a specific price, but in the end, it turns out to be much less. For example, they deduct the value from the offer, if the watch does not have enough links, needs service, or if it's damaged. The good thing is that I don't have to accept the offer and they will ship the watch back to me.
Sell On Your Own.
This is not the fastest way to get cash for my watch. However, the work I put in produces the amount of money I can get for the specific watch. Yes, I have to put work in; however, this does not only give me the most money, but it also helps me to get better in different skills.
The skills
photography
copywriting
research
sales
All the skills mentioned above are very beneficial for life and I really enjoy getting better at it. Taking pictures of watches is really fun. I feel like almost everyone is taking pictures these days, but not necessarily taking pictures of their watches.
Writing a great description after doing research online on the specific watch I am selling helps me to sell the watch faster. Now, I just need to find the places to sell the watch for the most cash, where I don't have to pay selling fees.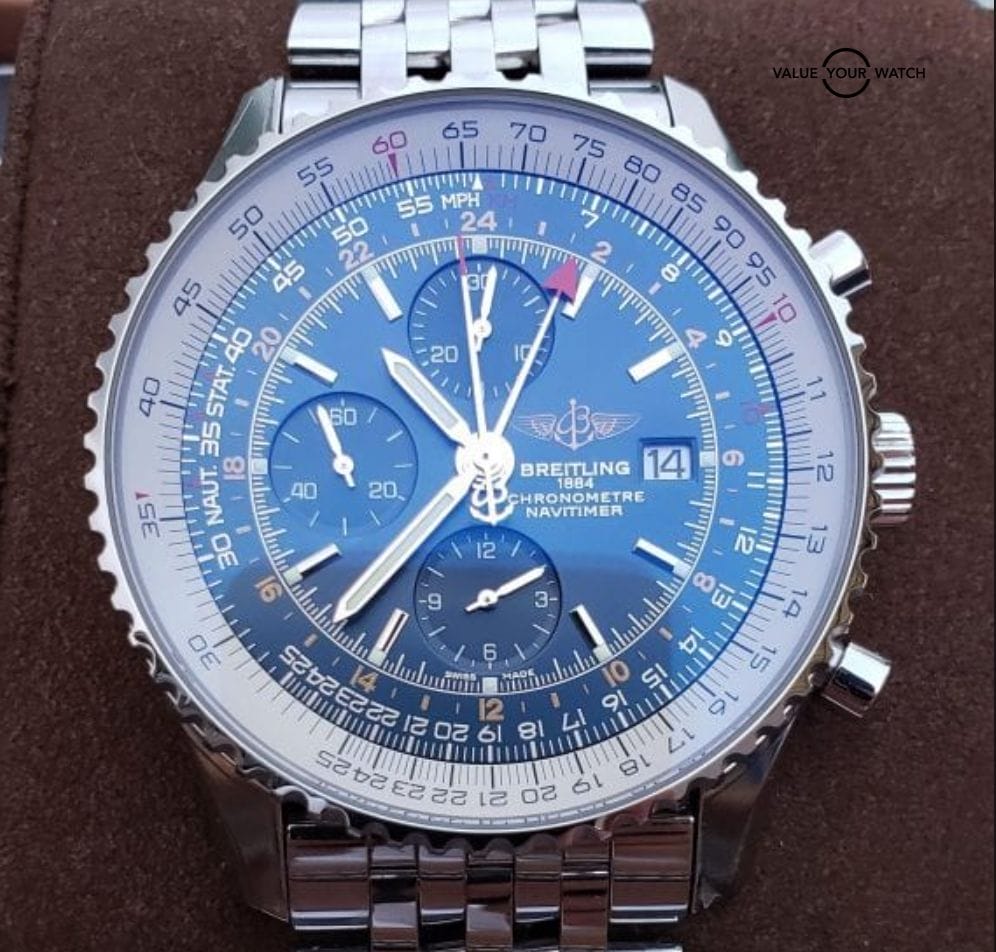 The places to sell watches for cash
Craigslist
Facebook Marketplace
Personal Social Media Channels (Facebook, Instagram, TikTok, YouTube
Value Your Watch Marketplace
All these places do not charge selling fees, and that's one of the reasons I do enjoy to list my watches for sale to be placed there.
Selling watches on my own has its own challenges. There are people who are taking advantage of watch sellers, and they try to scam people.
Every single time, I am selling a watch, I make sure that I protect myself by accepting the specific types of payments to minimize the risk. Such as Cash or Wire, which is one of the safest ways to protect me from scammers.
If there is a client who would like me to ship the watch to them, I always make sure that I have money in my account before I ship the watch. I like to use FedEx or UPS.
There are other watch marketplaces where I can sell watches for cash, and you can read about them here.
The best way to sell watches for cash
I understand that each of us has a different time frame to sell watches. For me, I would rather get $500 more for my watch next month then selling it to a pawn shop or a jeweler. Yes, it does take more work, but the work rewards me with money, which I can use on my family or just use it to buy another watch towards my collection.
---