Insuring my watch collection is something I have wondered about for a long time. I had a lot of questions, like:
At what point is my collection big enough to need insurance?
What does it cover and why is it even worth paying for in the first place?
Who even offers insurance for watch collectors?
After the things I learned writing this blog post, I am definitely purchasing insurance. But you may not need to.
There are other options for protecting your watch collection. Some people believe safe deposit boxes at a bank are a secure way to store watches. This is a dangerous myth, and I do not recommend safe deposit boxes unless you specifically purchase insurance that covers the contents. Most people who have goods stolen from their safe deposit boxes never recover anything.

Depending on the value of your collection and the frequency with which you trade, a better option is probably a home safe. For example, if your collection is under $50k and you do not trade very often, then your watches can be added to your existing home owner/renter policy. Your insurance provider will give you their minimum required specs for a home safe.
If, however, you trade often, it would be a huge pain to have to update your home/renter insurance each time you buy or sell a watch. In this case, you want some type of blanket insurance that covers a dollar amount instead of specific watches. If your current insurance company can't add a blanket policy to your plan, then it's worth speaking with a company like Jewelers Mutual that specializes in the kind of insurance you want at a price that is very low.
In the end, it's your choice of what will work best for you; personally, I like to hedge the risk in case something happens. Better to be safe than sorry, and I recommend you do have a safe place to store watches regardless of having insurance or not.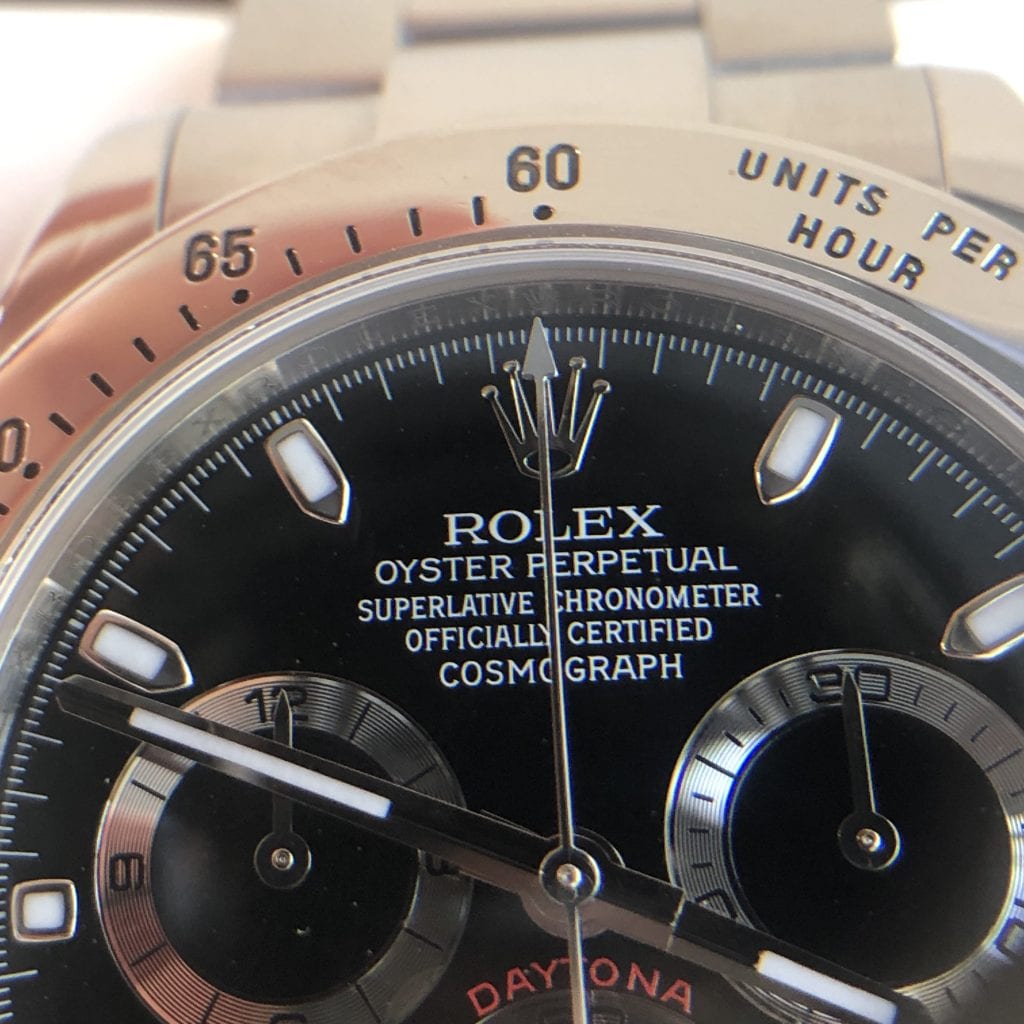 The process of insuring your watch collections
Select the insurance company
Fill out the application
Know your benefits
Select the insurance company
Several insurance companies can insure your watches, and I picked the ones I feel are best-in-class. Of course, there are others, but I like the strength and reputation of these companies. Each of them has its Pros and Cons, and it's up to you to choose the right one. Personally, customer service and hassle-free payouts are big factors to me.
Jewelers Mutual Insurance Company
https://www.jewelersmutual.com/
This company has been honoring and protecting jewelry since 1913 and has a superior rating from A.M. Best. They have several partnerships with various associations as well as jeweler groups to get great feedback about what products and services they should offer.
Lavalier
According to Lavalier, jewelry insurance is the only thing they focus on, which is excellent news, because many insurance companies insure more than one specific asset group. Lavalier partnered up with Berkley National Insurance company, which is rated A+ by A.M. Best.

Chubb
If you are looking for the biggest publicly traded Property and Casualty insurance company in the world – and the largest commercial insurer in the USA – Chubb is the right choice. Their ranking is also a high A++ from A.M. Best.
With Chubb you will need to meet with an agent for the insurance; however, what I like about them is that they pay you 100% of the agreed value as a cash settlement – and in some instances, they will pay up to 150% of the amount itemized on the policy if the market increases.
Fill out the application.
Each of the companies has its own way of applying for coverage. But in general, the questions will be the same.

Here is an example of Jewelers Mutual Insurance Groups and the application.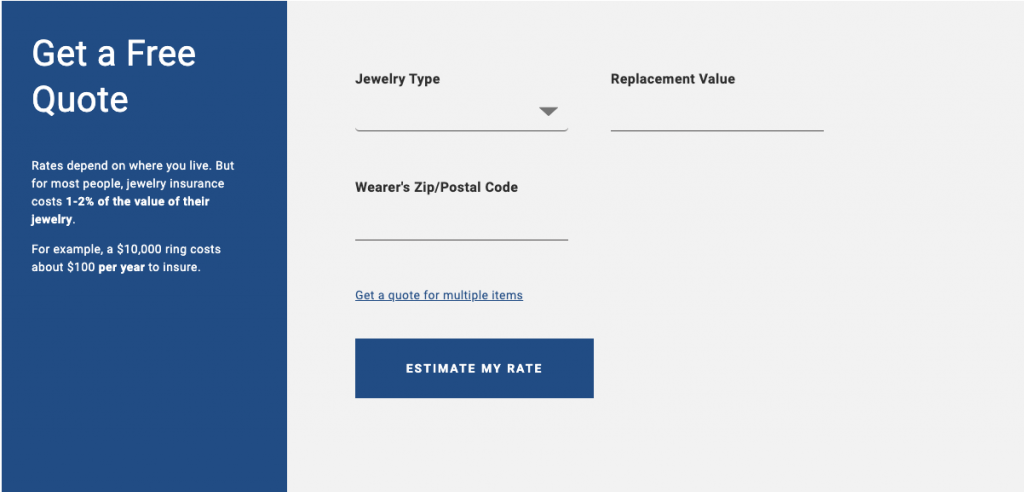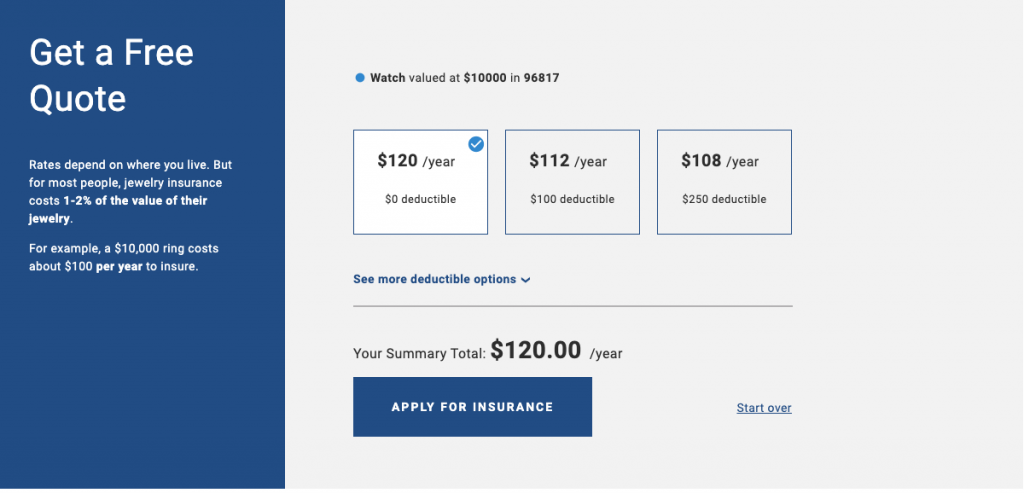 Know your benefits
When I am looking for the right insurance for watches, I need to know what benefits are included in the insurance coverage.

Does the watch insurance cover the Loss, Theft, Damage, and Disappearance? Because I like to travel, I want to know if the coverage includes worldwide travel.

Also, will my insurance plan allow me to use a watchmaker of my choice for repairs? Yep, just like health insurance.
And Like car insurance, I will be selecting the deductable with which I feel the most comfortable. The deductible starts at $0. I would not choose $0 deductible because I feel like I would not need it.

When doing your research, be sure to ask if there is a dollar limit for coverage. Every company is different in this regard.

As far as pricing, you can expect to pay the total cost of the premium at anywhere from 1-2% of the value of the watch. For example, if your Rolex watch is valued at $10,000, it will cost around $100-$200 to insure annually.

Last but not least, will it be a hassle to get my claims paid? Make sure you understand the process and find reviews from others.

Being a watch collector myself, I know how much it would impact me if someone stole my watches or I lost them. All the memories from searching for the grail watch as well as the sad moment when seeing the timepiece going for their service would be greatly missed. I hope, after selecting the right insurance for my timepieces, I will not need to worry anymore.