I have been selling on Chrono24 since 2018. The company improved the website in the three years I have used it, but they forgot the website is one part of the platform proper. Chrono24 raised 64M Euros from investors. This pressures a company to produce results. A company must temper these expectations in a way that does not hinder the users. The users are responsible for the company's income. In a situation with new investment, the possibility of forgetting existing users is real. I am avoiding investors for Value Your Watch to avoid alienating my user base. The investors will require maximizing my own profits at the expense of the buyers and sellers.
I enjoy utilizing the Chrono24 platform. I wrote an in depth review of it earlier this year. In 2021, there have been changes to the service they offer. Last month, Chrono24 updated their fee structure. After that, I had a sale enter mediation. Someone bought a manual wind watch from me and claimed it stopped working after three days. This buyer did not know how a manual wind watch worked. This sale became a complication.
Top Three Reasons I Dropped the Dealer Account
Chrono24 Commission Tables
Mediation Process at Chrono24
Pressure for Chrono24 to Make Money
Chrono24 Commission Tables
I started selling on Chrono24 in 2018. The plan I purchased resulted in a 3% selling fee. This was a splendid deal. The current issue is the sliding scale fee structure. Current fees range from 2.5%-8.5%, and my current plan has a lower limit fee of 4.5%, 50% higher than my old selling fee. Here are the fees for each package up to twenty listings at a time. This is the price of the three packages.
Light: EUR 69 ($83) 4.5-8.5%
Pro: EUR 99 ($120) 3.5-7.5%
Premium: EUR 209 ($251) 2.5-6.5%
Choosing what percent to charge is a question they have been asked often. I was at an interview with representatives that stated thousands of sales were tracked. The dealers were asked what the margin was on the sale. After compiling the data, Chrono24 scaled their rates based on brand and dollar amount. Higher dollar watches have lower margins. Certain brands such as Rolex have lower margins. Lower priced watches from cheaper brands supposedly have higher margins.
This is asinine. Different dealers have different margins. Fee structures such as this have no sense. I pay significant fees each month. Private sellers pay zero fees. Why should the final value fee be more for me, than for individuals? Individual sellers always pay 6.5%. I may have to pay up to 8.5% on top of a subscription. This killed my motivation for utilizing the platform.
Mediation Process at Chrono24
Mediation process with Chrono24 is non-existent. The process is not a process, it's a button a buyer can push to make your life difficult. I told you about that watch in purgatory, this a more correct description of what happens. Once the buyer pushed a ridiculous button, Chrono24 locked me out of those funds. The money is sitting in escrow and the buyer has the watch. Chrono24's action involves asking the buyer if he is satisfied with the resolution. Right now, no resolution is reached. The watch has supposedly been with Panerai for two months waiting on authentication. I will not hear about a resolution.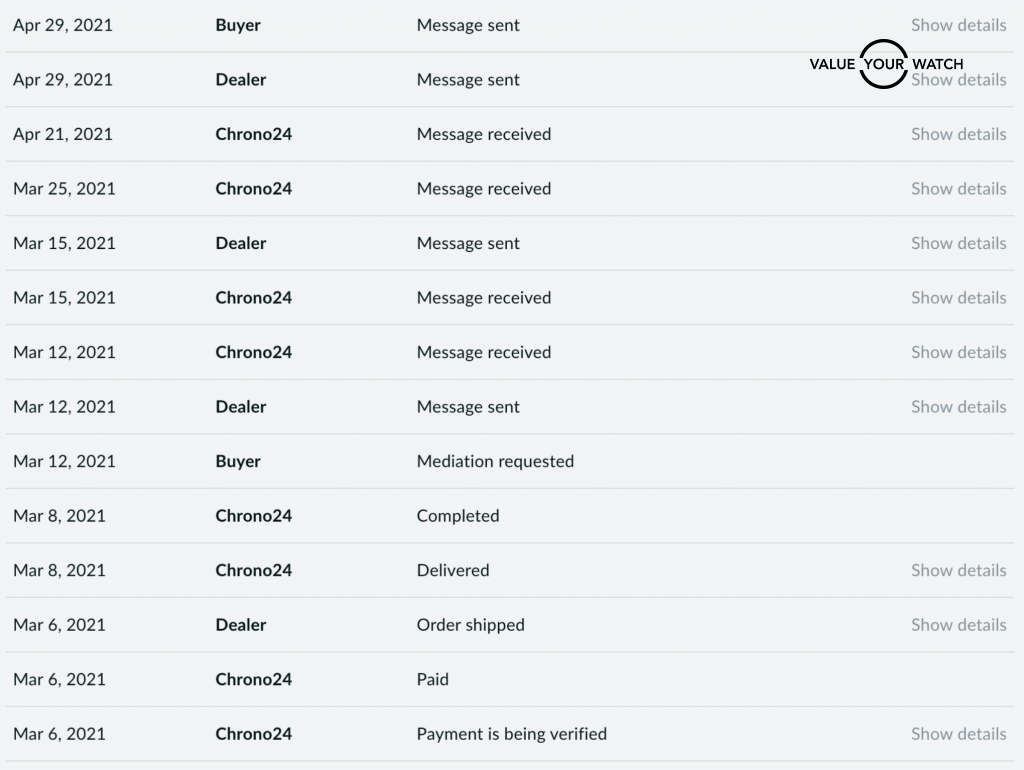 As a dealer, I have never given my customers two months to inspect a watch. The watches I sell are guaranteed authentic. Any issues are addressed at once and my customers have seven days to inspect everything. Keeping my funds and my watch away from me is a dirty maneuver. Chrono24 must have a deadline for mediation. Indefinitely holding funds is no way to do business. Mismanaged is the best way to describe the process, and it should be dealer focused as that is where 100% of revenue comes from.
Pressure for Chrono24 to Make Money
This company is immense. Chrono24 employs programmers, international offices, and $78 million worth of investors. Chrono24 is a business, and the goal is to make money. Increasing fees is natural, and when pressure is added, a necessity. The issue with increasing fees is that value must be added as well. Other platforms are adding value without the fee increase, and in some cases, while reducing them.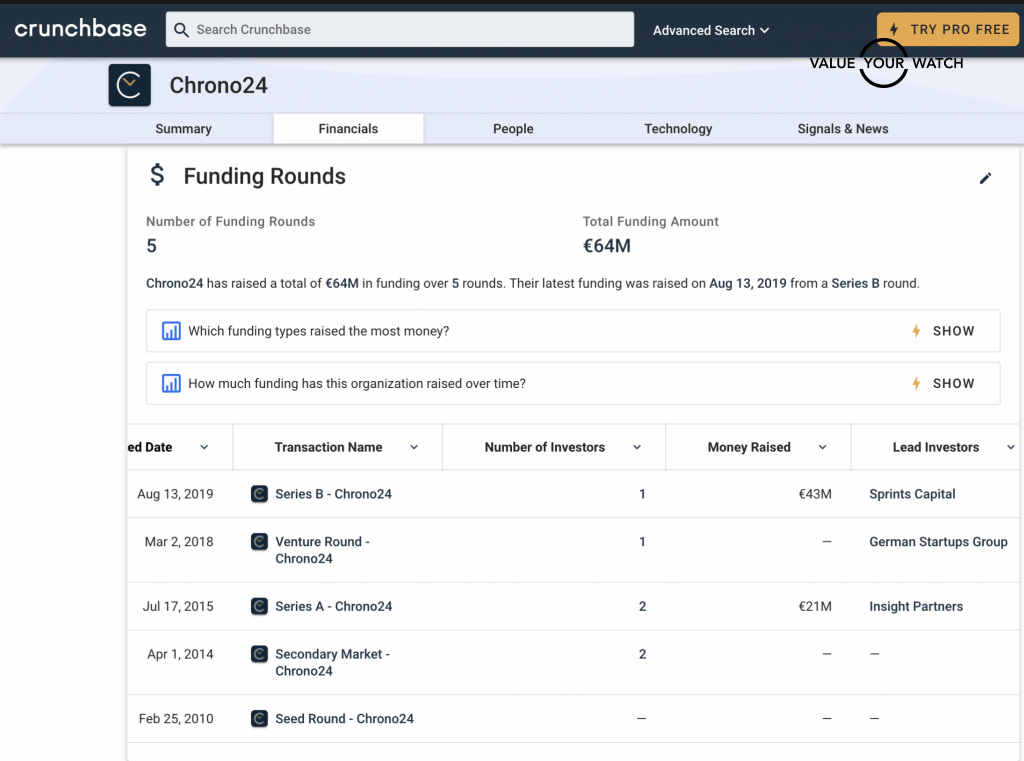 Actions performed on the platform cost money. The escrow service costs money. Payment processing cost money. I understand firsthand the expenses and the challenges involved. The problem isn't with increased fees, but how they are distributed. When I personally asked if the fees would be lowered, there was a definitive "No" given.
My Conclusion
It no longer makes sense for me to pay a subscription to use Chrono24. The high price and high fees are not worth it. Benefits to Chrono24 still exist, including the traffic. I am going to continue selling there as an individual seller. Chrono24 is my motivation for Value Your Watch. I want a place to bring buyers and sellers together while saving money. The age of the internet makes connecting with people simple, so why not give everyone the ability to connect with each other in transparency. They can decide for each other if this is a person they would like to deal with, instead of relying on artificial vetting of the process.