When I first started Value Your Watch Marketplace in November 2018, I was naive and overconfident. I believed that everything would just work out fine. I didn't think it would be that difficult. Having done it myself, I knew what people required to successfully buy and sell luxury watches. They needed a marketplace that was simple, transparent, and didn't have all the fees involved with the other markets out there. I knew it wouldn't be easy but I was definitely surprised by the challenges faced along the way.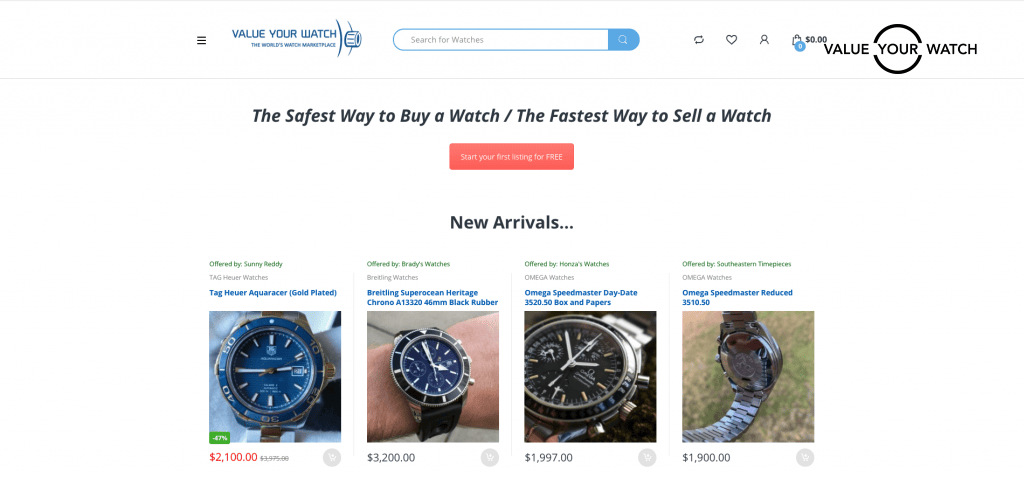 Since starting Value Your Watch three years ago, I have watched other major sites develop a steady stream of investments. According to Crunchbase.com, Chrono24 raised over €205.5 million with a €100 million investment in their last round. Chronext raised over $166.6 million with a $65 million investment in their last round in 2020. I watched these investments and knew I was in the correct industry since people were willingly giving these brands money to invest in their growth, not necessarily for their profits.
Technavio, the research site, shared their findings. According to their studies, "The global watch market size is expected to grow by $8.31 billion during 2021-2025, progressing at a CAGR of 2% during the forecast period. I have experienced this growth myself with more people signing up every day, and more daily visitors than ever.
I actually approached my friend Greg Galanos, founder of Metrowerks, about outside investors. He told me "Don't do it; you don't need other people telling you what to do. Keep on growing the way you're growing, it's been working!" He's right as usual, getting more people involved is not always in the best interest of the customers.
Berry Weinman mentioned to me, "10X is what you want when you invest in other companies." Investors want returns on their money. It would be wonderful to have the extra profits, but if I have the ability to get there at a slower pace, without juicing all the money out of my users, I would much rather choose that route.
Why is Value Your Watch Declining Investor Money?
Growing a company from the ground up is challenging and there is alway a chance of major failure. When creating a marketplace, it is doubly so, as you need both buyers and sellers in order to make the machine work. You can't have only half the system.
When starting off, it was all about the baby steps.You can't always throw money at the system and hope it works out. That is not at all sustainable. It reminds me of growing up learning tennis. I had to start with learning the basics. Once the basics were down, I had to keep on improving them before throwing new techniques in. If I had a magic pill that made me fitter, faster, and better looking, I still wouldn't play any better, I would just look a bit different.
I took all of these philosophies and applied them towards Value Your Watch. I laid out the foundation. Each feature added went through a test phase. These tests were necessary to ensure they worked and would not undermine our foundation. Slowly it grew, but after one year it actually broke even.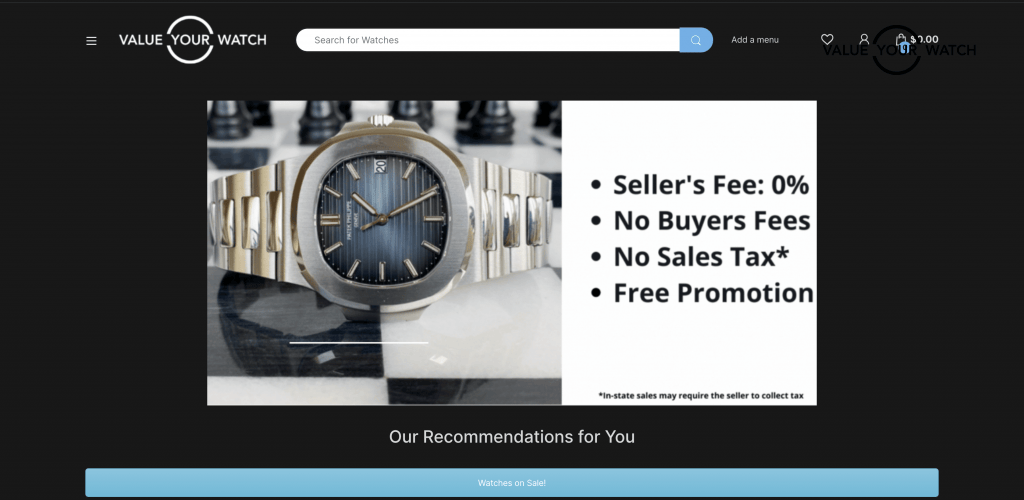 How Did We Achieve Our Growing Reach After One Year?
From my Value Your Watch experience, I've seen that it hasn't required a lot of money, but past experiences and reputation align quite well. Over the few years I have been working on it, things I have tested have and have not worked, and I've set up this list based on my successes with Value Your Watch.
Knowledge Sharing
Customer Service is Key
Finding Strategic Partnerships
Asking for Help
Advertising Watches for Sale
Influx of Watch Sellers and Buyers
Knowledge Sharing
I feel like helping others by passing on the knowledge I've gained over the years, especially by writing blogs with my knowledge, really helps me become a known figure in the watch trading world. There are plenty of people who know more than I do but aren't sharing, either they don't want to, or they aren't sure how (You could always write for Value Your Watch 🙂 ). Sharing articles such as "The Ultimate Guide: How to Import Watches to the USA", "The Best Watch Blogs to Follow in 2021", and "The Best Watch Forums in 2021", really helps save people time because they have all the information they need in one quick search of Value Your Watch.
Customer Service is Key
When talking to buyers and sellers, I live by the Golden Rule, treat others as you want them to treat you. Anyone following this rule will go far in life. People are more likely to maintain a relationship with you, personal or working, when you have shown them care and respect in the past. By being helpful, and pleasant when dealing with respective customers, they are rarely ever upset with me. Yes there are some people that will be assholes temporarily, but many people have moments every once in a while. I know I do.
After moving to Hawaii, I developed customer service skills by working in hotels and resorts. This is an excellent way to build up your skills as you deal with a very diverse crowd since Hawaii is a tourist destination for people from every corner of the globe. Of course this excellent customer service helps when people start talking about you to your friends. Word of mouth is a huge boost to this line of business.
Finding Strategic Partnerships
Strategy is key when growing any business. You can't go in blindly. Without a goal, and a strategy to reach it, you will certainly be doomed to fail. One strategy I had was to develop partners that would drive traffic to Value Your Watch. I knew the more people that saw what Value Your Watch was about, the more people would want to utilize it. I started looking to YouTube Channels and Instagram users to help get the word out about my website.
I am also a part of Watch Trading Academy, a group that helps people learn to navigate the world of watch trading, and develop a successful business. I realized we can help each other. I have knowledge to share, and a website that helps them save money selling their watches, and there are hundreds of people willing to spread the word about Value Your Watch. By helping others, they have helped with the growth of Value Your Watch.
Asking for Help
Unlike many people, I have never been one too scared to seek help. Pride has been the downfall of too many people. As in sports, the best way to be successful in life is to be coachable and observant of my surroundings. Many people have been successful where I wish to be. I have a wealth of knowledge to me and if I have questions, I just have to ask the right people. In the internet age, most of the questions I had were at my fingertips, but there are still questions to which I needed answers. That is why I surrounded myself with people that had the knowledge I needed.
Advertising Watches for Sale
The whole goal of Value Your Watch is to help people sell watches. How do you sell watches? You advertise that you sell watches. It really is that simple. This is one of the larger drivers of growth for Value Your Watch outside of word of mouth. Remember the testing I alluded to in the beginning of the story? These were some of the most intensive tests. Over the last three years, I have been finding ways to advertise. I have been tweaking the site so we are stronger in Google results. I joined up with Watchuseek to advertise user watches on the site. I advertise user watches on Instagram. I have posted blogs, watches, and links from Value Your Watch on Facebook. All these things have increased traffic to the site by huge numbers.
I found a way to advertise watches across the internet without having to charge high fees to users to sell watches on my platform. Each paying subscriber gets their watches featured on various watch search engines, Instagram, Facebook, LinkedIn, and watch forums.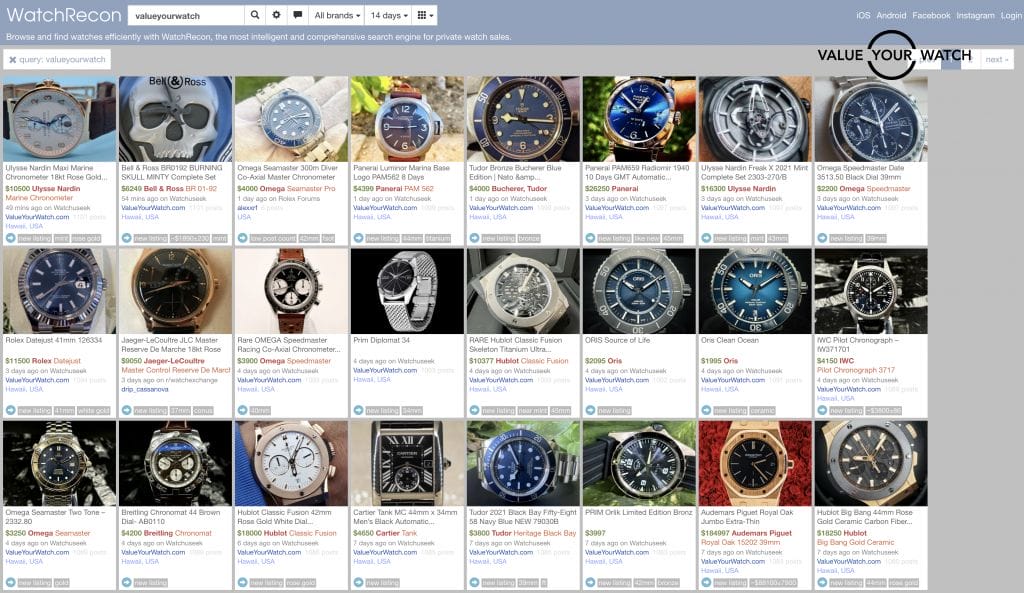 Influx of new watch sellers and buyers
Many people have realized that they can make money by selling their old watches or even buying new ones such as Rolex sport models or Audemars Piguet. By having more people looking to buy or sell, the marketplace is getting more people who are looking to trade luxury watches in various different ways.
The best part of what we do is that our marketplace does not charge sellers fees, and we allow people to freely connect among themselves to transact how they feel comfortable, while being more transparent. I can see that more people are willing to close their deals on their own, instead of relying on some other marketplaces, because they will get the most money out of their watch.
Conclusion
In the three years since I started Value Your Watch, I have seen tremendous growth. I didn't require a huge investment and I believe it turned out for the better. I am able to do things that aren't necessarily the most profitable, but boost the website in ways that are more concrete. I am able to offer superior customer service while not having to worry about someone who gave me thousands of dollars trying to tell me what to do. The growth has been steady and organic, and I couldn't be more proud of the website and my customers.