When you decide to take on the mantle of a luxury watch trader, You will definitely find out, time is not your friend. There are seemingly endless tasks involved with luxury watch trading, yet you are given a finite amount of time each day. One may feel overwhelmed at first, but operating efficiently is a necessity. Missing out on that quality time for yourself, or with your loved ones too often is a result of improper time management. Efficient watch trading comes mostly from practice and experience, however you can plan and develop processes to get an early start to watch trading efficiently, especially if you have other life priorities demanding your attention.
As with every major task, there is more than one method to utilize which will help become a more efficient watch trader. Education is key in this game and there are multiple ways to become educated. In the information age, much of what you need is readily available such as studying market conditions on selling websites, reading books, getting a mentor, or joining a training group for luxury watches such as Watch Trading Academy (WTA). Whatever you choose, make sure you are actively practicing by buying and selling watches. Experience is always the best tutor, and whether you are making money or losing (this often happens early in your trading career), make sure you learn something from every trade and continue to hone your craft.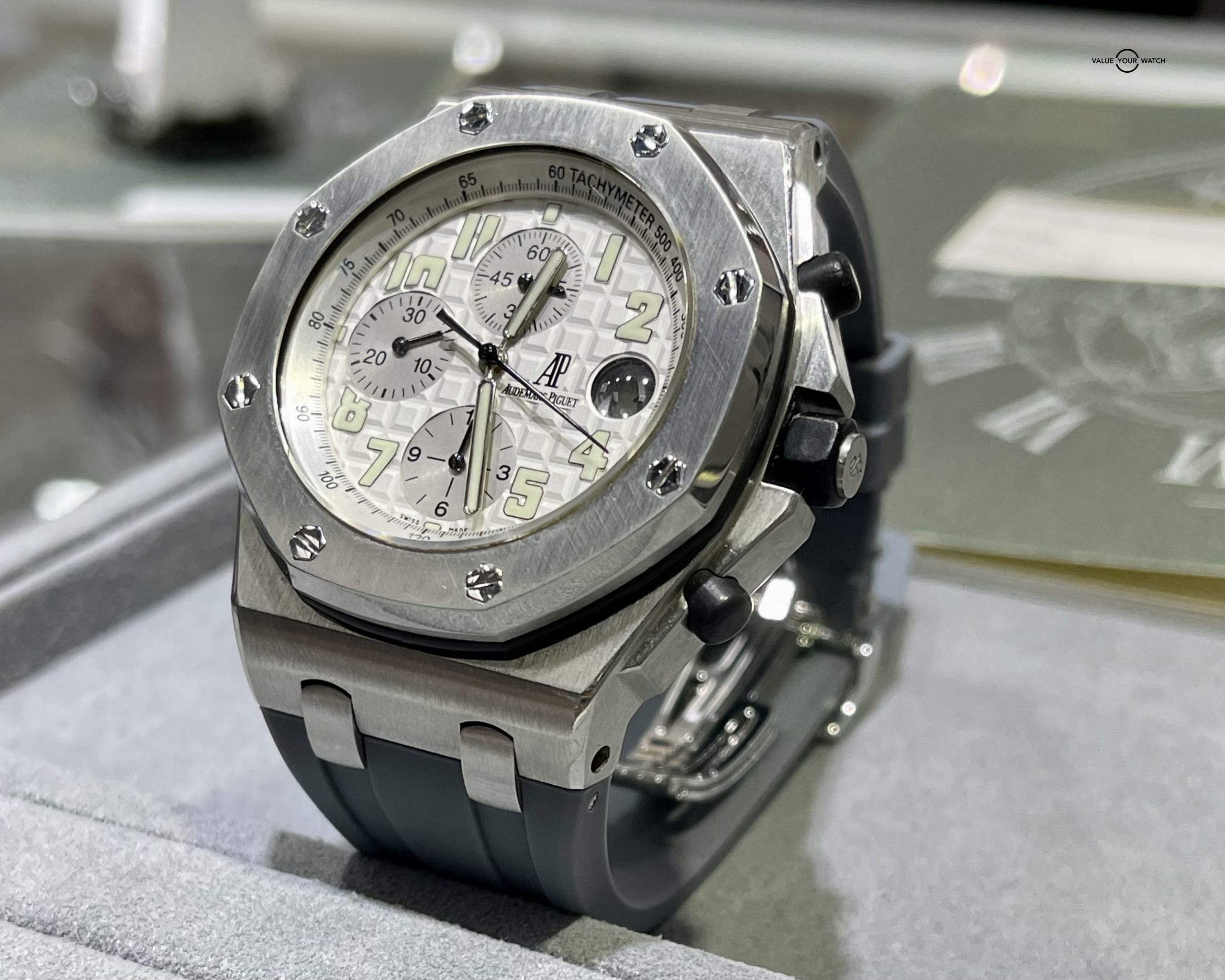 Audemars Piguet Watches For Sale
Key Steps You can Take to Jumpstart Efficient Trading
Know Your Watches
Maximize Leveraging Your Resources
Develop Your Network
Develop a Process (and Stick to It)
Know Your Watches

The benefit of understanding specific watches inside and out, is you know as soon as you see one whether it is authentic, and when you see the movement, you know the key points to inspect. If I'm trying to source a Rolex for example, my knowledge is more limited. It would take more time to research the piece as opposed to an Omega that I could identify quite easily.
When I first started watch trading, there was one particular brand that I truly loved, and a couple models that I thought were so special. This brand was and still is Omega. No matter how long I trade watches for, I will forever be with an Omega in my collection, especially the Speedmasters and the Seamaster Planet Oceans. I knew by becoming as familiar with these models, I would trade them efficiently, and my passion for them made this easy.
Maximize Leveraging Your Resources
There are many great resources to learn about watches. I personally like YouTube, Watch Forums, and Watch blogs. Each resource has its own benefits for you. Reviews are full of information. On top of that, you can go to the manufacturers website and learn what movement is included. There are websites dedicated to giving you all the information on specific movements so you will answer any questions easier. The different forums are filled with real world information from people that have personally owned the watch, even the negatives. These sources of information will help you efficiently source and market your timepieces.
These aren't the only resources to help boost your efficiency. In order to perform the task at hand, here are a few more tips.
Watch Search Engines
Spreadsheets
Places to Buy and Sell
My favorite is from my personal network. These are mostly customers that keep coming back because I offer them premium service. I also utilize my relationship with other dealers I have built up. This will help me not only source specific timepieces for my clients, but also expand available inventory. I can also rely on having any service need met because I know my watchmaker and he always takes care of me. This is the most efficient way to trade watches.
Watch marketplaces are another efficient way to source and sell watches. The reason this isn't my favorite is due to pricing. If you are a buyer, it is quite easy to find a great deal, however, this also means I won't receive the best money for my timepieces. The reach however is second to none. It also means I will be paying close to the market value of the watch since these are professionals. I can still make money, but nowhere near utilizing my personal network. On top of that most marketplaces (but not ours) charge you fees to sell. This will dig into profits, especially if you are running on a 10% margin.
If you are in the right area, Craigslist can be utilized as well. You will find real people selling their personal timepieces right next to hobbyists, and even dealers. The issue you will run into is the lack of moderation. This will lead to some very unscrupulous people. It's generally easy to spot but be weary of scams.
eBay is the largest used marketplace in the world, and second largest behind Amazon. You cannot beat the traffic on the site. This however comes with the additional fees. They have become much better in recent years, but as with most marketplaces, the will dig into as much as half of your profits. Be mindful of this for both the buying and selling side as you can utilize this knowledge during negotiations.
Forums don't charge fees, unless it's set up like The Rolex Forums which charge you a very modest annual fee to use the sales corner. The forums are moderated unlike craigslist however, it's not perfect. You must be diligent. You will also pay a tiny bit too much and sell for a tiny bit lower since most forum users are avid collectors and professionals.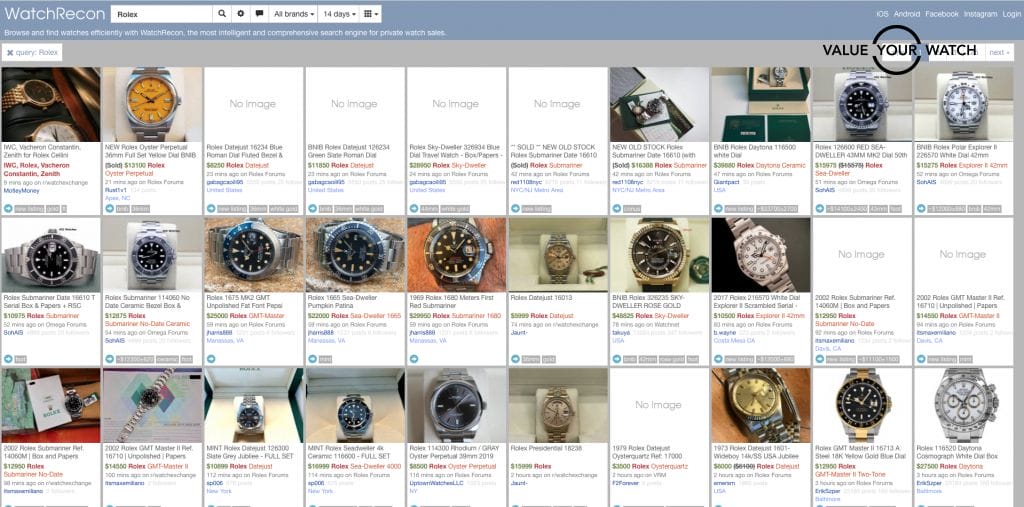 Watch Search Engines
Knowing the market and understanding what the watches are moving for is key. You need to know what to pay and how much to sell it for. If you aren't properly educated, you will look pretty lame when trying to source a watch. You can't offer value to a seller no matter how much you try. You also need to price it right. Lowballing yourself is quite possible, as is pricing yourself out of the market.
In order to find the best information, I utilize multiple sources. Google is the biggest search engine in the world, and many marketplaces post watches so they will be visible to Google users. There are also research specific sites such as watchsignals.com , watchcharts.com , and watchrecon.com . These sites show live listings and some have historical data. It all comes together to provide you with excellent information to make trading more efficient.
Spreadsheets
This sounds odd, how do spreadsheets make someone more efficient? In your journey, you will buy and sell many watches. Not every trade is going to be a winner, especially in the beginning. You will also have some big winners. Keep track, and one easy way is to utilize Google Sheets. It's free with your google account and works even better than Excel for our simple use. What worked, what didn't, where did you source, where did you sell, who did you sell it to? These questions as well as personal buyer information will help you keep track of and keep in touch with your sales and customers. You will use this information to make faster, more efficient trades and keep you in the minds of your past customers.
Develop Your Personal Network
Someone I have learned a lot from said your network is your net worth. This rings true in every aspect of trading watches. First is your private network, people that buy timepieces from you and people you've bought timepieces from. My most efficient trades move from one repeat customer to another, sometimes within a day.
Then there is my professional network. This includes fellow dealers. I have people that if I need to exit a watch, I can call on them for guaranteed money. I can quickly liquidate a piece I have held too long, or whatever the situation may be. Another important part of this network is my watchmaker. I have a relationship with them and they will help me with both pricing and time. When a random customer hears four weeks, I may hear two or three instead. I also get up to 50% off the normal pricing for the simpler services such as polishing a watch. This network has done the most to help me trade efficiently.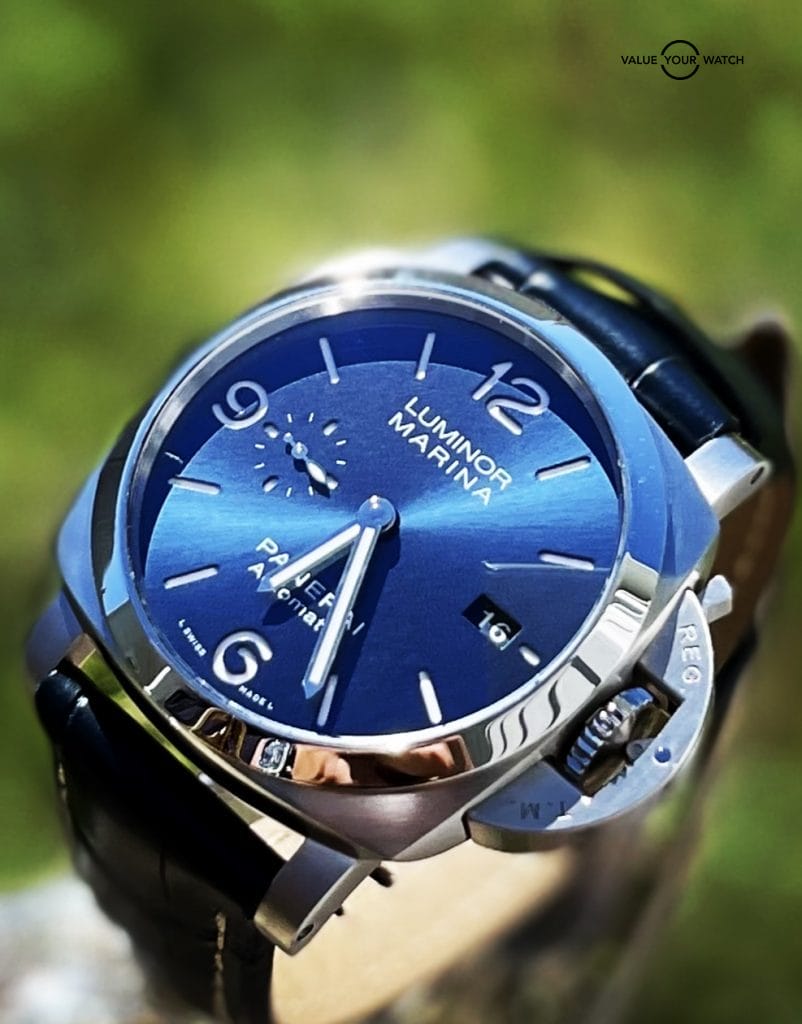 Develop a Process (and Stick to It)
Implementing a repetitive process is the final boss of efficient trading. Every watch I buy, I know the steps from habit. Every time I list a watch, I know the steps from habit. Every time I sell a watch, I know the steps from habit. For this, I have a list that I set up for myself which I will share with you from start to finish
Inspect the watch

Check Authenticity
Match the cards to the case
Check the movement
Check the timekeeping accuracy
Inspect for hidden damage

Record the watch in the spreadsheet

Serial number
Total cost (watch shipping taxes)
Where I sourced it

List the watch for sale

Take good pictures
Create a meaningful description
List to multiple places

Active selling

Answer every question
Bump the post daily
Message your network

Sold watch

Verify Payment
Ship the watch
Pack goodie back (Thank you card, chocolates, cleaning cloth)
Drop off at Fedex
Keep client updated with shipping
Follow up with customer
Verify the watch arrived and customer is satisfied
This is my process from entry to exit. I love this list because after performing these set tasks multiple times I can now do it on autopilot. When I lose focus, sometimes I get lazy as well, I have this to fall back on and point me back to the correct path. I printed it for a quick reference and know immediately what I must do. These steps are many of the ways I have improved my efficiency and increased my productivity as a watch trader. This system is never set in stone and will always be evolving. My level of trading is magnitudes greater than it has ever been and every minute saved is another minute I get to spend time with my family. Happy watch trading.
Want to start selling watches? Join our marketplace!