Buying luxury watches is far simpler than selling. eBay is well known for protecting buyers from possible fraud in the past, however it wasn't always the case for sellers. eBay is making changes to the way they help sellers on their platform, and now claims from buyers can be handled much more effectively.
When selling on eBay, I set it up so I do not accept returns. This is a business for me and I take my job very seriously. I only sell authentic brands, and I always make it perfectly clear what a buyer will receive. There is no reason for someone to return a watch to me, however things happen.
My last claim was from someone who wanted to return a watch. They understood the eBay terms and as part of his return message, he told me "I would like a full refund as per eBay's policy". This person knew exactly what they were doing. Now if this person had the watch for three days or less, I wouldn't have a problem taking the watch back, however this eBay buyer had the watch for over two weeks. It was this specific incident that inspired me to actually look into eBay's claims process.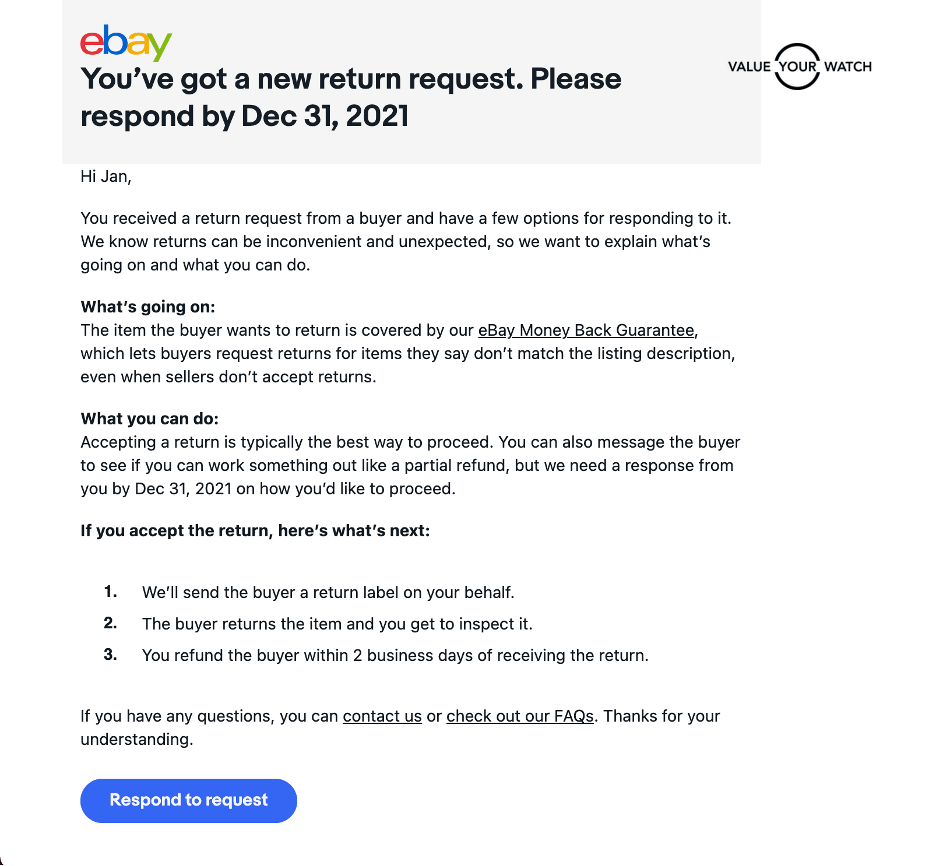 You've got a new return request. Please respond by…
While I generally sell watches on eBay problem free, this message from eBay is the least comfortable message to receive. Even when I state returns aren't accepted, I was often forced to take them back, even now. Fortunately there are far more circumstances where I am not required to do that now and better ways to handle these instances. I will go over these later on, but first, my last claim was a sub $2000 watch which went directly to the buyer instead of the eBay authenticator.
The story goes, I sold a Tag Heuer to a lady who previously owned a different model. The watch she purchased has a screw down crown, and her old Tag Heuer was a push pull crown. She did not know how to set the time and claimed a broken watch. Fortunately, once the order is complete, I have the buyer's information. First I look at my paid and shipped orders. Once I click on the order number, I have the buyer's phone number under their shipping information. It was a very short conversation and she said everything was good and closed the case.
This is almost always the best course of action. Be proactive and find out in detail what the issue is. By contacting them, the majority of cases can be solved without issue. There will be times I would issue a partial refund or take the watch back, but this scenario can be avoided with the proper work put in. This also has the benefit of making it so the buyer and seller will not be able to open another case, it will be case closed for eBay.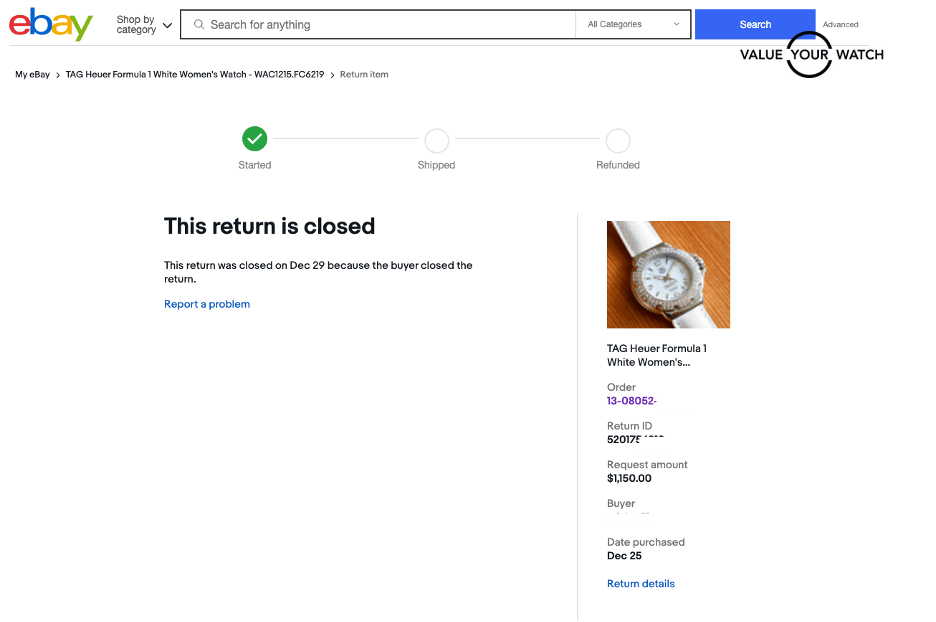 Sold the watch with eBay Authenticity Guarantee
When I sell original, unmodified watches over $2000, the chance for buyers to return the watch is much smaller. The reason this is so is due to the difference in process with eBay Authenticity Guarantee. Since the watch is shipped to the authenticator to be checked before the customer, there is an inspection to make sure the watch is correct and as described. If the watch failed the inspection, the would cancel the sale and ship it back to me.
Once it comes time to return the watch, especially a watch not as described (the most common return type), I used to have to take the watch back. It's quite painful as it costs money to do this. Even if the watch is exactly as described, there was no way for eBay to verify it and they took the seller's word. This is one of the main reasons I started Valueyourwatch.com , to help buyers and sellers connect freely and not deal with this bullshit.
eBay is addressing this however, as this graphic shows here.
According to eBay, "For Authenticity Guarantee purchases, eBay Money Back Guarantee does not cover returns on the basis that an item is not as described, when the item is considered final sale."
eBay Authenticity Guarantee items are considered 'final sale' when:
The seller doesn't offer returns or the return is outside the seller's stated return window, and
If the item is listed in a Watches or Women's Bags & Handbags category, the item condition is "New with tags" or "New without tags". Watches and handbags listed with the condition "New with defects" are not considered final sale.
In other words, its much harder to return the watch which stated in the listings that returns are not accepted.
I have sold a watch above $2,000 which was authenticated, and the buyer wanted to return the watch after 14 days.
In other words, it's much harder to return the watch which states returns are not accepted. If the seller does not accept returns, it is considered a final sale. If I accept returns for 14 days, a requirement for top rated seller status, it will be considered final sale after that 14 day period is over.
I have received return requests of this type, a watch that sold over $2000 and went to the authenticator. The buyer requested a return after two weeks. As stated before, I used to be required to accept returns. At this point though, I do have the option to accept the return and give the seller a refund or decline the return. If I do decline the return, the case will be closed and the buyer won't have any other options.
How to minimize the eBay returns
During my time trading watches, I have experienced several returns when selling on eBay. Each time this situation occurs, I take notes since each experience is a learning experience. Some tips I can give you from my own experience follow.
Write a good description of the watch
Have clean, clear pictures showing each imperfection
Talk to the buyer before you ship the watch (give them as much information as possible)
Test the watch once again before you ship it
Make sure you package the watch safely
By having a good description with clean, clear pictures, it's easier for luxury watch buyers to make an informed decision. If they truly do feel the watch I'm selling is the right one for them, especially after I answered all their questions through the photos and the description. Then it's time to talk to them over the phone or through messages to answer any other questions they might have. These extra questions do pop up and by being up front and answering them before you ship, you will minimize potential eBay returns which cost not only time, but extra money to rectify.
Once the time comes to ship the watch, it's important to ship it with a professional service that deals with high end business such as luxury watches. The two most important ones are IFS (they utilize FedEx) and ParcelPro (they utilize both UPS and FedEx). If you were to use the companies directly, you would not have full insurance coverage on the watch. FedEx only insures $1000 which will only cover the most entry level of luxury watch.
Shipping watches fully insured will drastically reduce the risk of damage or loss during transport from you to the buyer. This is also important when sending it to the authenticator if you sold a watch qualifying for Authenticity Guarantee. This will ensure the watch arrives at the authenticator which is where your task is finished.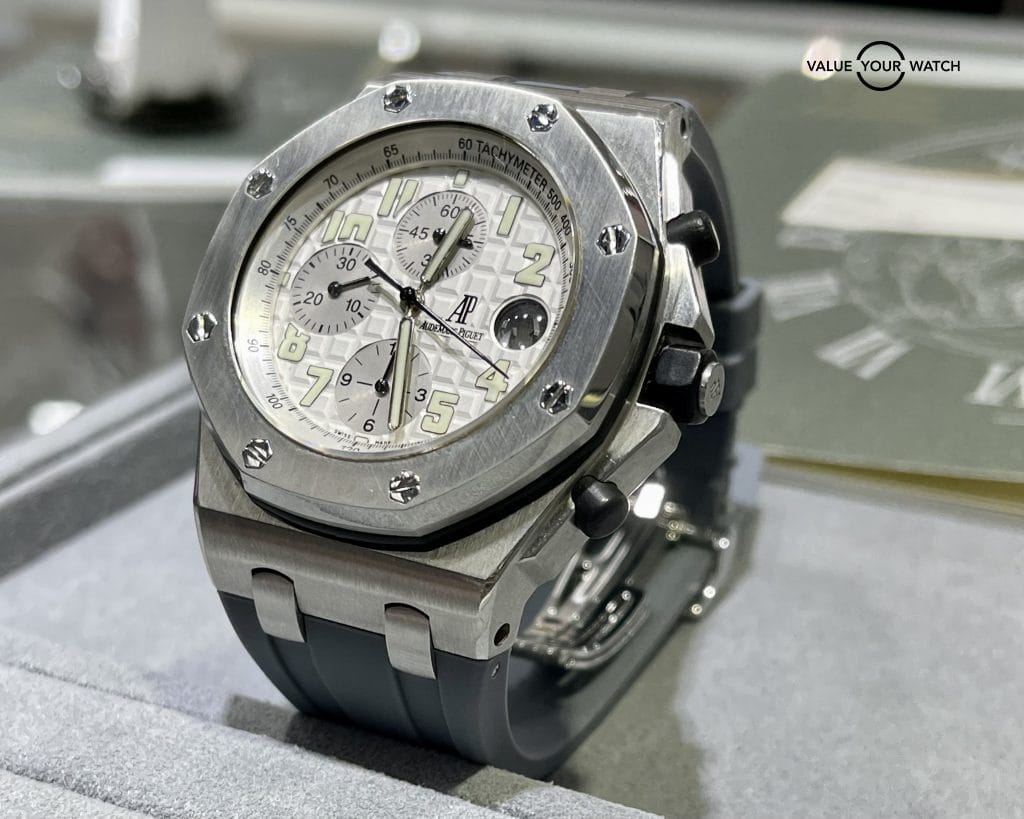 In conclusion
As I mentioned earlier, the key to the new eBay standard of claims is the fact that it is much safer to sell on the platform. The buyers still hold the power, but much of it was handed to the seller so unscrupulous people have a harder time scamming the system. It's important to get to know the buyer by checking their ratings on eBay, or even calling them and having a discussion. I started doing that and ever since, I have not had an actual return.
In the current state of eBay, sellers like me have a much better time fighting back, especially against buyers who are taking advantage of luxury watch sellers. The more I know about the eBay process the easier it is to make sure I am not one of the ones getting taken advantage of. Get educated and I strongly suggest reading the eBay policies yourself to help further your understanding of how things work. Happy trading!
Start selling at our marketplace where you are not paying sellers fees!