To all my fellow watch collectors out there, as you know we live in this golden era of watch blogs where thousands of people are writing about watches informing us about each and every minute detail of old and new watches. Amongst many mediums that keep us informed, one famous and commonly used medium for watch experts is a blog. These watch blogs are a source of information, education, and entertainment for all the watch lovers who can not get enough of the information about every feature of their favorite watch.
There are so many great new watch blogs and here is the list of the most popular in 2021.
This article intends to provide a list of the best watch blogs which offer more than enough information about watches to keep you hooked up on this article and give up your favorite tv serial. So, let's get started:
1. A Blog To Watch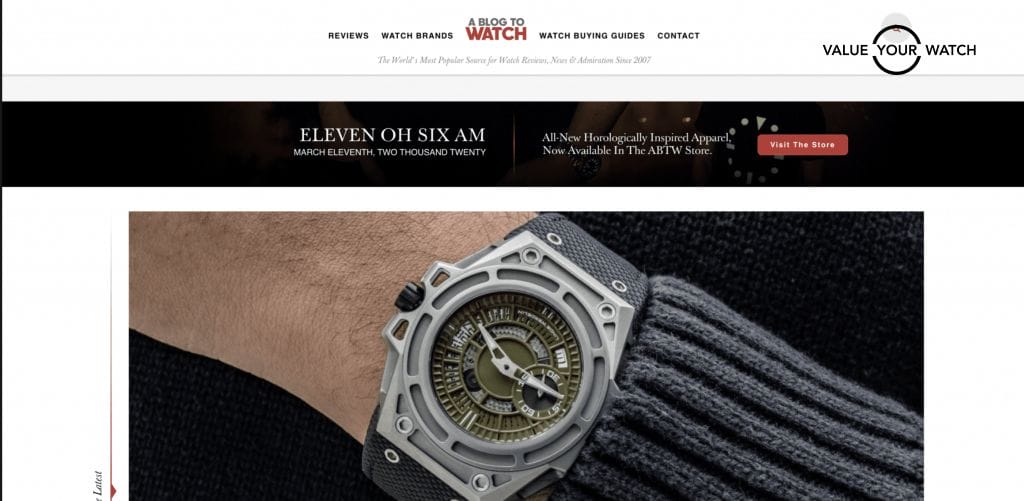 ABTW is run by Ariel Adams and his team and they have been producing excellent content about watches since 2007! The content produced is in the form of articles and videos. Go check out their blog and enjoy an extensive variety of watch reviews and related content. Also, make sure to read a few of the comments posted on the blog which are equally entertaining as the blog articles themselves!
2.Hodinkee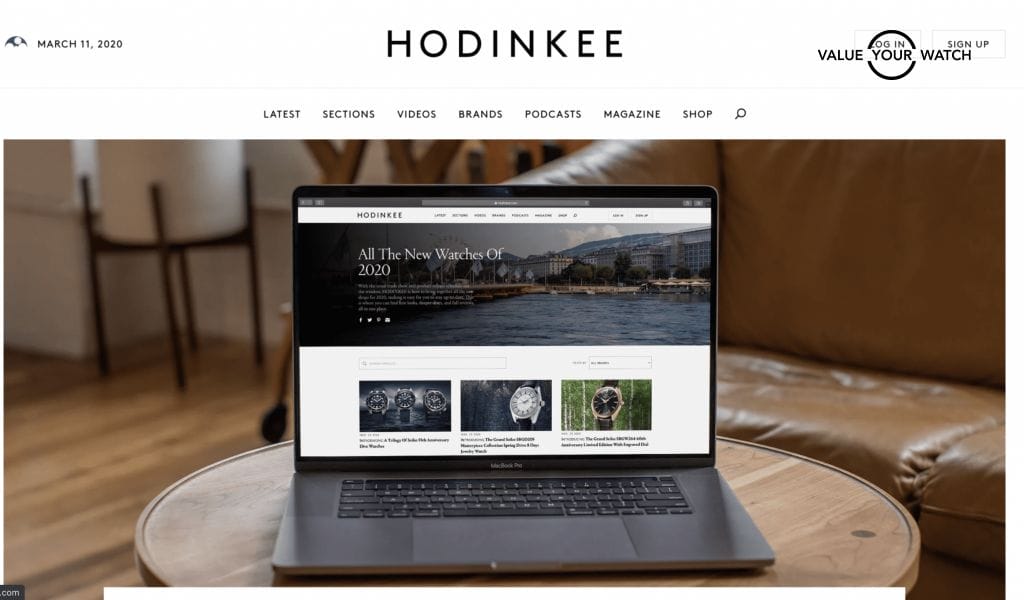 One of the oldest and most impressive blogs to be available on watches has to this one! It is so famous now that it has become a complete household name now. It is so famous that even the ones who have zero interest in watches recognize this blog because of its presence absolutely everywhere. Hodinkee guys made their way from watch nerds to tastemakers (as quoted by the famous magazines and newspapers).
3. Monochrome Watches
Monochrome watches' main focus is on high-end watchmaking by independent individuals. Monochrome Watches describe themselves as an online magazine dedicated to high-end fine watches. They also present to you behind-the-scene coverage.
https://monochrome-watches.com/
4. Worn and Wound
Worn and wound is your go-to blog when searching for value-driven watches. It offers a wide range of content written by writers of various perspectives. They share reviews, guides, highlights and even information about vintage pieces.
5. Fratello Watches
Even though Fratello watches mainly review other watch brands, they're known as the renowned authority on Omega Speedmaster Moonwatch. They are even noticed by Omega and one of their watches is named as Speedy Tuesday Speedmaster in their honor. With its great watch photography, impressive writing and brilliant in-depth knowledge about watches, they can easily be anyone's daily read.
https://www.fratellowatches.com/
6.  Watch Pro
It is the only magazine and website from the UK dedicated entirely to the making, marketing and selling of watches.
7. Roverhaven
A watch enthusiast, Myron, owner, and writer at  Roverhaven is extremely honest with his reviews. His articles actually help his readers decide whether to buy a specific watch or not. The blog mainly focuses on tool watches so there won't be any reviews available for diamond-encrusted watch reviews. Rather you will find genuine reviews of handmade, high-quality leather strap watches. Roverhaven is definitely worth a checkout!
8. Watch Time
The watch time team along with some contributors from various watch blogs post reviews about latest watch models and news from watch collector events. The watch time blog also focuses on providing you information about watches that are highly liked or awaited. It brings your informative articles regarding watches that are often most trending.
9. Gray and Sons
Gray and Sons provide information about famous luxury brands such as Rolex, Cartier, Audemars and many more. They aim at making their customers stand out of the rest. They intend to provide luxury watches at a lesser price by offering preowned watches at affordable rates.
10. Quill and Pad
Is a renowned name in the watch blog industry contributing in a valuable manner to the world of watch blog. It is an online magazine, founded by Elizabeth Doerr and Ian Skellern, focusing on high-quality journalism about luxury watches. Not only it provides written articles and reviews but also photography and videos. After 40 years of experience in the watch world, they are able to provide interesting and fine material about watches not only in textual form but also photographic and visual. Their content is a true pleasure for its followers and any watch lover.
11. Vintage Watch INC.
If you are looking to learn more about vintage watches, the Vintage Watch INC. is the right place to explore. 
12. Time Tide
It is an Austrian-based leading watch media group that connects watch enthusiasts with the watch news and updates from all around the world.
https://timeandtidewatches.com/
13. Haute Time Magazine
If you are into luxury watches, Haute Time Magazine is your number source of information. They aim at keeping you updated about the newest models of your favorite luxury brands.
14. First Class Watches
First Class watches offer you reviews, guides, news, and information about the famous designer and luxury watch brands.
https://www.firstclasswatches.co.uk/
15. Wristwatch review UK
They provide news, reviews and buying guides to watch lovers.not only do they review watches but also provide information about different features and elements of watches such as straps. They provide you information regarding whole new collections and keeping you updated about every new timepiece that launches.
https://wristwatchreview.co.uk/
16. Watch It All About
It a famous blog dedicated solely to the affordable watches. The quality of watches anyone can afford.Not only this blog offers reviews, articles, and news about watches but they also bring your various sales, offers and different packages that are being offered everywhere.
https://www.watchitallabout.com/
17. Time zone
It is an authentic source of information for the watch collectors and lovers. It is also an entertaining platform to watch discussions.
18. Professional Watches
It is a New York based watch publication. Their aim is to provide an unbiased watch industry coverage for watch enthusiasts all around the world.
https://www.professionalwatches.com/
19. Crown and Caliber
Is an online marketplace pre-owned watch designer watches making the process of buying and selling watches easy for everyone.
https://www.crownandcaliber.com/
20. SJX
Founded by Su Jia Xian, it is an active place to watch journalism.
21. Keepthetime Blog
An active watch blog which keeps us updated about the watch launches and reviews.
https://www.keepthetime.com/blog/
22. Wrist Review
One of the most common watch blogs with a constant supply of watch news, reviews, and information. It deals with all types of luxury watches from entry level to Haute Horlogerie.
23. Haul O Gerie
They offer both reviews and articles for watch lovers along with the watch pictures.
24. Watch Guy
The blog mainly focuses on the reasonable repairing of the luxury watches rather than their reviews.
25. Jomashop
The blog mainly focuses on the wholesale and retail trade of the luxury watches and a few other items. The blog features a huge collection of Tag Heuer Watches, Rolex Watches, Breitling Watches, etc.
https://www.jomashop.com/blog/
26.Watchuseek
It is one of the most visited watch sites offering every minor detail of various watches, a huge collection of links to watchmakers and various brands. Hence, if you are looking for genuine advice for your next watch purchase, this is the place for you to be!
27. Creation Watches
It's been a few years now that watch creations have been offering their watch-related services to the watch lovers now.
https://www.creationwatches.com/watchblog/
28. Prestige Time
It offers interesting articles and reviews about luxury watches. The prestige Time blog also presents honest comparisons of high-end Swiss European and Swiss watches that everyone is so fond of.
https://www.prestigetime.com/blog/
29. Govberg Watches
This definitely has to be the go-to watch blog for all the watch lovers out there.  It offers a wide range of luxury watch news and reviews.
https://www.govbergwatches.com/blog/
30. WatchProSite
It a comfortable platform for watch-related reports, reviews, and discussions on luxury watches for all the watch collectors and buyers.
31. Caliber 11
A platform offering unmatched insight, analysis and news about the famous world of TAG Heuer. It has one of the largest  Heuer catalog collection online. A plus point is the offering of a unique database to search for watch's reference number and history.
32. G-Central
Main focus of this particular watch blog is shock-resistant sport and military watches. This particular blog posts new releases, limited editions, collaborations, and more about the type of watches mentioned.
33. Two Broke Watch Snobs
Mike and Kaz, owners at Two Broke Watch Snobs who review latest watches for us.
http://twobrokewatchsnobs.com/
34. The Urban Gentry
The main man, GTV, behind this blog has been providing us with brilliant watch-related content since 2004. Not only does he have a blog but a youtube channel as well and boy you need to take a look at the number of subscribers. The content ranges from affordable watches to luxury watches. Initially, the blog focused mainly on the lifestyle but soon after, it was taken over by watches.
https://www.theurbangentry.com/
35. Watch Hunter
The fact that watch hunter made it to this list means that the blog is worth checking out. It is full of articles, opinions and watches reviews. Although it covers many watch brands it mainly specializes in vintage swiss army watches and Victorinox Swiss Army watches.
36. Watch Report
This blog covers almost every watch brand ranging from small independent brands to more familiar and famous luxury brands. The content provided is absolutely huge! Hence, there is something of interest for all the watch lovers and collectors. Not only does it focuses on common watches but it also features some very unusual watches also. It guarantees to offer something that you haven't watched before.
37. Bulang & Sons
The website is a one part shop. It has to do with things which are related to high-end watches. Even though they don't publish very often but when they do, they stand out amongst their competitors due to their attention to minute details and excellent photography.
38. Revolution Watch
It features a wide range of watch-related content. Apart from a blog, they also an online shop which carefully offers selected new and vintage watches.
https://www.revolution.watch/stories/
39. Watches of Switzerland
This is home to an unmatched selection of luxury watches.
https://www.watches-of-switzerland.co.uk/
40. Watch-Insider
It features some of the most interesting information about watches for its followers.
41. Deployant
Founded by 2 friends. They mainly publish editorials.
42. WYCA (Watches You Can Afford)
For informative articles, reviews, news, and information about your favorite watches, you need to follow this blog!
https://watchesyoucanafford.com/
43. Tic Watches
They not only offer information about watches but also serve as watch retailers.
https://www.ticwatches.co.uk/blog/
44. Becker Time
Founded by father-son watch enthusiasts duo as watch blog, it has now turned into pre-owned Rolex watches. The blog provides the latest news, reviews, information about trends and everything you want to know about watches.
45. Momentum Watches
They design and assemble high-quality sports watches.
https://www.momentumwatch.com/
46. Waha Watches
A famous blog which caters the watch enthusiasts with providing information about the restoration of vintage watches and tutorials.
47. Rolex Passion Report
A project of Philipp Stahl where he shares his passion for watches with other watch lovers. He offers extensive information about collecting Rolex watches.
http://rolexpassionreport.com/
48. Mr. Montre
The unrivaled magazine about trendy and affordable watches. They share reviews and buying guides about watches.
49. Watch It All About
It is a blog and a review site especially focused on affordable watches.
https://www.watchitallabout.com/
50. Watch Report
Watch Report shares with its followers the reviews and news about everything related to Swiss Luxury watches.
51. Watch Anish
The blog offers information about watches and other elements such as lifestyle and travel.
52. 60 Clicks
A blog dedicated to the watch lovers, bringing them watch-related information.
53. Watch Finder
This blog has been around for 15 years and is known as an expert blog on contemporary watches and vintage timepieces.
https://www.watchfinder.ca/blogs/blog/
54. The Watch Blog
They offer news and reviews of popular affordable watches.
https://www.thewatchblog.co.uk/
55. Orion
This blog was developed not only to provide information to the watch lovers but also to provide funds to a watchmaking school.
56. Watch Paper
This blog has dedicated itself to bring the watch industry news to the watch lovers from all around the world.
57. Escapement
It is an online magazine focused on individuals with love for watches. They aim to provide an insight into the watchmaking industry by providing information about various techniques.
https://www.escapementmagazine.com/
58. Watch Review Blog
This has to be the world's most in-depth watch blog! It has a huge number of reviews, news, watch comparisons and so much more.
https://www.watchreviewblog.com/
59. Johnson Watch Co.
Johnson watch Co. is an informative blog regarding swiss high-end brand watches.
60. Oceanic Time
Is one whole blog dedicated to dive watch collectors. In-depth articles, reviews, and news can be found at this blog.
http://oceanictime.blogspot.com/
61. RGM Watch Co.
Not only does this blog offers timepieces related articles and news but also provide watchmaking services.
62. Vintage Citizen Watches
The entire watch blog aims at Citizen watches and to be more specific, vintage Citizen watches (1924-1978).
https://vintagecitizenwatches.com/
63. Donatwald
Founded by Robert Donat, a watch enthusiast. He aims to guide the watch lovers in finding the perfect watch which suits them.
64. Microbrand Watch World
MBWW is a community for watch lovers where they can interact with the watch brands directly. They further provide watch reviews and interview famous watch brand owners.
https://microbrandwatchworld.com/
65. Luxe Watches
Luxe watches have good fifteen years of experience in the watch industry. They provide watch-related services in the form of pieces of advice, guidance, and suggestions to watch lovers.
https://www.luxewatches.co.uk/
66. A Timely Perspective
Established by Roberta Nass who has 30 years of experience in the watch industry. She works hard through the blog to provide information about timepieces to the watch lovers. The Timely Perspective gives an insight into the world of watches. An interesting tradition at A Timely Perspective is that after some time, they take a break from all the products news, reviews, and trend updates to get involved in a fun activity. They try and showcase the way watch brands offer their key information to journalists.
https://www.atimelyperspective.com/
67. The Watch Lounge
An online magazine dedicated to high-end watch brands. The main goal of the magazine is to provide all the watch-relevant and up-to-date content to the watch enthusiasts. The team at The Watch Lounge follows a simple philosophy, i.e find the watches they absolutely love and then share them with the followers and all other watch lovers out there. They try hard to have a competitive edge as compared to their peers by introducing their followers to new watch brands, concepts, and trends. Bringing information about the brands you already love. They intend to bring you up-to-date and watch relevant content which will keep you interested every time you read it.
68. Feldmar Watch Company
Initially founded as watch repair business, it turned into a luxury watch blog providing the latest news of the watch industry.
69. Lug2Lug
A blog dedicated entirely to watches and everything related to watches.
70. Sweephand Vintage Citizen Watch Blog
A watch blog dedicated solely to Citizen's mechanical and electro-mechanical watches from the time period 1931-1980.
71. Vintage Hamilton Watch Restoration
This particular blog offers information about Vintage Hamilton watches and everything related to them. This includes watch repairing, restoration, and models.
http://www.hamiltonchronicles.com/
72. Kane Watches
This specific blog offers a wide collection of men's watches with interchangeable straps. Their aim to up your style and personality game with the help of their exclusive Japanese timepieces.
https://www.kanewatches.com/blogs/news
73. Ogden Of Harrogate
The famous blog provides articles on vintage, contemporary, traditional and even modern watches and jewelry.
https://www.ogdenharrogate.co.uk/blogs/news/tagged/watch-blog
74. Kaminsky
This blog offers every watch related information, a watch lover needs to know!
75. Time Piece Chronicle
A whole blog dedicated to watches. It features all the information regarding the models, their history, technical information and so much more!
https://www.timepiecechronicle.com/
76. Watch Nerd
A watch blog providing all the information a watch lover demands! Absolutely everything!
http://www.thewatchnerd.co.uk/
77. Ickler Watch Blog
A blog specifically developed for watches and their cases.
https://www.icklerwatchblog.com/
78. Welwyn Blog
A blog dedicated only to watch repairing. It provides its followers with multiple tips and guides about watch repairing and several watch related issues.
https://www.welwynwatches.co.uk/
79. Worn and Wound
This site covers all the watch projects as well as watch stories about various watch brands.
80. Klockrent. Org
The blog tries to share its passion for watches with its followers. This blog is still in its startup phase but is working towards establishing and proving itself to be one of the most useful and famous watch blogs.
81. Bridge and Barrel
The blog focuses on various items such as menswear, sneakers, and watches.
http://bridgeandbarrel.com/category/horology/
82. Those Watch Guys
Though not very active, they do feature informative articles about watches and the watch world.
https://www.thosewatchguys.com/
83.Wrist Porn
They work hard to bring you the watch industry's news from all around the world. They bring you information about watches, accessories, and everything that can be considered WristPorn.
84. Horologue
The blog specifically developed to bring you watches at the lowest price possible. You can find a wide range of luxury watches along with their prices and pictures.This blog analyzes the watches in a different light as compared to other famous blogs. The particular blog treats a watch more than just a timepiece.Watches with evaluated with passion and admiration. They literally drool  over luxury watch pictures on Instagram and Facebook.
85. Watch Time Middle East Magazine
It is the regional edition of North America's Watch Time magazine. It covers the latest news and trends about watches and the watch industry.
86. Watch Time
This particular blog reviews luxury watches which are also affordable. Their posts mainly focus on affordable and even cheap watches considering different price ranges. They target watches both for men and women.
https://www.watchtime.com/tag/affordable-watches/
87. Dive watches
The Dive watches blog focuses on watches from various price ranges. They post regular reviews and news about watches keeping their followers updated.
https://divewatchesblog.com/articles/
88. Gentleman's Gazette
The Gentleman's Gazette focuses not only on watches but on other men's accessories as well. They post reviews about watch and other accessories. Not only do they offer reviews and news but also offer an online platform for selling men's accessories.
https://www.gentlemansgazette.com/watch-guide/
89. Horologii
Focusing on various innovations, the blog features high-end wearable watches. The blog presents reviews of various luxury watches giving a clear picture by explaining the good and bad features of the watches.
https://www.horologii.com/watch-reviews/
90. Dmarge
Liking and collecting vintage watches is one thing but knowing exactly what to buy, when to buy and how much to pay for the watches you like is another thing. Dmarge is the blog which provides you with informative articles about what to buy and when to buy. It informs you about the correct prices and explains how much should be paid for various watches.
https://www.dmarge.com/watches
91. Adam Vintage
Adam J Dubilo, the founder of Adam Vintage, has always been fascinated by the vintage watches especially their craftsmanship and mechanics. The blog focuses exactly on these aspects to give clear and honest information to its followers.
https://www.adamvintage.com/vintage-watch-blog
92. Watchient
Rahat, the founder of Watchient, got hooked onto mechanical watches a few years back. After thorough research, he ordered a SARB017, his first ever mechanical watch, from Japan. Later, he created this blog as a go-to platform form for people who need to get information about mechanical watches. Each and every review and article posted on this blog is finalized after hours of research. Afterward, every article is double-checked by an author to make sure it contains accurate information.
93. Value Your Watch
Even though the blog provides reviews and watch related information regarding different watch brands but it mainly focuses on buying watches. It guides its followers regarding what to avoid when buying a watch, what to keep in mind, how to know if you are dealing with the right person when you are buying watches, etc. This blog helps you in deciding your next watch.
https://valueyourwatch.com/blog/
94. Crown Watch Blog
The crown watch blog mainly focuses on high-end luxury watches. Offering informative articles about new watches and features, latest trends of watch market and information regarding buying and selling of luxury watches.
https://www.crownwatchblog.com/
95. Watch Trading Academy
This site focuses on helping people become a watch trader and shares with you how you can start today. They have various blog post which are very detail with many great strategies.
https://www.tradingacademy.com
96. Bob's Watches
It is the first ever platform for Rolex service. It facilitates people in buying, selling, and even trading Rolex watches at a reasonable price. It further keeps the watch enthusiasts informed through latest news, reviews, trends and even informative stories about Rolex watches.