There is a chance that you have heard of PayPal before. It is an instant transfer of money between your Paypal account and the other involving party. In your case watch buyer/seller. You can either send or receive money.
I am going to discuss the various options you have as a watch buyer as well as the watch seller. Paypal is a very powerful payment method which is very easy to use.
Using Paypal as a watch buyer
If you have never used a PayPal, you will need to create an account with them. All you need is to have a valid email address to get started.
The next step is to get verified which makes you "more trusted" on the platform. According to PayPal "You can verify your account by completing two out of three actions: link and confirm your bank account, verify your credit or debit card information and/or providing your social security number." Just think of it this way, if you receive money from someone who you do not know would you feel a bit more comfortable if you know what PayPayl verified their identity?
The next step is to link your credit card or bank account to the account. When you link your card and bank account you are ready to rock and roll.
Purchase/Buyer Protection

Having a PayPal account is one thing, but do you know what the buyer's protection is? This is one of the biggest benefits of PayPal to watch buyers.
When you send money, you need to use "Pay for Goods or Service" to be eligible for purchase protection.
When are you Protected?
If someone using your account without your knowledge or approval. You need to report it in 60 days and PayPal will investigate. At that time you will be cover by PayPal $0 Liability for Unauthorized Transactions.
If you want to use the protection you need to satisfy some requirements which are written below.
Contact the watch seller within 6 months (180 days) …Yes, 6 months which is crazy, and try to find a solution. If the seller does not cooperate, you can escalate the dispute to a claim within 20 days since you opened the dispute.
Have the PayPal in good standing. You should not have a negative account balance. Keep up to date funding sources (Credit cards, Debit Cards, Bank accounts)
If the transaction qualifies for PayPal Purchase Protection you will be able to recover the full purchase price plus the shipping you paid for, however you might be responsible to return the item to the seller and pay for the returning shipping.
When you watch never arrives, go to your PayPal account and open a dispute to get started on the refund process.
The watch was not as described. The seller of the watch did not disclose certain things about the watch.
For example, the seller mentioned a blue dial but the watch has a black dial. Or they said that you will get an Omega watch box, but no box arrived.
Last but not least, you have purchased a replica watch or counterfeit watch.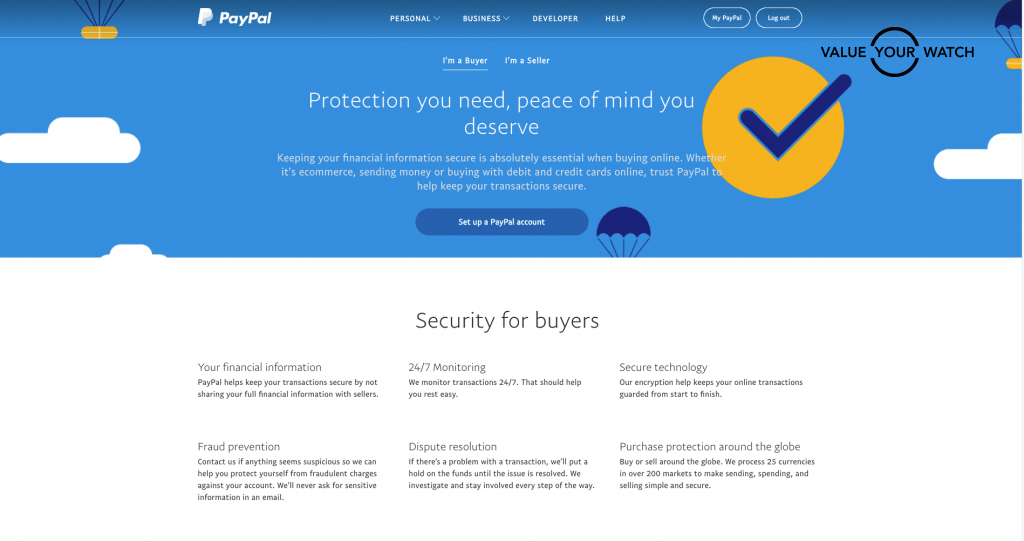 Fees
PayPal is very friendly to watch buyers when it comes to fees. There are no fees for the buyer which makes is a very popular payment method for people plus as you could read above, with the buyer's protection, it is hard not to buy watch using PayPal.
Using Paypal as a watch seller
Now that you know, how easy its to return a watch before 180 days, you might wonder, how can I protect myself as a watch seller on Paypal? That is a very valid point. There are some steps you should take into consideration before you will be shipping the watch to the person who you feel is the right buyer.
When you do sell watch by using PayPal you need to know the cost for using it as well as to minimize to the possibility of fraught or chargeback by using it especially when watch buyers do have 180 days to return the item…
Here is a list of selling fees.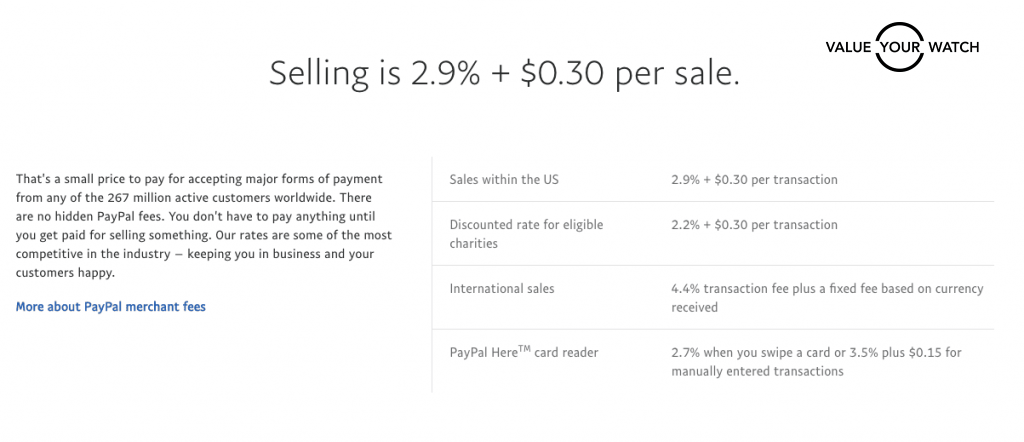 Sales within the US is 2.9% + $0.30 per transaction
International sales fees are 4.4% transaction fee plus a fixed based on currency received
If you decide to refund the purchase, the fees you originally paid as the seller will not be returned to you.
For example, If a watch sold for $3,000, You will receive the full $3,000 minus the 2.9% +$.30 which is $87.30. You will be able to credit to your bank account $2,912.70
How to get the money for my watch?
You can ask the buyer send you money for Goods or Service (fees apply, sellers protection applies), Friends and family (no fees, no sellers protection) or you can Request money from customers or create an invoice in which case you pay the fees and you are also covered by the seller's protection.
How can I be protected as a watch seller?
Paypal does have seller protection as well which should protect you against chargebacks, reversals and their associated fees. However, to be eligible for the protection, you must meet ALL of the following requirements.
Your primary address has to be in the USA which is verified on your PayPal
It item has to be physical, tangible good that can be shipped
You must ship it to the shipping address on the transaction details page in your Paypal
If PayPal asks you for some documentations and other information, you need to respond in a timely manner.
PayPal can do only so much and you follow additional steps when selling your watch.
Here is your checklist for selling the watch on PayPal.
Get in touch with the watch buyer (call them, connect on social media, etc.) Also, it is an excellent practice to get a copy of a driver license matching a utility bill from the buyer. Legitimate people will understand your concerns. If they do not provide it, refund and move on
Take pictures of the watch and all the accessories you are shipping. Also, check if the watch is working as you advertised.
Make sure that the Shipping Address is confirmed
Before you ship make sure that the Payment is Completed or "ready to Ship" status
Ship with UPS or FedEx signature required fully insured only (do not risk USPS losing your package)
Keep in mind, if the watch buyer does not provide the information which makes the transaction more transparent, you can always refund them.
If you are looking to learn different strategies to trade watches, join Watchconspiracy.com TODAY.
The blog post was written by Honza Hroch who is the founder of Honza's Watche. You can reach out to him at info@honzaswatches.com