There are three primary ways to sell your luxury watch online and a multitude of choices within each group.
Though wading through the information and deciding which avenue is right for you can seem a bit daunting at first, the reality is that each of us has different needs and preferences.
Some want a quick sale, while others want to make sure they get maximum value, and others are more concerned with not paying excess fees.
There are also risks involved in some the various platforms as well, from the potential to have someone shaft you on payment through personal safety concerns.
In other words, you'll really want to weigh the options when you sell your luxury watch online to ensure it's a smooth process that suits your particular needs.
On this page, we'll go over the most common methods of selling a timepiece on the net and outline a few considerations related to each.
Option #1: Sell it on Your Own
Are you a DIYer at heart? Selling your own timepiece may be your best bet.
Although you'll need to take safety precautions when meeting people in person and will be investing time in marketing and networking with potential buyers, you're in total control of what you earn from the sale.

Works Well For: Saving cash, earning top dollar, informed sellers
Beware Of: Personal safety if meeting in person, scams, time wasters, fees, obscure rules
Forums
If you're going to sell your luxury watch online, chances are you already belong to a forum or two.
These are typically devoted to sharing knowledge about specific brands and timepieces, though most allow sales to be conducted through the forum too.
Be aware that many forums have specific requirements to become a seller.
For example, you may need to be an active member with a certain number of posts under your belt before you can list a piece.
Other forums have membership fees or require a donation to be able to list.
Once you've listed, you'll be wholly responsible for responding to potential buyers, negotiating the deal, finding a way to collect payment, and getting the timepiece to the buyer.

Examples:
Marketplaces/ Websites
Some marketplaces and websites are devoted wholly to timepieces, while others are general sales sites.
Many of them have helpful features integrated, such as payment portals and escrow services.
Depending on which website you choose, you may be more likely to attract a local buyer which can speed up the transaction process.
However, be advised that sellers using sites like Craigslist and Facebook have been hurt or robbed before, so you'll need to take safety precautions if you choose to meet buyers in person.
Costs to use websites to sell your luxury watch online will vary. Some, like Craigslist and Facebook, are free.
Options like eBay involve a shop fee plus shave 10% off the top when you make a sale.
Chrono24 works similarly, though the fee is presently at 6.5%, with dealers having the option to whittle down the commission if they pay for a membership package.
On the other end of the spectrum, Value Your Watch has low flat annual membership fees, which is usually a more cost-effective way to go.
Clearly, each site works a little differently, so you'll want to check out the fine print and know what your responsibilities and costs will be before you select a platform.

Examples:
Apps
Web apps work much like their full website cousins.
Pricing runs the gamut as well. For example, Poshmark scrapes 20% off the top of your sale (provided it's over $15… which it will be).
OfferUp comes in a tad cheaper at 7.9% for items that need to be shipped, plus has a few premium features buyers can opt to pay for.
LetGo is free, though you can pay to "bump" your listing to the top as it ages and you'll want to take precautions if you're meeting people in person.

Examples: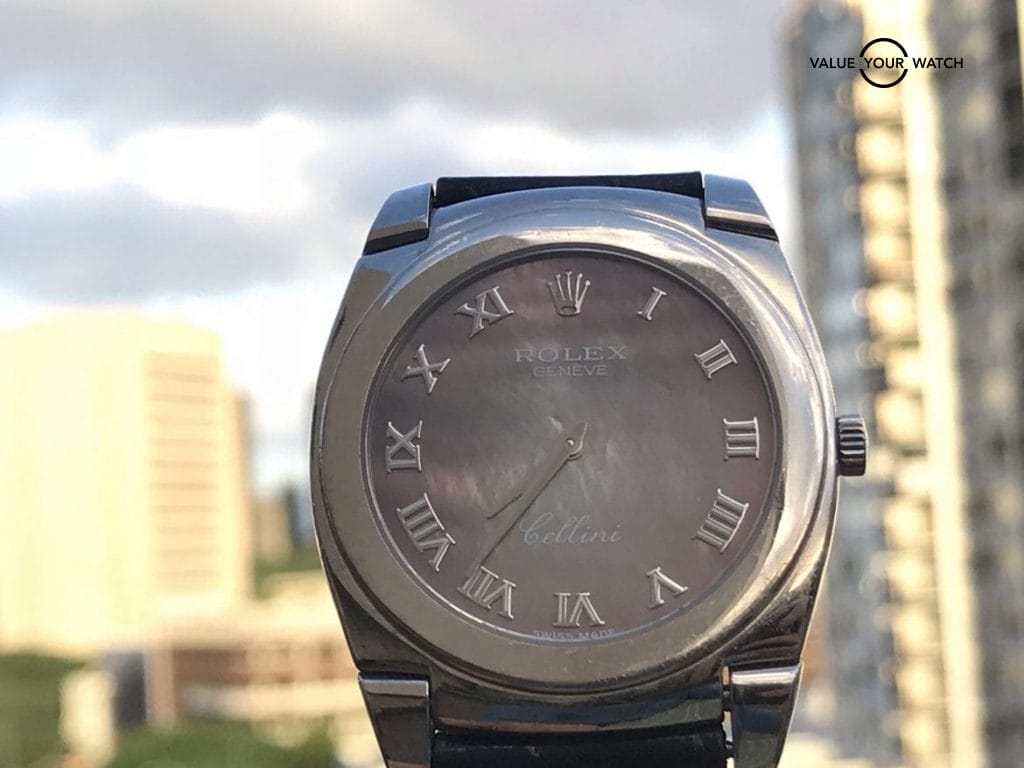 Option #2: Have Someone Sell it for You
Hoping to get a decent price without investing a ton of effort?
Consignment may be the best way for you to sell your luxury watch online, but you will generally pay a bit more for the privilege.

Works Well For: Simplicity, those still learning
Beware Of: Costs
Consignment
Most consignment shops will give you an offer based on information you provide and, if you accept it, you'll send your timepiece in to them.
They'll inspect it and then give you a final offer. Beyond this, you really aren't expected to do much.
The company you consign with will determine what your watch is worth, often prep or service it, take photos, deal with the marketing, get it sold, and will cut you a check when it moves.
A few will give you a small sum up front, but those are the exception rather than the rule.
Fees vary drastically from one outlet to the next, but typically range between 25-50% or more depending on the value of the item.
For example, Crown and Caliber charges a 19.5% consignment fee plus a preparation fee. TheRealReal takes 15% for watches valued at $2,500 or more and 30% for watches priced between $1,000 and $2,500. If your timepiece is worth less than $1,000, they take 50%.
As an aside, watch dealers will sometimes do consignment as well, but each one will have a different fee structure.
The general pricing structure also means that the consignment shop only earns when you do, so it's in their best interests to get the most they can from it.
For this reason, consignment may be one of the better options if you're not totally certain what your piece is worth or don't have a lot of information about it.

Examples:
TheRealReal
Watch Dealers
Crown and Caliber
Option #3: Sell it to a Reseller
If you want a fair price without investing a lot of time in the sale, you'll want to offer the timepiece to someone who specializes in pre-owned watch sales.

Works Well For: Speed, getting a fair price, informed sellers, those still learning
Beware Of: Smooth talkers/ low-ballers
Jeweler or Watch Dealer
There are many jewelers and watch dealers who will purchase timepieces with the intent to resell them.
This model varies drastically from the consignment model because it is in the reseller's best interests to pay you the least amount you'll take and resell it for the most it will go for.
That said, not all resellers are focused primarily on having massive profit margins, especially when it comes to the luxury watch market.
Realistically, anyone who has been in the industry for any period of time has a reputation—good or bad, and the good ones are likely to continue to behave ethically either because it's in their nature or to protect their reputation.
So, you'll want to research the individual reseller to make sure they have a good track record and have treated others fairly in the past, particularly if you don't have much experience in the valuation and sales process.
Naturally, this impacts informed sellers to a much lesser degree than it does newcomers.
Oftentimes, resellers behave like consignment shops in the sense that they'll provide an estimate online, have you send your timepiece in, and will then give you a final estimate.
If you accept it, that's it.
You're done and you get your check—no waiting for the timepiece to sell.
It's harder to put a cost on this model because there isn't necessarily a fee, just a sales price, and the reseller is going to turn the piece around and try to earn on it.
If a reseller is really good at what he does, he's going to take the timepiece he bought from you for $6,000 and sell it for $7,000 or $8,000, which means you've technically just paid 25% of its value on the upper end to sell it.
But, in all fairness, he's earning more on his sale than you would have if you had gone in alone because he's probably serviced it, is marketing it, has an audience, and has sales experience.
In other words, you're more than likely paying somewhere between 10-20% of the value for an easy and safe transaction and quick payment.

Examples:
Easily Sell Your Luxury Watch Online and Earn Top Dollar
Value Your Watch makes it easier to sell your luxury watch online and works well whether you're a seasoned collector or an average person with a single timepiece to list.
Our marketplace offers a multitude of services to make the process simple, from valuations to authentication and escrow.
Plus, you keep the full sales price of your timepiece—we NEVER charge commissions or listing prices, just a low flat annual membership.
Get started by requesting a free valuation of your timepiece or registering for a membership and listing your piece.
Disclosure: The link above is affiliate link. Meaning, at no additional cost to you, Value Your Watch,LLC will earn a commission if you click thought and make a purchase.