Investing in a quality used watch, especially the more distinguished brands such as Omega and Rolex, thorough, quality research in order to get your timepiece for the best possible price. Watch experts know the value of investing in expensive watches, however this knowledge is bleeding out into the public. This industry is not one somebody should blitz into without having a solid knowledge base.
A solid plan will help you at every stage of your watch collecting journey. Utilize any tool you can to avoid the most common issues such as unforeseen maintenance, pieces with no significant value, or unknown brands with little demand. Once you grasp this basic step, add into the equation your personal needs and wants. It's always best to go with a solid watch that also matches your personality. You will always feel confident and fulfilled when you wear a wrist watch that suits your nature.
Knowing Your Personal Style
It may take time to get a full understanding of your own style. When we talk of style, we simply mean the whole of your characteristics and potentials that make your person. When you utilize other forms of individuality; clothing, shoes, jewelry, cosmetics to express yourself, you are displaying yourself through style.
When you spend money on style that distinguishes you from others, lifestyles often take new turns. One of the best methods to achieve this is to invest in used watches. Luxury watches are a proven way to make solid investments, at reasonable prices, and at multiple valuations. When you look inward, you will see the style you project, and there is almost always a watch that coincides with that personality.
Claim Your Interests
It is of utmost importance to understand yourself as you journey through the multitudes of style available to you. Note your leisure activities, things that draw excitement from you, things that arouse you or intrigue you. Also not things you appreciate or take notice of when you see them or hear about them. There is a diverse world to utilize when expressing your passions, and this journey to understanding them is a truly exciting one.
Looking inward is a necessity. Call to mind everything you love and find your motivation within those things. If Pop Music is your favorite, what comes to mind when you listen to it? Keep these things always within consideration. Take notes of sensations, images, and colors and ponder ways to portray them through your fashion.
Be Inspired by Trends in Fashion
Everybody is unique, don't be influenced. You can always find inspiration in mainstream and/or alternative fashion trends, but be yourself. When searching for that perfect watch, read blogs, read magazines, watch videos. Keeping current with trends can help you narrow down your nearly endless choices.
Fashion gets its inspiration from everything. Moods, colors, and lines of each fashion season are unique. Visualize your interest as you shop whether it's bold colors, vintage pieces, outrageous shape, and remember you're searching for quality used pieces. These will be sold at the most competitive prices. By monitoring expensive fashion and becoming familiar with how the trends change seasonally, you'll be able to narrow down what truly draws out the awe in you and those that leave you feeling meh.
Furthermore, you will be able to narrow down more details in you dream watch, such as if the leather band, canvas strap, or metal bracelet suits your style better. The easier it is for you to narrow down the search, the more streamlined your hunt will be.
Take Inventory of Your Closet
It's important to inspect the contents of your closet and visualize the extent your new grail watch will fit into that space. Your new watch should blend seamlessly with your wardrobe and your lifestyle. The beauty of including a luxury timepiece with your attire is sending a strong message to those around you. You understand yourself, and you are proud of the way you present yourself.
If your clothing style is too far removed from the style of your watch collection, it's time to make some changes. Sit down with your closet and review everything. Move on from what does not make sense in your life, both watches and wardrobe. Once you reach the end of the line, you will realize you have shrunk your collection to just a few pieces. Don't fret though, your style is evolving, as are you. This evolution will allow you to supplement your style in a much better method than you previously employed.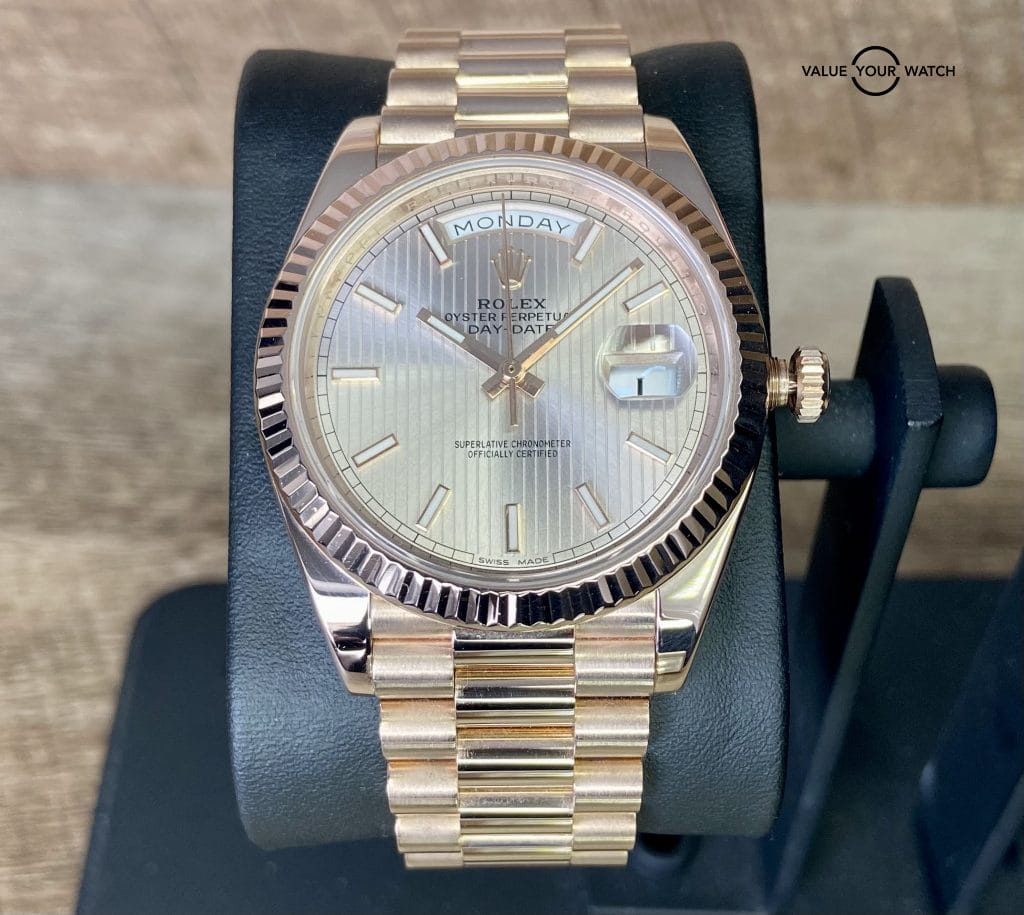 Invest in Quality
Many people do not understand this aspect well, but high quality fashion is important. Whether your style is modern, rugged, avant-garde, or classic, the advantage of quality includes the ability to handle your lifestyle at work or at play. Things of supreme quality will fit better, and may possibly outlast you. This can also make these items more valuable in the long term. Look at the $15 dollar pair of jeans at Walmart, then compare them to the $100 Levi Strauss & Co. The Levis will fit better, look better, and last longer than the Walmart jeans. It's very likely the lifetime of the Levis will easily be over ten times longer than the Walmart special as evidenced by the auctioning of Levis over 100 years old. This is especially true of watches. Higher quality watches will look better and last for generations. These are a long term boost to your personal style. Being a used watch does not mean it should lack quality. Quite the opposite, a high quality used watch is a long term