There are many people who buy luxury watches because of the look, mechanical engineering, and craftsmanship. Some people buy luxury watches to resell later on if they need cash, or to test drive different styles of luxury watches. One of the most common things you will hear is "What is the best watch to buy as an investment?" Most of the people that respond say "Watches are not an investment, just buy what you like."
I am not necessarily buying watches as an investment, rather more as a portable savings account. I completely disagree with those that say watches aren't an investment, however there aren't many that are. I would definitely like to know how secure my money is if I do decide to resell a watch. I know my savings account will gather me around 0.25% interest after money sits in there a couple years. There is no guessing, I know what to expect.
Being educated in various watch brands, and knowing what a watch is worth after purchasing a watch from an authorized dealer is a powerful tool to have. In this blog post, I will share some information on the most recognized watch brands and how they stack up if you decide to resell them.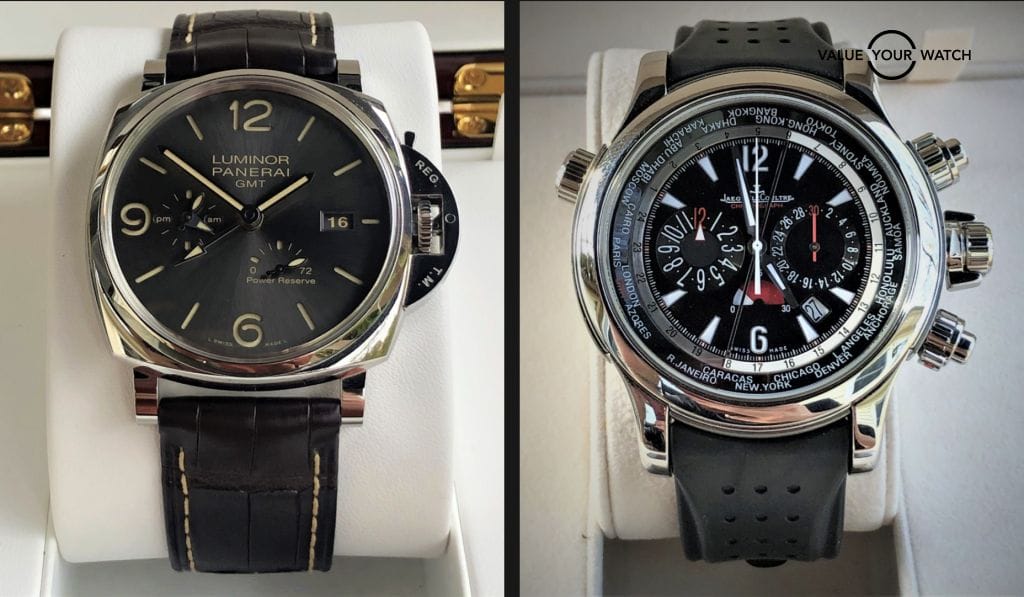 How did I choose the watches?
While there may be other brands more prevalent to you, I specifically looked at the most well known watch brands and what they sell online. There are many other quality brands but few actually hold up well for resale.
What's the MSRP (Manufacturer Suggested Retail Price)
Most of these manufacturers don't sell directly to the public, and if they do, they also have a retail network of jewelers and watch sellers that sell to you. They give this MSRP to each model and is what is suggested as the price for sale when new.
How Did I find out about the Current Market Value?
I used the steps discussed in this blog post
The main sources for pricing data are Chrono24, eBay, and Watch Recon.
How does supply and demand affect retail?
Keep in mind that prices are dictated by what's available on the market. If the demand for a specific timepiece outweighs the pieces available, people will pay more since they don't have any other option to procure that precious watch. If there are plenty of supply for a specific model, and people aren't paying premiums for them, the price will fall. When you factor in other conditions such as inflation, this current pandemic, or a recession, the price will not be as stable as when the economy is operating normally.
Is the retail value the amount of money I will receive?
No, the retail value is generally what you can expect to pay for something. It's very possible to sell a watch at its retail value but that is rarely the case. If you are so lucky, you still have to take into account any fees that you will have to pay whichever website you sold the watch on.
Resell your watch for free at our Marketplace today!
The best Luxury Watch Brands for Resale
| #1 Rolex | #7 Panerai |
| --- | --- |
| #2 Patek Philippe | #8 Cartier |
| #3 Audemars Piguet | # 9 Hublot |
| #4 Omega | #10 Tag Heuer |
| #5 Grand Seiko | #11 Bell & Ross |
| #6 Breitling | #12 IWC Schaffhausen |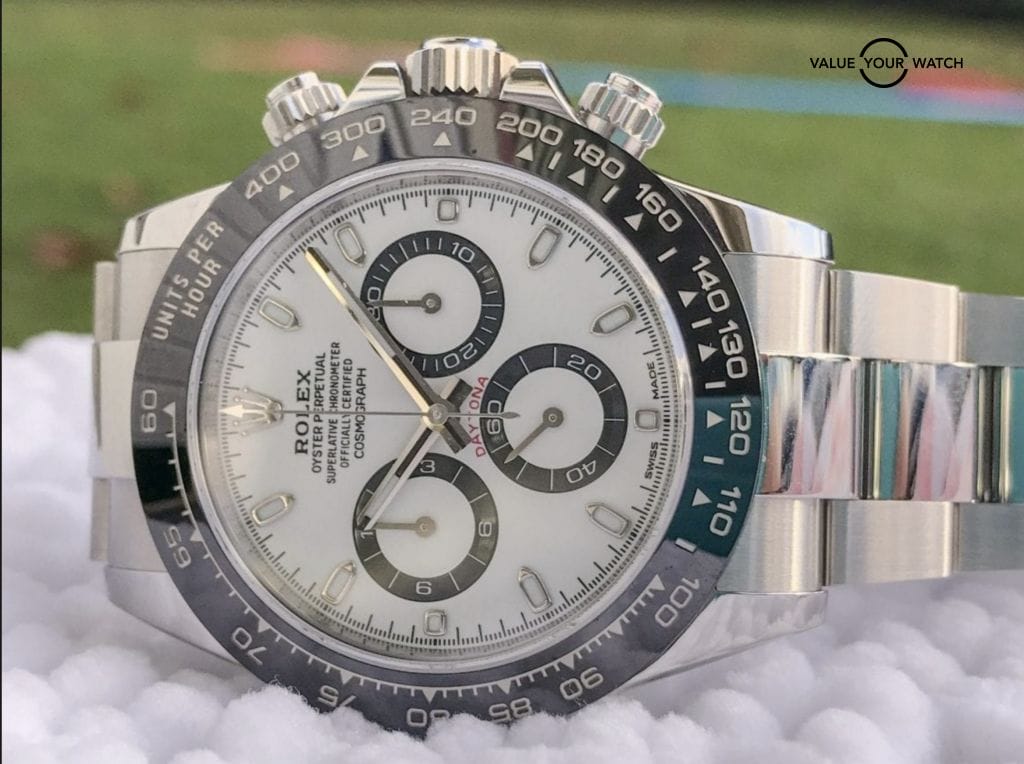 Rolex is one of the most iconic luxury watch brands. When you ask anyone what they think of when talking about luxury watches, it's most likely going to be Rolex. They have built a name around the globe as a leading brand in the luxury watch space. Whether you agree with this sentiment or not, Rolex is the most sought after brand and both the new and preowned market volume proves this. No other brand in the world sells as many watches as Rolex in terms of value of watches sold.
The Best Resale Watches From Rolex
Rolex Submariner Date (126610LN)
MSRP: $10,100
Resale Value: $15,000-$17,000
Rolex Submariner Date Green (126610LV) aka "Starbucks"
MSRP: $10,600
Resale Value: $20,000-$22,000
Rolex GMT Master II (126710BLNR) aka "Batgirl"
MSRP: $10,750
Resale Value: $19,000-$21,000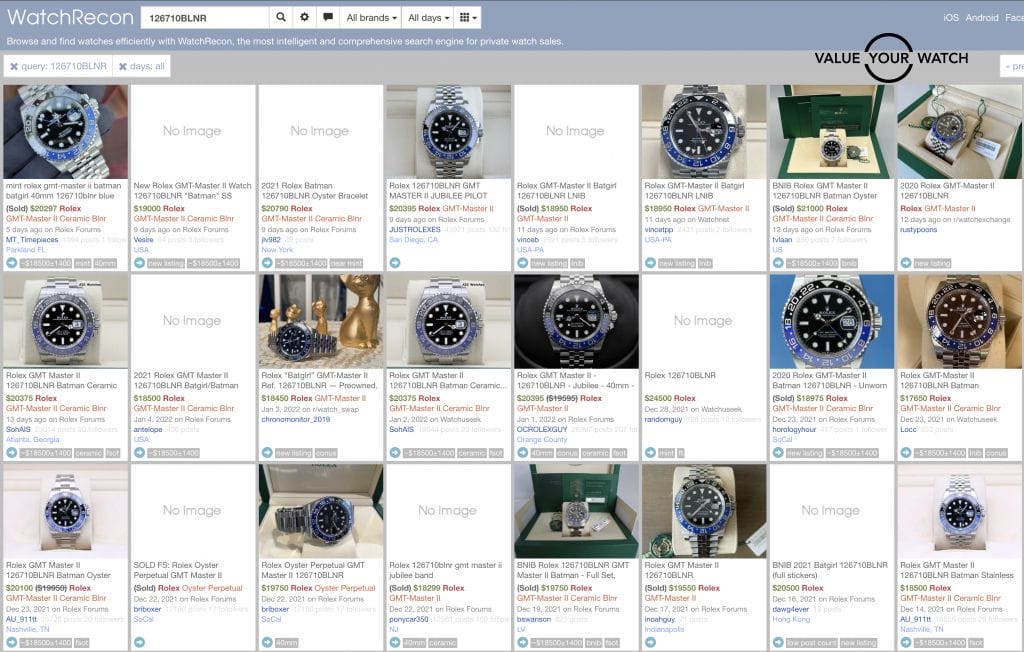 Rolex GMT Master II (126710BLRO) aka "Pepsi"
MSRP: $10,550
Resale Value: $25,000-$30,000
Rolex Cosmograph Daytona (116500LN) aka "Panda"
MSRP: $14,550
Resale Value: $32,000-$39,000
The Worst Resale Watches From Rolex
Rolex Celini Date (50519)
MSRP: $17,900
Resale Value: $14,000-$17,000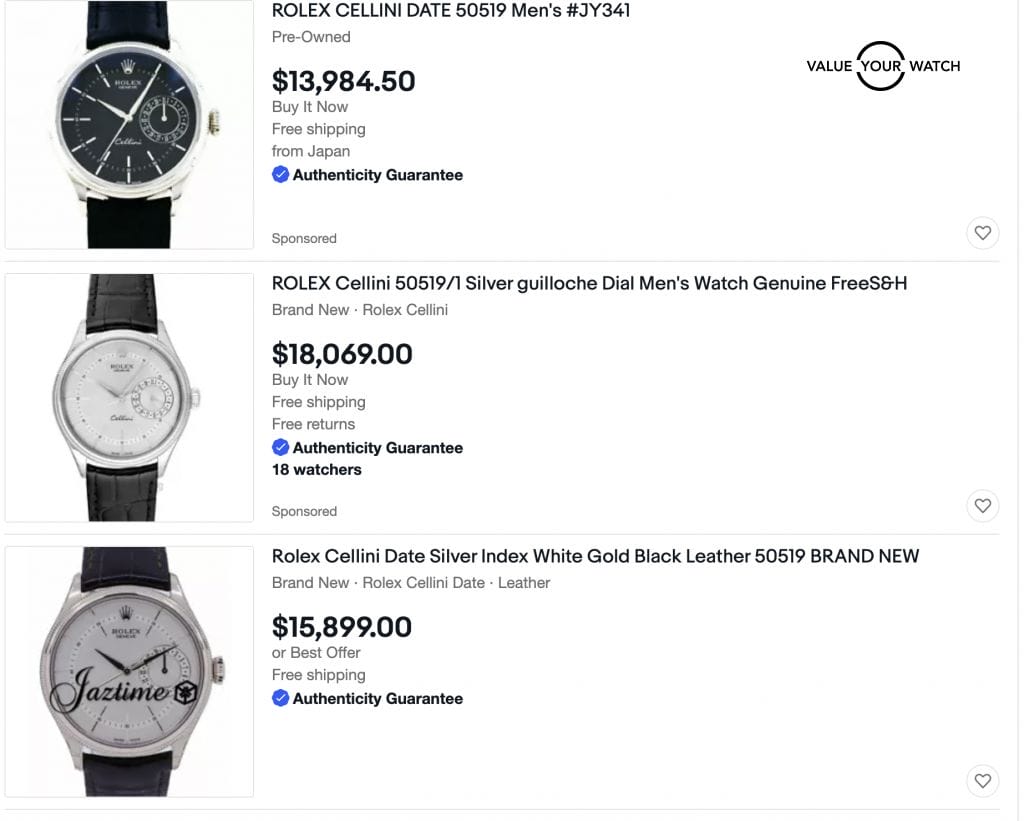 ---
#2 Patek Philippe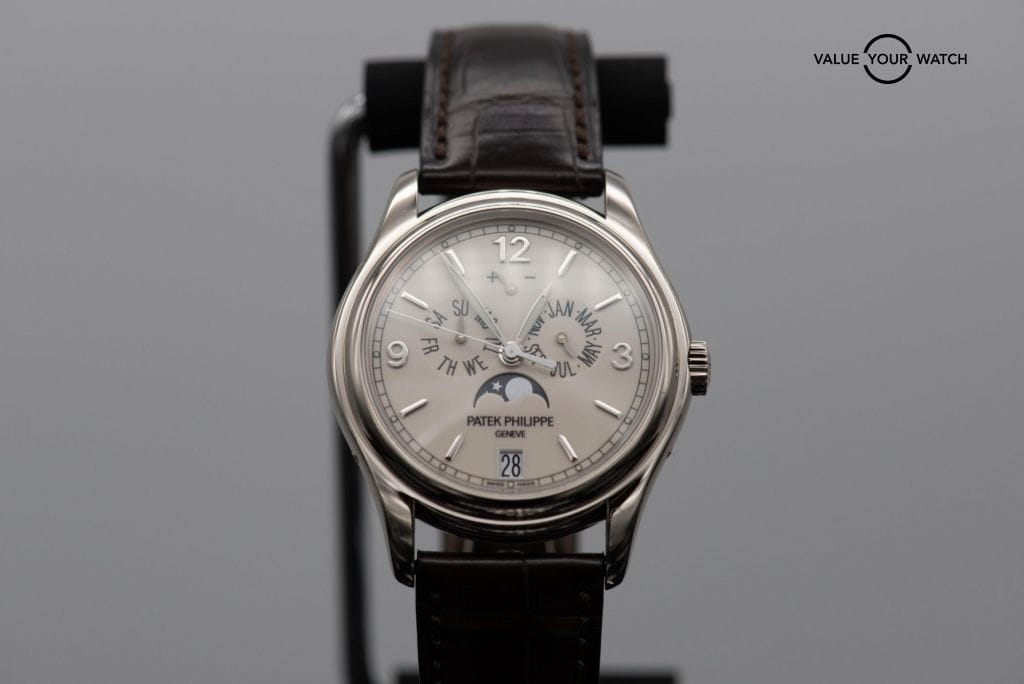 "You never actually own a Patek Philippe. You merely look after it for the next generation." This advertisement from Patek Philippe couldn't be more accurate. As a company in existence since 1839, they have withstood more than many companies can claim. Their timepieces have also withstood the test of time as evidenced by the fact that you can buy a Patek Philippe that is over 150 years old. A favorite among the 1%, I have a friend with a Patek Philippe and he is going to be leaving his timepiece to his son.
The Best Resell Watches From Patek Philippe.
Nautilus Steel Any Dial (5711/1A)
MSRP: $30,620
Resale Value: $100,000+
Nautilus Rose Gold Any Dial (5711/1R)
MSRP: $53,300
Resale Value: $180,000+
Nautilus Perpetual Calendar (5740/1G)
MSRP: $134,840
Resale Value: $310,000+
Nautilus Chronograph, Date, Rose Gold (5981/1R)
MSRP: $96,990
Resale Value: $200,000+
The worst resale watches from Patek Philippe
Calatrava (5277J/G/R)
MSRP: $37,850
Resale Value: $30,000-$35,000
Calatrava (5196J/G/R)
MSRP: $24,600
Resale Value: $20,000-$23,000
Golden Elipse Platinum (5738P)
MSRP: $55,830
Resale Value: $40,000-$50,000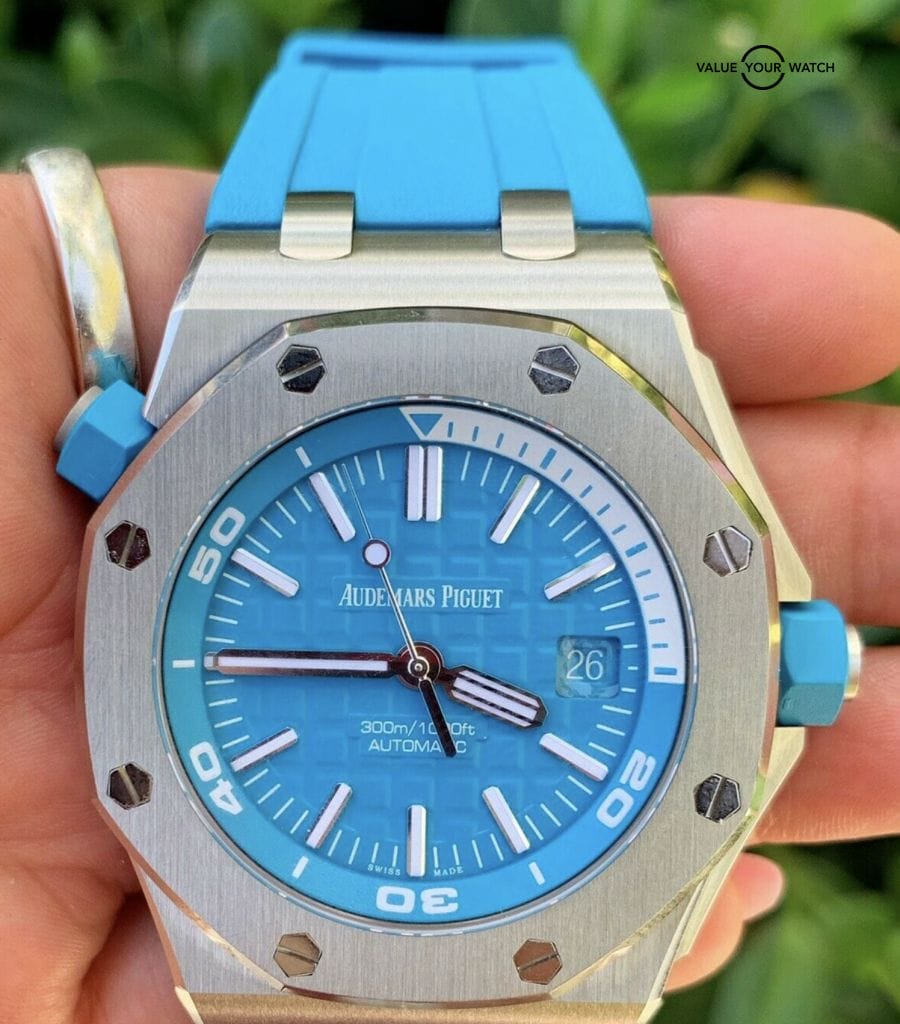 Audemars Piguet is another one of the holy trinity brands. Since 1875, this brand has been manufacturing quality timepieces such as the world's thinnest perpetual calendar in 2019. This is a prestigious brand and is a favorite among both business executives and business owners. These timepieces are well built, comfortable, and hold their value very well, especially the Royal Oak models.
The Best Resell watches from Audemars Piguet.
Royal Oak Selfwinding (15500ST.OO.1220ST.01/02/03)
MSRP: $25,300
Resale Value: $50,000-$55,000
Royal Oak Double Balance Wheel Open Worked Pink Gold (15407OR.OO.1220OR.01)
MSRP: $93,300
Resale Value: $300,000+
Royal Oak Offshore Chonograph Brown/Blue (26470ST.OO.A099CR.01)
MSRP: $33,300
Resale Value: $34,000-$39,000
Royal Oak Offshore Chronograph Blue (26238ST.OO.2000ST.01) New Evolution
MSRP:$43,000
Resale Value: $70,000-$80,000
The worst resale watches from Audemars Piguet
[Re]Master01 (26595SR.OO.A032VE.01)
MSRP: $64,500
Resale Value: $50,000-$60,000
Millenary Frosted Gold Philosophique Both (77266OR.GG.A823CR.01/77266BC.GG.A326CR.01)
MSRP: $35,900
Resale Value: $24,000-$32,000
Code 11.59 Self-Winding ALL
MSRP: $32,600
Resale Value: $27,000-$30,000
The top three recommended brands are premium watches that fetch a premium. If you can manage to get one of those watches new, you will be sitting pretty, however it's rarely the case that buying a new watch will be profitable. Most of the remaining brands would be best buying preowned as they have already depreciated and will hold a stable, if not appreciating value. Fortunately, Value Your Watch has some amazing sellers so you can find that perfect piece to enjoy while maintaining it's value.
Omega is an insane value for the money. They are the second greatest Swiss watch brand by sales dollars. Only Rolex has a higher dollar value switching hands. Omega does not command the same respect as Rolex. It's all a marketing ploy, but pre-owned Omegas are still of huge value. There are some models you can receive a discount from the AD and will put you right in line with the resale value.
The Best Resell watches from Omega
Like most of the watch brands, Omega is trying to have some limited edition watches; people like to be among a few who are going to acquire that luxury timepiece. When I was looking at the resell value of various Omega watches, I noticed that none of the current watches for sale from AD are selling above MSRP. In general, the watches which are selling above MSRP are Limited edition, and they sell fast.
Seamaster 300M White Dial (310.30.42.20.04.001)
MSRP: $5400
Resale Value: $4000-$4400
Speedmaster Professional Hesalite on Bracelet (310.30.42.50.01.001)
MSRP: $6300
Resale Value: $5500-$5900
Speedmaster Dark Side of the Moon "Grey Side of the Moon" (311.93.44.51.99.001)
MSRP: $12,000
Resale Value: $9000-$10,000
Seamaster Planet Ocean 43.5mm White Dial/Orange Bezel (215.30.44.21.04.001)
MSRP: $6500
Resale Value $5500-$6000
---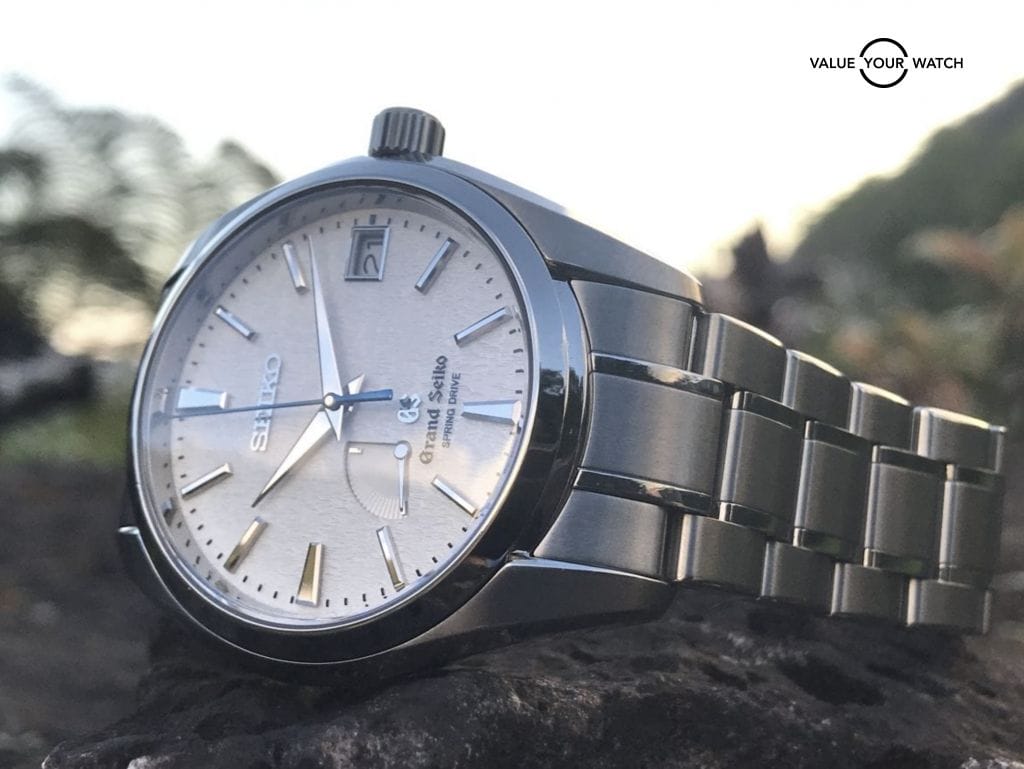 Grand Seiko is the only Japanese watch maker you will find on this list. A special watch making studio created by Seiko to make high end luxury watches, it was founded in 1960. Grand Seiko has become a brand known for build quality of the highest caliber and is ranked in the top 10 watches for value retention. In recent years, a large following is starting to notice the brand.
The Best Resell Watches from Grand Seiko
Heritage Collection "Shunbun" (SBGA413)
MSRP:$6600
Resale Value: $6300-$7000
Heritage Collection 50th Anniversary of Quartz (SBGN009)
MSRP: $3000
Resale Value: $3000-$3300
Elegance Collection "Shokan" (SBGA407)
MSRP: $5800
Resale Value: $5000-$6000
Heritage Collection (SBGA211) "Snowflake"
MSRP: $5800
Resale Value: $4500-$5500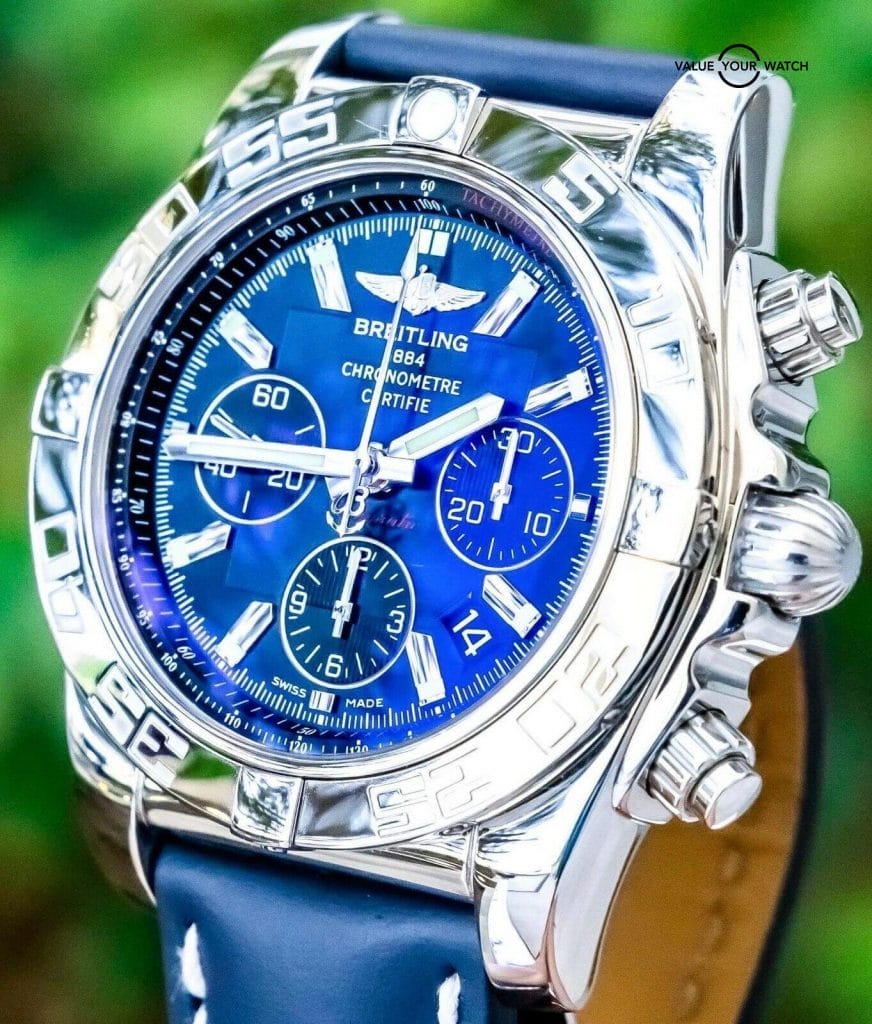 Breitling almost disappeared in the 80s, but a new owner resurrected the brand. Now owned by a capital company, the 40 years leading up to the purchase had some very high quality releases. It was a great era for the brand and many of their pieces are iconic. Recently they started focusing on making movements in house, and the quality shows no signs of slowing up.
The Best Resell watches from Breitling.
Navitimer B01 Chronograph 46 Steel/Red Gold with Black Dial (UB0127211B1P1)
MSRP: $11,500
Resale Value: $9000-$9500
Navitimer B01 Chronograph 46 Steel with Black Dial (AB0127211B1P1)
MSRP: $8750
Resale Value: $6800-$7500
Superocean Heritage B20 Automatic 46 with Black Dial (AB2020121B1A1)
MSRP: $5300
Resale Value: $3300-$4000
Superocean Heritage B01 Chronograph 44 Limited Edition With Green Dial (AB01621A1L1S1)
MSRP: $7900
Resale Value: $13,000+
Chronomat B01 42 with Green Dial (AB0134101L1A1)
MSRP: $8250
Resale Value: $7000+
---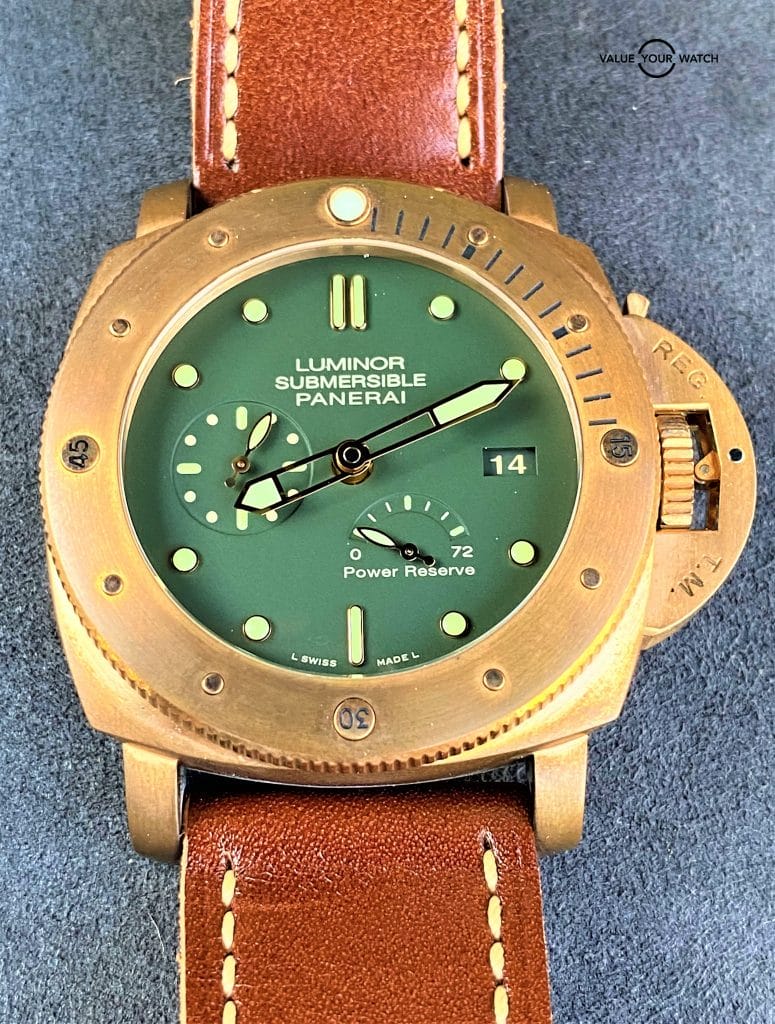 Panerai is the most well known Italian brand. Making watches in Switzerland, there were a few issues over the last few years that damaged the brand's reputation. There is however, no doubt the Panerai brand is unique and from the days of Rolex building watches for them for the Italian Armed Forces to today, there is no mistaking a Panerai. It is an iconic look and the following, "The Paneristi", help this brand hold strong value.
The Best Resell watches from Panerai
Submersible Azzurro (PAM01209)
MSRP: $9800
Resale Value: $10,000-$12,000
Luminor Marina Quaranta both Black Dial and Blue Dial (PAM01270 / PAM01272)
MSRP: $7100
Resale Value: $6400-$7000
Luminor Due GMT Power Reserve 45mm (PAM00944)
MSRP: $11,200
Resale Value: $10,000-$12,000
Radiomir Black Seal Logo 45mm (PAM00754)
MSRP: $5000
Resale Value $4200-$4600
As you can see, the Panerai watches are not the best for resale; except the Panerai Bronzo, which is very popular and very hard to get. There are many actors who wear Panerai, such as Dwayne Johnson, aka "Rock" and Silvestre Stallone. Panerai makes excellent looking watches, and they are hard not to be noticed on your wrist. Personally, I like Panerai watches a lot, but I prefer to buy pre-owned due to the value loss after purchasing a brand new.
Jewelry for royalty and watches fit for a king. Cartier is a master of style and their jewelry set the standard for over 100 years. Cartier has been making wristwatches for over 100 years since Mr. Santos-Dumont, the Brazilian Aviator complained about piloting with a pocket watch. The square bezel Santos and later the Tank (yes, named after an actual tank of war) cemented the Cartier name in fine watchmaking. Currently owned by Reichmont, Cartier is still innovating and officially became a manufacture in 2015 after launching the MC 1904.
The Best Resell Watches from Cartier
Ballon Bleu de Cartier 42mm (WSBB0049)
MSRP: $6850
Resale Value: $6000-$7000
Ronde Solo de Cartier 42mm (WSRN0022)
MSRP: $3800
Resale Value: $3500-$4000
Tank Must (WSTA0040)
MSRP: $3700
Resale Value: $4100-$4400
Hublot is a much hated brand among the old brand fans. Their designs can be over the top and they are not for everyone. Even their classic style is modernized and the materials they use are some of the most advanced in the world. Opening production in 1980, they are also one of only two brands less than 50 years old on this list. This is both a blessing and a curse as being different has earned Hublot fans the world over.
The Best Resell Watches from Hublot
Big Bang Original Steel (301.SX.130.RX)
MSRP: $12,500
Resale Value: $8000-$10,000
Big Bang Unico Red Magic 45mm (411.CF.8513.RX)
MSRP: $26,200
Resale Value: $21,000-$25,000
Big Ban Unico White Ceramic 42mm (441.HX.1171.RX)
MSRP: $19,900
Resale Value: $16,500-$17500
TAG Heuer came about in 1985 after TAG Group purchased a majority stake in Uhrenmanufaktur Heuer, a company founded in 1860. Heuer was famous for leading the way with their chronograph patents in the late 1800s. The main theme of TAG Heuer watches is racing and chronographs, while still producing unique dive watches, the Aquaracer, to fill the gap in the hot dive watch market. The vast majority of TAG Heuer utilizes off the shelf movements from other manufacturers however, and this has caused many watch enthusiasts to overlook this spectacular brand.
The Best Resell Watches from Tag Heuer
Carrera Calibre Heuer 02 42mm Black or Blue (CBN2010.BA0642 / CBN2011.BA0642)
MSRP: $5350
Resale Value: $4300-$4700
Aquaracer Professional 300M Nightdiver Full Lume Dial (WBP201D.FT6197)
MSRP: $3350
Resale Value $2700-$3500
Monaco x Gulf (CAW211RF.FC6401)
MSRP: $6550
Resale Value: $6000-7000
Bell & Ross is the youngest brand in this list and another brand that utilizes a majority off the shelf movements from other manufacturers. The icon of the Bell & Ross line is the square case introduced in 2005. What started out as a university project among two friends, Bell & Ross has become renowned for creating easy to read and military inspired pieces. While originally produced by Sinn, Chanel purchased a minority stake in the company and effectively ended that relationship. Now they are known for being bold and offering some skeletonized and sapphire cased watches.
The Best Resell Watches from Bell & Ross
BR 01 Cyber Skull (BR01-CSK-CE/SRB)
MSRP: $10,900
Resale Value: $10,000-$12,000
BR 03-93 GMT Red/Black (BR0393-BL-ST/SCA)
MSRP: $4200
Resale Value: $3500-$4000
BR 05 Blue Steel (BR05A-BLU-ST/SRB)
MSRP: $4600
Resale Value: $3600-$4100
BR 03-92 Red Radar Ceramic (BR0392-RRDR-CE/SRB)
MSRP: $4300
Resale Value: $3800-$4300
Bell and Ross have a great selection of watches, but you need to decide for yourself if their watches belong to your watch portfolio or if you would like to resell the watch later on. As you can see, the watches do not really hold their value well. That does not mean that you will not like the watch if you purchase directly from the AD. As mentioned before, it would be wise to buy a preowned watch from a reputable seller to help you save money.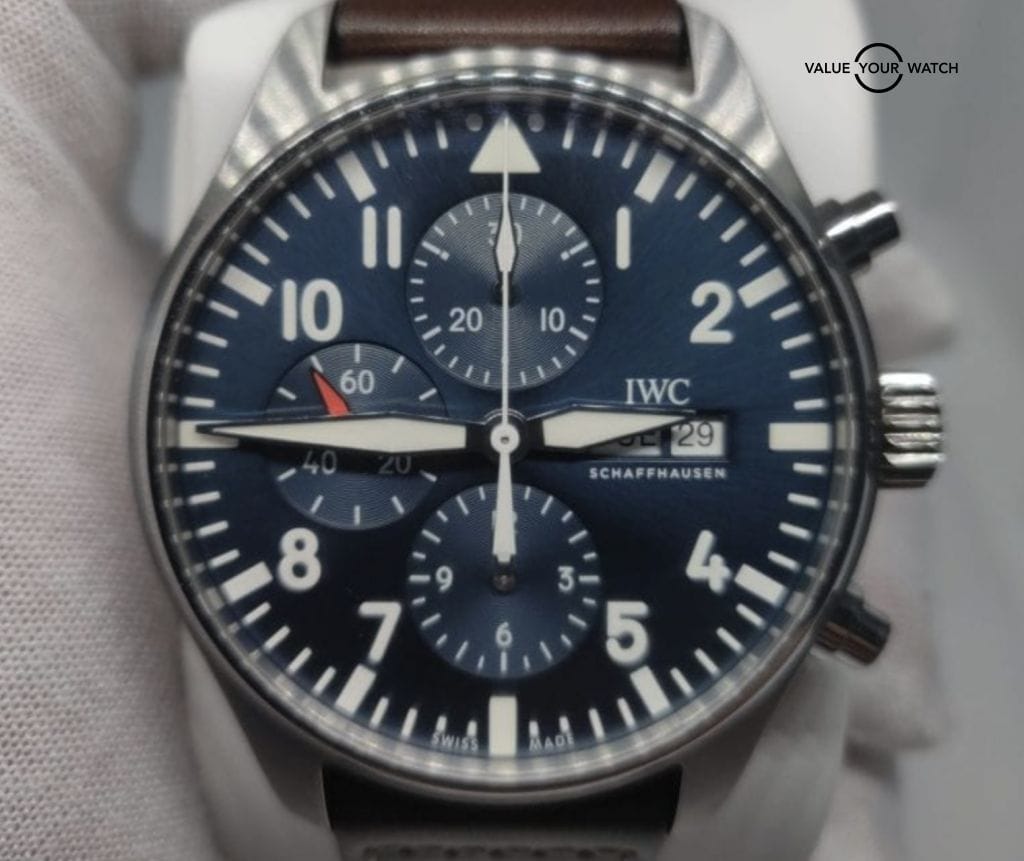 An American in Switzerland is how this brand got their start. Combining American engineering with Swiss craftsmanship was the goal of Florentine Ariosto Jones. Combined with the cheap Swiss labor, mostly people in their homes, Jones wanted to open a factory, but received resistance in French speaking Switzerland. This forced a move to north east Switzerland and Schaffhousen was trying to recover after being left behind in the industrial revolution. He met Moser who built the first hydroelectric power plant in Schaffhousen and the rest is history. Specializing in pilot's watches, IWC has been creating high end timepieces that many collectors enjoy.
The Best Resell Watches for IWC
Big Pilot's Watch 43 Blue (IW329304)
MSRP: $9350
Resale Value: $8000-$9000
Portugieser Chronograph Whit Dial (IW371617)
MSRP: $8900
Resale Value: $8000-$9000
Pilot's Watch Chronograph Edition "AMG" (IW377903)
MSRP: $9100
Resale Value: $10,000-11,000
Conclusion
Buying a watch new from a dealer is almost never a good idea. There are three brands where this will make you money, however you want the initial depreciation to occur to someone else. That is why the last nine brands we always recommend purchasing preowned. With some sound research, and a solid independent watch dealer, you can find the watch of your dreams and not worry about what it's worth years down the line, just in case you need quick funds. There are many websites out there that offer the ability to buy quality preowned timepieces, and if you want to keep up to date on information, just follow our blogs.