If you buy or sell luxury watches online, there's a good chance you've gotten scammed, or at least someone tried to scam you. It's a risk of the business, an occupational hazard – and one that keeps a lot of people out of the game. And, yes, it's happened to me.
Fortunately, I've learned to see the red flags and can usually spot the scammers. More important, I've learned what to do to increase the chance of getting my money back if, God forbid, If I get scammed.
So here it is, your comprehensive guide to dealing with scams, including my hard-earned wisdom on the following:
How not to get scammed when buying watches.
How not to get scammed when selling watches
How to get my money back if I get scammed.
How not do get scammed when buying watches
How not to get scammed when buying watches.
There are so many scams when it comes to online shopping. And trading watches can be like dating. You see an attractive one, fall in love, and ignore the red flags. I've learned it's most crucial to leave my emotions in the closet and use my brain. With every transaction comes more experience and more experience. Now I can see a red flag a mile away.
The things to pay attention to when buying watches:
Where is the watch listed for sale?
Who is the seller?
Are they providing me more pictures?
How they want me to pay for the watch?
Where is the watch listed for sale?
There are many options when it comes to buying watches, and each marketplace, app, website has its risks when it comes to shopping for watches. Perhaps most risky are sites you've never heard of. It doesn't necessarily mean they're bad. It's just important to do your due diligence.
The first thing I do when I shop on a platform I have never been on is to investigate. I search "About Us," FAQ, as well as Google the name and search for reviews of the platform.
Another critical aspect is what payment method you can use. I'll talk more about payment methods later.
Regardless of what platform you use, you can get scammed. Here are a few common grifts to be aware of:
Fake PayPal email (email which states I got paid)
Spoofing emails
Asking for emails
Getting fake tracking numbers
Watch no received
Got a fake watch
Using the word"Kindly."
Will add money for shipping (Who pays more than have to?)
Will pay by check
Will pay by credit union
Given the inherent risks, one way I make sure I don't get scammed is that I get to know the person or the company selling the watch. A friend who is a successful watch dealer says to think of it as if you're buying not the watch, but the seller. Knowing the seller, I minimize the chance of getting scammed.
Who is the seller?
If I see the watch is listed for sale by a person who does not seem 100% trustworthy, I dig deeper. I want to find out as much as I can about the seller before I pull the trigger on the watch.
When purchasing watches from individuals, I Google their name to find profiles on other social media platforms like Facebook, LinkedIn, Instagram. Like most people these days, a seller should have more than one social media account. If they tell me they don't use social media, there's a good chance they're lying.
If the person checks out on social media, I next ask for a phone number to talk or at least text. It once happened that the phone number was for a Google voice and not a personal phone. This raised a yellow flag. Some scammers are using Google Voice; however, not all people are scammers. They might have Google Voice for other reasons, but I'd rather deal with people who don't hide anything.
Still, if the person seems fine over the phone or text, I move to my next step. That's to verify the information by using TruePeopleSearch.com. It's is very accurate, and it's free.
When I'm ready to purchase the watch from the individual seller, and I need more assurance, I ask for a reference. Sometimes, it's hard to get referrals. Often that's because some people are selling their watch for the first and only time. If the person is on social media, I look for mutual friends. That way I could ask the mutual friend if they know the seller to make sure the seller is legit.
When buying from a store or dealer, validating the seller is different. Because someone has an online store, that doesn't mean they are a legit business. It's so easy to build a website and gain fake reviews. The thing I do is Google the business name. If the business is established, I'll see many reviews as well as content created by the site.
I like to see if the store has any Google reviews because it's hard these days to fake reviews on Google. That's because Google requires a store to verify some information before people can review the business on Google.
Once I know that the business seems legit, I try to call the company, or at least to email them and ask specific questions. If I'm still worried the company is a fraud, I can always Google the company and see if its actual company registered with the state.
Will the seller provide me more pictures?
Another legitimacy litmus test involves a picture. If someone buying a watch from me asks for more pictures, I give the buyer what he wants. I expect the same from a seller I'm trying to buy a watch from.
In general, I ask about pictures of the watch with the specific time written on a piece of paper.
Here is an example. "Can I get a picture of the watch with the time set to 6 o'clock next to a piece of paper with today's date and your user name?"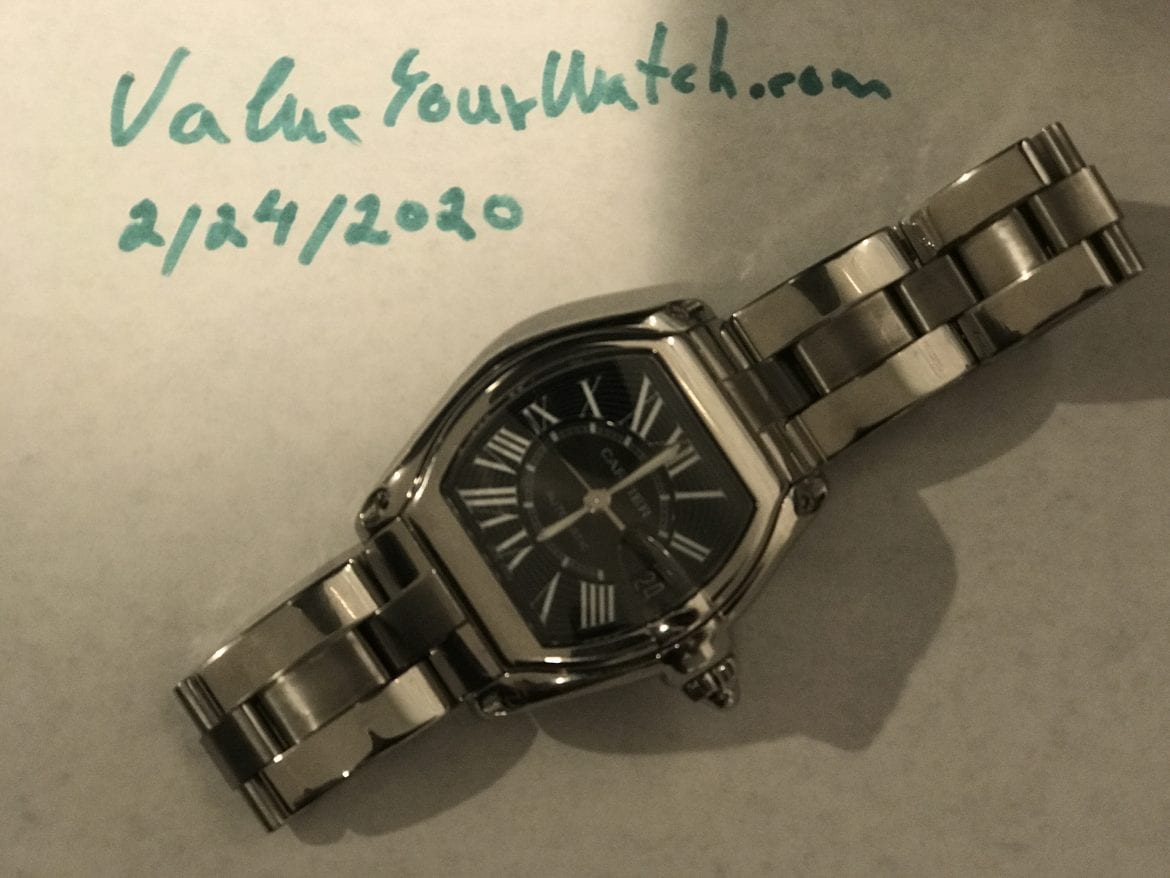 This is a great approach when I am buying watches from individual sellers on eBay, Facebook Groups, Craigslist, and other platforms that let me get in touch with the sellers directly.
When I'm shopping from established stores, and I have done the research about them, I don't need to do this.
How they want me to pay for the watch?
Pressing the button to pay for the watch online can be stressful, not because I might be spending money I've been saving, but because of the chance of getting scammed.
Here's a list of various payment methods accepted by many platforms and individual sellers:
Cash
Wire transfer (or simply wire)
PayPal
Stripe
Zelle
Credit cards
Depending on the method I choose, I make sure I know if there's a chance of getting my money back. For example, when paying by wire, the opportunity to get cash back is slim, unless I act fast, as I discuss below. But many reputable sellers only accept wire because they know that PayPal or Credit Cards side with buyers more often than with the sellers, and they don't want to get scammed.
Here is a blog post I wrote about various payment methods. The 10 best payment methods to sell/buy watches
If the seller wants me to pay only by cash or wire, I will make sure I get to know them as well as I can, making sure they have the watch by asking for more pictures.
Here is an example of an eBay seller who tried to scam me.
I won an auction on eBay from a seller who had some reviews but not necessarily many. The picture of the watch did not look too legit; however, I was paying with PayPal, and I know PayPal will side with me if I don't get the watch. The day after I paid for the watch, I got an email stating that the order was canceled with a note to call this a number. When I called, I was talking to the seller who said that PayPal holds his money so he doesn't want to use it. He wanted me to send my payment by Zelle instead. I offered to pay by wire. He didn't want me to pay by wire because he claimed he got scammed before. That didn't make sense because wire transfer is one of the safest payment methods for sellers. That was the first Red Flag. The second Red Flag rose when I asked for a social media account, and he said he does not use it. Then I asked for references, and he said that he is a well-known jeweler in Beverly hills. I could not find any info online—another Red Flag. I asked for more pictures, and he couldn't provide them-another Red Flag. My gut feeling was telling me that this might be a scam, and I didn't move forward with the deal. A couple of months later, I talked to my friend who told me that the same person scammed him. When your gut tells you not to do it, it's probably right.
Now, that you know how to minimize getting scammed when buying watches online, I'll share tips for the other side of the deal.
How not to get scammed when selling watches
Some people think that selling watches is less stressful than buying, but I think it's more stressful to sell. First, most of the payment methods side with the buyer. Second, I need to put in a lot of work to sell a watch. From taking enticing pictures, to writing a great description, to creating listings on various platforms to even get some exposure: there's a lot of work to do to sell the watch.
Plus, you have to make sure your buyer isn't a crook.
Here's my system to minimize the risk falling victim to a con artist when you're selling watches.
The things to pay attention to when selling watches
Where am I selling this watch?
Who is the buyer?
How are they willing to pay for the watch?
How can I ship safely?
Where am I selling my watches?
Depending on the platform, I make sure that I follow the platform rules to get the protection of the platform if there is any. Some platforms offer an escrow feature. The way it works is that the buyer pays money, and the money is put into escrow. When the watch arrives to the buyer, the funds are released to the seller.
Other platforms offer to inspect the watch before the watch is sent to the buyer. This is great for sellers. However, the fees are high and it cut into margins. Also, the customer who bought the watch from me is not my customer; all the data stays with the platforms such as StockX.
Other platforms, such as Facebook Marketplace or Instagram, don't offer any protection, but you can get many great buyers from the platforms. Many people are looking good deals. And you can connect with the buyers directly — and get information about the buyers fast.
If I'm selling watches on Facebook or Instagram, I can dictate what payment method I accept as well as what information I need from the buyers. They key is to make sure that the buyers will trust me and close a deal before they move to look on another platform.
Who is the buyer of my luxury watch
The steps of vetting the buyer is similar vetting a seller. I like to get to know my buyers at least by talking to them over the phone or connecting on social media.
If the buyer is willing to pay me by wire, I feel comfortable because the chance of losing the money is smaller. But another risk arises: there's a chance that someone might be laundering money. That's why I like to know who I am selling the watch to.
Also, by getting to know the buyer, I am creating a relationship for the future. Selling watches is about trust, and knowing my customers helps me to focus on customer service.
How are they willing to pay for the watch?
The preferred method of payment for watches is wire because, as a seller, I have more to lose than the buyer. If the watch value is less than $3,000, I'm willing to accept PayPal and ship to only verified addresses. But the buyer needs to have references.
Some people want to pay only with a credit card. The challenge is to know if the buyer is legitimate and will not dispute the charge. For example, Stripe offers a shield that analyzes the risk of the transaction. If the risk is low, I don't mind accepting the payment. The issue I have with PayPal or Stripe is they don't refund the fees if the person isn't satisfied with the watch. If someone pays me $3,000 I have to pay a fee around 2.9%, or $87, if they send the watch back.
The way around it is to let the buyer know that there's a restocking fee. I like to add to my disclosure that I do not accept returns; however, certain circumstances need different handling.
If the buyer isn't willing to accept the type of payment I'm offering, I am ready to forfeit the deal with them. I would rather be safe than sorry. Just as you don't want to fall in love with a watch, don't fall in love with a buyer. Put your emotions in the freezer.
Shipping safely
One thing I've found is some scammers want me to ship the same day they pay me. The best defense is to wait one day and send the following day. By controlling the shipping, I have the power to route the package back to me if something seems wrong.
I am not talking about shipping with USPS, but FedEx or UPS. Here is a great blog post on "How to ship watches fast and safe."(need to link it)
Got scammed: How to get my money back
Getting money back can be much easier if I'm the buyer. If I'm the seller, the chance of me getting my money back is a bit more challenging.
Getting scammed when buying watches and getting my money back.
As I mentioned before, there are many payments available for buyers on various platforms.
If I got scammed buying a watch, by using credit card, PayPal, or Stripe, I could take these steps.
After talking to several banks, the way you can dispute the transaction is to call my bank and let them know about the fraud charge. When I report the transaction, they start investigating, and provisionary the bank put the money back to the account. When the investigation is finished, they inform me by mail that the investigation is over in my favor.
When paying with PayPal, I can make a dispute up to 180 days from the transaction date. From personal experience, when I want to make a dispute, I have to let PayPal know that the transaction was fraudulent. I have the option to let the seller know. If they don't agree, I can continue with the dispute, and I should be able to get the money back. If PayPal does not want to help, I contact my credit card company, which takes care of it.
When paying with cash, the chance of getting the money back is slim to none unless I know the buyer or I documented the transactions from obtaining a valid driver's license that matches a utility bill. To be honest, it's still hard to get the money back if people don't cooperate.
If someone asks for Wire, and you see the money, there is a slight chance of getting the money back by going to the bank and reporting a wire fraud. If you notify your bank of a scam the same day you sent the wire, there's a chance you can get it recalled or the account it went into frozen. If it's the next day the best you can hope for is that they freeze the funds before they are withdrawn. You need to go into your bank's branch in person and say you got scammed and that that you were defrauded into wiring the money. Your bank will work with the bank you sent the money to to sort out the wire. Both banks will want to at least put the funds on hold until the matter is sorted out because neither of them wants to take a loss. When you use the word "fraud" banks immediately hear "loss" and want to help.
Penalties for Wire Fraud
Persons who are found guilty of wire fraud under federal law face the following penalties:
Fines up to $250,000 for individuals
Fines up to $500,000 for organizations
Imprisonment of not more than 20 years
Getting scammed when selling watches and getting my money back.
When someone is trying to scam me when I sell them my watches, I have to jump through many hoops because the payment methods are in favor of buyers.
If there's a credit card dispute, the bank needs a supportive document to show that the transaction happened. For example, send copies of the emails, text messages that the buyer wanted the watch. Also, show the proof of delivery of the watch by a tracking number.
Unfortunately, for sellers of watches, the chance they get scammed is much greater than for the buyers. One way to mitigate your risk is through liability insurance.
Professional Liability Insurance
If you get scammed here are some resources
This whole blog post should be able to help people deal with a variety of possible scams. There are so many scammers these days online. It is essential to know the risks associated with buying as well as selling watches online. I hope this was helpful and you will never get scammed.
Remember: emotions belong in the freezer.
Getting scammed buying or selling watches is not uncommon in today's environment. The key is to limit the possibility of getting scammed.