Starting a luxury watch business online has never been easier. There might be several reasons why you would want to start selling watches online on your own. Maybe you are looking to sell watches that are not getting enough wrist time, or you are bored with them. Or you might have friends who have watches and need your help to sell them because you are the to-go guy or gal for them when it comes to getting new timepieces.
There are many reasons why you might want to start selling watches online. The challenge is, where and how should I start? Where do I get the most control of my online store and won't have to spend a lot of money to start?
Before you start your online business, you need to ask yourself, who is my ideal client? Do I sell watches to just anybody, or do I have a niche group of people? When you know the answer, you can start planning.
How To Start a Luxury Watch Business Online
Costs Associated with opening an Online Watch Store
When you know the different costs associated with having your website, you will then be able to choose the right type of online watch store for your needs. These costs are the minimum costs associated with the site. However, you will get some idea about the costs of having your site.
Domain Name ($15 per year)
A domain name is the name of your website. If you are looking to get a more in-demand name, the cost is much higher.
Here is the list of places you can search and register your domain.
Hosting (starting $25/month)
Hosting services allows your website to be online. It will allow your watch store to be part of the WWW (World Wide Web). There are many different website hosting companies. Some are inexpensive like $5 per month. However, the service is not worth the price. Below are the ones which have quick and excellent customer service.
Custom Website Design (Starting $500+)
You can get a simple custom website set up for $500. However, the more complicated the site is, the more expensive it is. It can be much more than $2,000 for a site. The price depends on how many pages you want as well as functionality. The best bet is to hire a programmer who comes recommended. You can also search for your own programmer at one of the sites below.
Using Third-Party Software To build a website ($25 per month)
Having third party software to help you build your website is a very reasonable way to accomplish that. You don't have to be spending thousands of dollars on getting the site developed. It's fast, and the start-up cost is very reasonable. However, this approach has one big caveat. The ongoing cost of having a site on these platforms can get more expensive over time as you need more capabilities for your site.
Using an established watch marketplace (Can Start for Free)
Other alternatives to having your own store and keeping the overhead very low are to use someone else's marketplace.
There are many watch marketplaces online where you can list your watches for sale. Some of them don't charge you fees and give you full control over the online store; others put a limitation on what you can do.
eBay
Chrono24
Value Your Watch
When you are choosing the marketplace, you need to look at various factors such as: how it's going to benefit your goals in the long run; Do I have full control of what I can or cannot do with my potential clients? Can I reach out to them directly? Is customer service available most of the time?
The Characteristics of an Online Watch Store
When you choose the type of online store you would like to build, it is essential to know what your end goal is. The reason for knowing what your end goal is, is to know if it's worth it for you to spend thousands of dollars on developing the website, hiring a professional photographer to take pictures of your watches, and realize that it's not necessary to have a full-blown website. In the end, each watch store has very similar characteristics; that's because that is what makes them successful.
Easy to navigate website
Customers Review on the website
Great customer service
Online reviews (Google Reviews)
Different ways to pay for the watches
When you look at the most popular websites, you will notice that many of them have similar characteristics.
Increasing your Online reputation as a Watch Store
When you create an online store, you want people to trust you. There are certain steps you can take to create a better online reputation by doing these things.
Google My Business
Having a validated business with google helps in many ways. You will get extra points from google if someone is searching for your store and you can get actual reviews from your clients posted online on the most powerful search engine.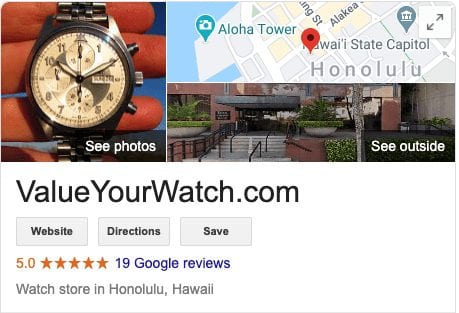 Social Media Accounts (Facebook, Instagram, YouTube, TickTock, Medium, LinkedIn)
Creating social media accounts is free and many people like to visit those sites as well. Why not to make it easier for them to find out store on those platforms as well.
By creating all those free accounts online, you will be able to capture many more potential watch buyers. It will take you less than a couple of hours to create the accounts and get going.
Now, the question is, which account should I focus my energy on? The answer is simple. What are you good at? Are you good in front of the video camera? Then create youtube videos. Are you good at writing? Write articles for LinkedIn and Medium. There are many options when it comes to sharing online content.
Different ways to pay for the watches
Choosing the best payment method for your online watch store is very important. You don't want to offer the types where scams happen frequently.
The safest way to accept money is by direct wire, but some people still like to pay with credit cards only. Many options can be part of your websites, such as PayPal or Stripe.
Unfortunately, PayPal is well known for having buyers take advantage of the 180 days return policy and scamming the seller. Just something to think about.
Which site should I build?
Having your site to sell watches online is already a significant step towards reaching out to your customers. To be honest, I don't think there is a massive difference between the look of custom made or a DIY software website. The end results are very identical.
Choose what is right for you. I don't know what kind of budget or timeframe you have but by understanding your customers, you will be able to get the right watch site.
Having your website is excellent, but without having visitors to see the watches you are selling, your business will not survive.
Getting Traffic to Your Online Watch Store
Like any business, you need people to see the watches you are offering. If you have your own websites, you will need to create a lot of content, which will cost a lot of time or a lot of money. Plus, the results are not visible the next day, but in months at the earliest.
If you are trying to become the most known watch shop online, you should be creating your own content. By creating your own content, you will become an authority in the watch space. This road is hard and long but pays the most benefits.
The great alternative of having your online store is to use some of the watch marketplaces. They work on bringing more eyeballs to see your watch stores, and the cost of having the store there is much less expensive than having your own website.
Conclusion
Starting your own online watch business can be very rewarding. Helping people to enjoy luxury timepieces is a great feeling. The key is to understand the different costs associated with building websites such as domain name, hosting service, building the website, and much more.
If you know how to get enough customers to your store, you get much closer to becoming successful. The hardest thing is to get people to see the watches you are selling. The alternatives are to use someone else's marketplace to sell watches because they do all the heavy lifting for you.