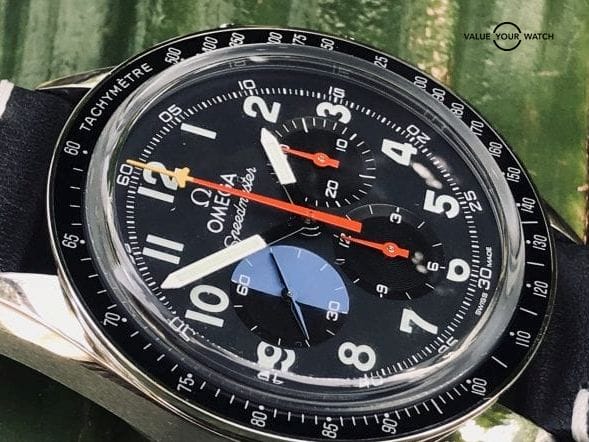 Nobody likes to spend extra money that they do not have to. The same rings true when you are searching for luxury goods. Online luxury marketplaces are coming into their own now, making it easier than ever to purchase those goods, including luxury watches.
Buying watches online can be an expensive hobby if you let it. Even if you are simply looking for that one special piece, there is always merit in getting what you want for the best possible price. Fortunately we are going to show you some of the many ways you can increase your chances of saving money when that time finally comes.
How to Save Money When Buying Luxury Watches Online
Become an educated buyer of luxury watches
Explore pre-owned watches over new
Know where you can buy luxury watches online
Major platforms with zero fees
Understanding listings to find current values
Look for a reputable seller
Developing relationships with sellers
Learn how to negotiate effectively
The more time you spend studying horology, watch brands, timepieces you like, and how the sales process works, the easier it will be to save your hard-earned money when you finally make that perfect purchase. Knowing what you want, and what to look for is one of the key ingredients to a deal that benefits you in the best way possible. Fortunately there is an abundance of resources available to you for your new education in online watch purchasing.
Exploring Pre-owned Watches Over New
Were you aware that high quality luxury watches have the ability to hold their value for quite some time? Many of the most in demand pieces will actually appreciate over time. If you find the right watch, you will actually earn money while wearing a beautiful piece of engineering on your wrist. I'm not going to say there is no merit to buying a watch brand new, in fact, Rolex sport watches would be far better to purchase new from a Rolex Authorized Dealer.
These watches are in high demand, and with a limited supply of them, the pre-owned market is very inflated. You would be in a better place if you were somehow able to purchase one new from your dealer. This however is rarely the case.
The vast majority of luxury brands have a significant depreciation curve such as Breitling, Omega, Panerai, and Hublot, etc. Fortunately, almost every brand has watches you can buy for pennies on the dollar when purchasing pre-owned over new.
Know Where You Can Buy Luxury Watches Online
Now that you are ready to begin the great hunt, it's time to figure out where to hunt. There are several various options for you to explore, each with its own pros and cons. Finding which option is best for you is yet another key ingredient for your savings buffet. A simple online search will reveal the four biggest marketplaces are:
Chrono24
Crown and Caliber
WatchBox
Value Your Watch
While these are by far the most significant marketplaces, there are others that are definitely worth the visit. The former list is fairly watch exclusive, while the latter also includes many other products as well.
eBay
StockX
The RealReal
1stDibs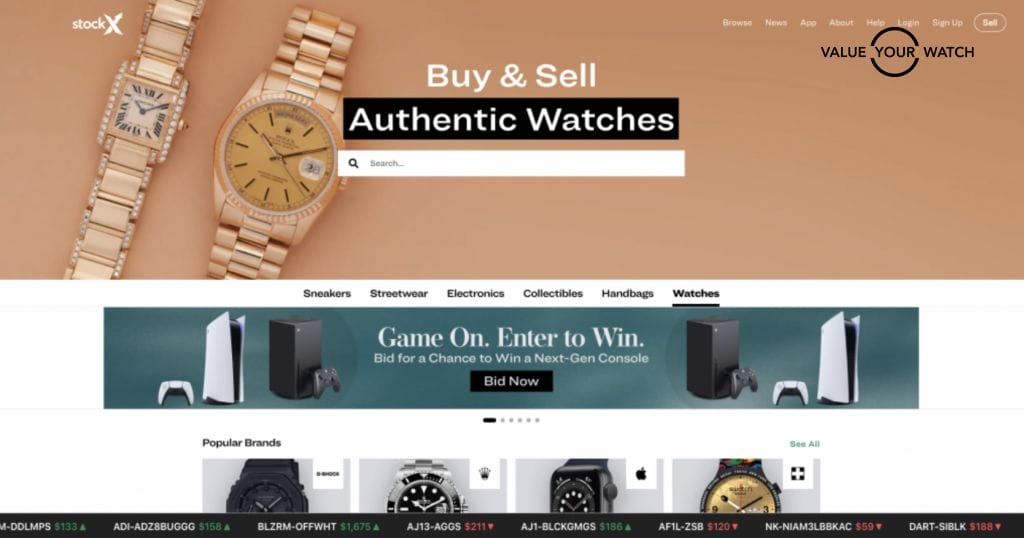 Buyers of luxury watches should educate themselves on the fees involved in the different platforms. This will help you get the maximum value out of your time. One of the bigger platforms has a 6.5% fee to the seller. This simple fact is pretty much an automatic discount if you know how to properly engage in the deal, and purchase the watch direct and off the platform. Their only other option is to list on a fee-free platform. We all know how expensive watches can get, and these fees have the ability to make significant dents in pockets.
Major Platforms with Zero Fees
As we have discussed before, there is usually a fee for sellers on most marketplaces. These fees can range anywhere from 3% to in excess of 15% depending on if the seller has paid for a specific store package on said marketplace.
If we were to look at the massive platform from our previous example, the fees can add up quickly. If it is a $10,000 Rolex you are looking for, the fee for the seller would be $650.00. That platform also has to collect sales tax from you. If you are in California, that 7.25% means you pay $725.00. If you live in New York City, it's even higher at 8.875% for out of state sellers. This would be a massive $887.50 just in taxes.
This $10,000 Rolex could end up with $1538.50 just in excess fees that could have been avoided utilizing other means. With this information, doesn't it make sense for the seller to offer you a better deal directly. In addition to saving him some money, you will be able to legally avoid paying taxes. Remember, it's the law for most of these marketplaces to charge sales tax to the buyer, however in many cases you don't have to pay tax when buying out of state directly.
[bt_cc id="11523704″]
Fee-free Platforms
Facebook: Facebook Marketplace is massive, with millions of people browsing every single day. Almost anything can be sold on the platform, and Facebook doesn't charge anyone to use the service. You are able to contact your seller and negotiate a deal that makes both parties comfortable. There are millions of items for sale from any category, and watches are a huge market on there.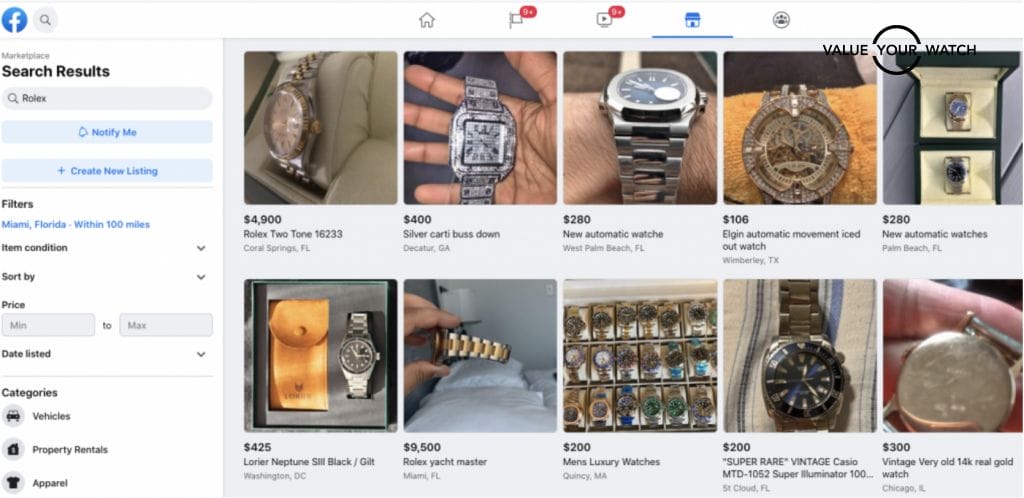 Craigslist: Craigslist is one of the original local private p2p marketplaces. Its user base is massive and once again there are millions of items for sale at any time. Depending on the location, some places are better for watches than others as the platform is more locally focused. Some of you will have zero problems finding that must-have piece, while others may have to stretch to find what they are looking for. Just as on Facebook, Craigslist is free for both buyer and seller, and you are able to conduct business however the two parties decide.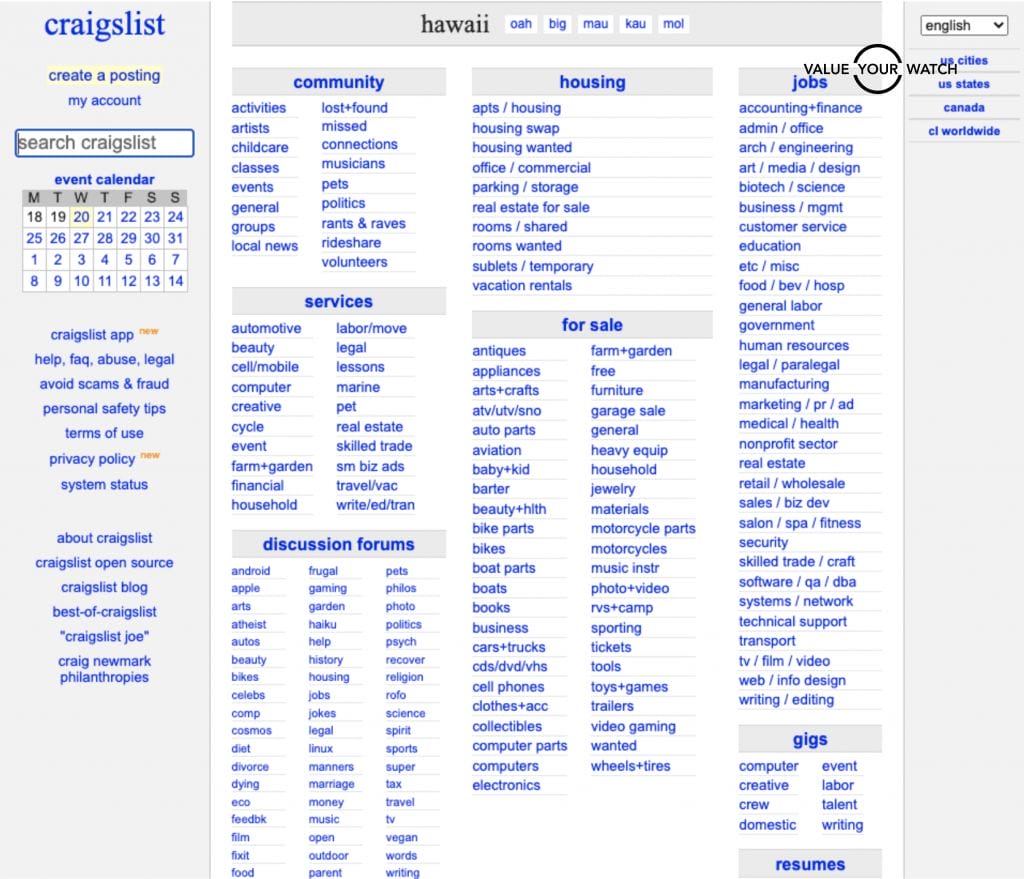 Value Your Watch: Unlike the previous websites, the Value Your Watch marketplace is a dedicated watch platform. There are no fees for buyers or sellers, and it is encouraged to reach out to the seller and come to a mutually beneficial agreement. There is no masking of seller information, and since there are no fees, Value Your Watch doesn't try to force you to make the deal through them. However with Stripe and banking integration, it can be as easy as clicking the "Add to cart" button if you so choose.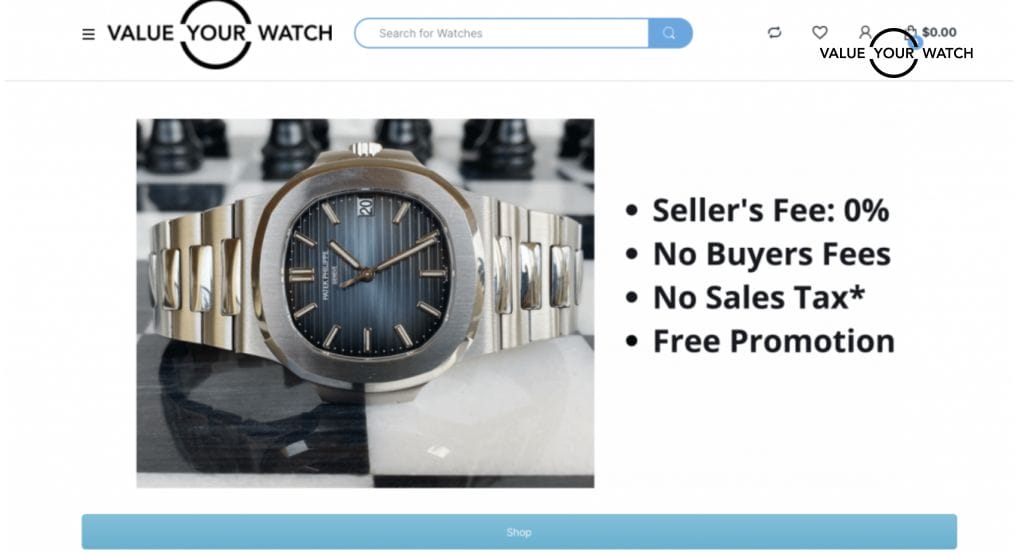 Now that you have educated yourself with the different platforms, it's time to research some pricing information, so you can approach the seller with a solid, well informed deal.
Understanding Listings to Find Current Value
Understanding the current market for the piece you want to buy will help you get the right watch at the right price. Pricing can be one of the most mind-boggling parts of your search. Fortunately a little bit of research can help you, and this research just requires you to search the different marketplaces.
Here is a wonderful guide to market value.
Buying a watch isn't even close to buying that favorite shirt from your favorite retailer. You already know that that shirt is pretty much always going to be $40.00, but what about a watch?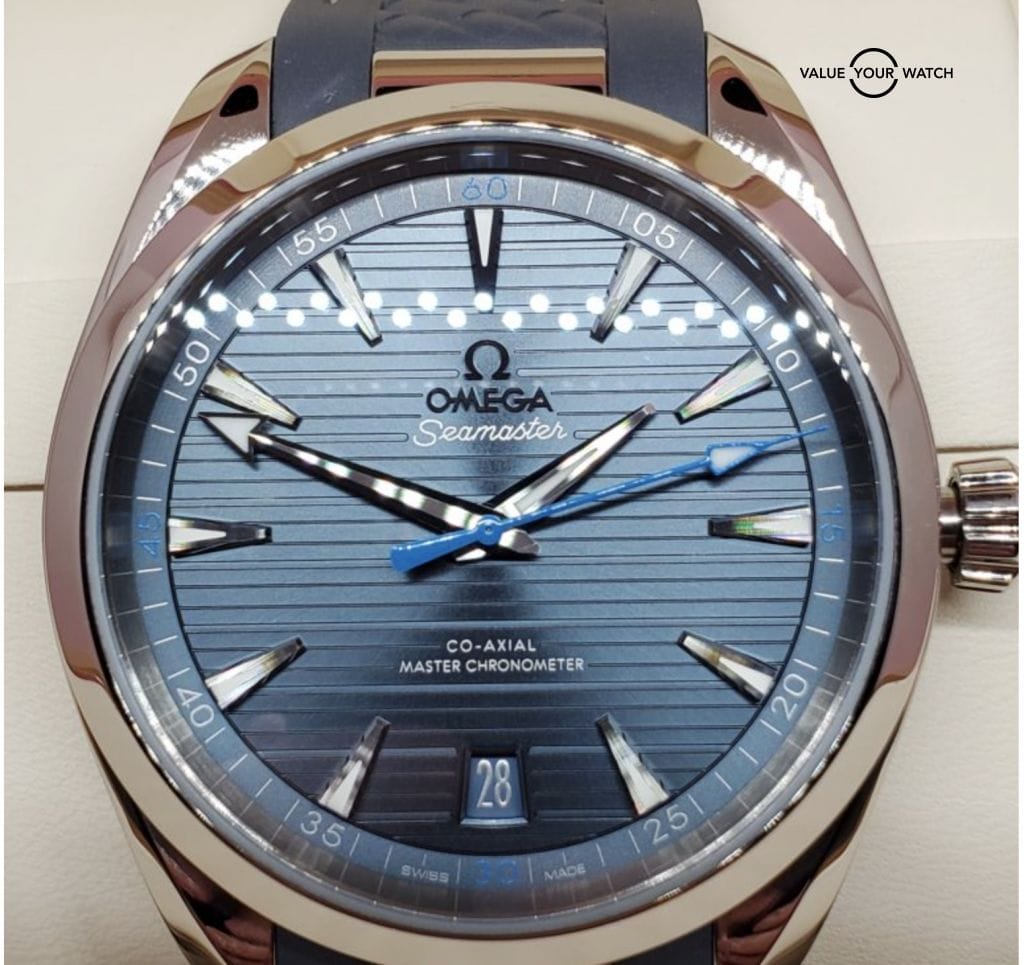 The luxury watch market will fluctuate based on any number of factors, not limited to economic factors, supply and demand, brand initiatives, and current events such as a celebrity wearing one.
Knowing and watching current pricing will help you determine if the deal you are getting is the right one. The good news is, you are able to shorten some of the research by utilizing a couple tools known as scrapers.
They will do much of the searching for you. They gather the listings from the most popular forums and websites so you can cut out much of the point and click.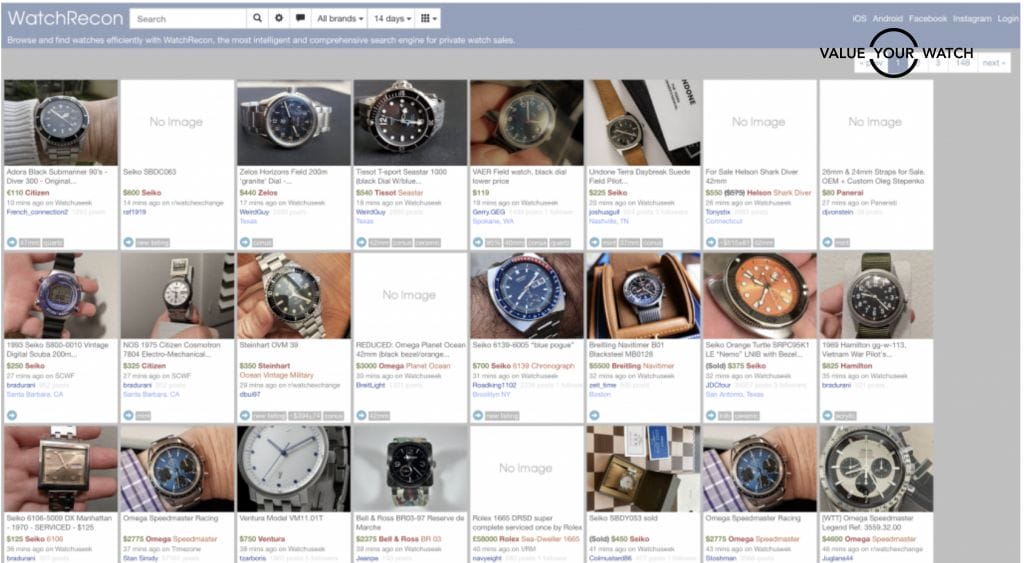 Here you can try them out for yourself
These sites are all easy to use.
People that have been in the business for an extended period of time, have been able to do so because they understand the value of doing the job right. These are the sellers that do their due diligence when evaluating a piece they will sell, ensuring the watch is authentic and making sure the listings are accurate.
When dealing with these seller's you will have a real nice feel for what to expect. Dealing with excellent sellers on platforms without fees gives you the best chance to save a decent chunk of change on your purchase. This type of seller will have competitive pricing combined with consumer-friendly policies. These sellers know that a happy customer is a repeat customer, and will refer others to them in the future. Some of the ways to identify one of these people include:
Good ratings
Search the seller's name
Search the business name
Check the BBB, Google, Yelp, and other review sites
Ask for references
Pay attention to the seller's response to you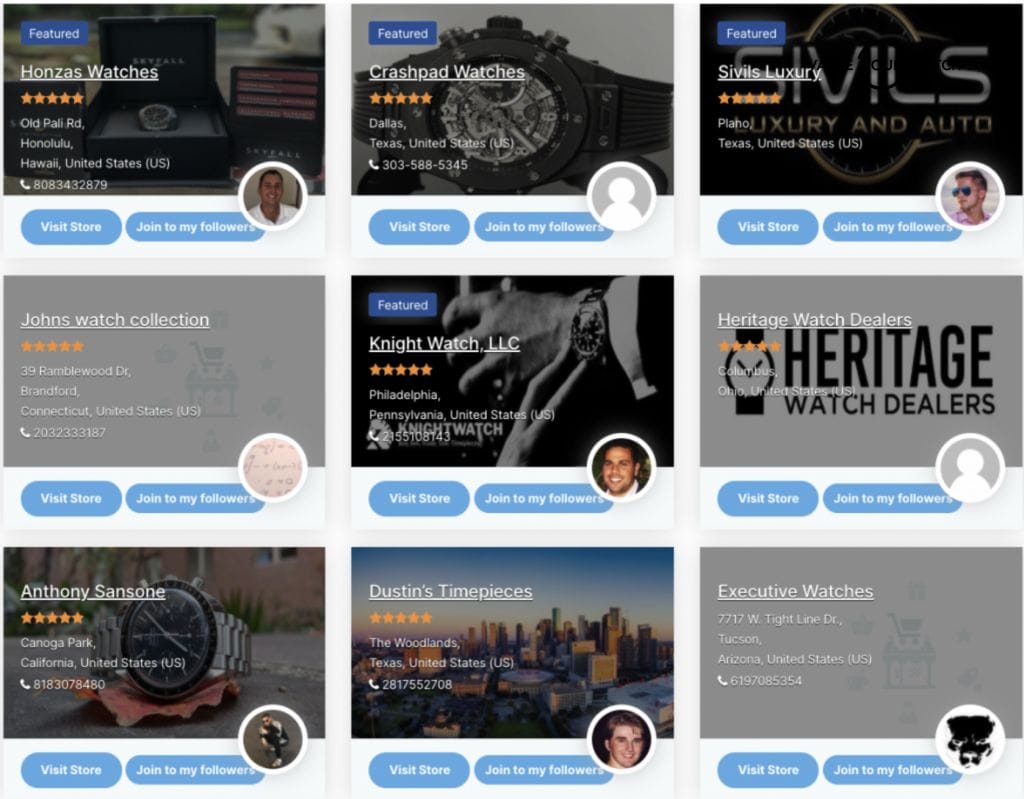 Developing Relationships with Sellers
If you are a repeat customer, many sellers will actually be excited to make a deal with you. They will have the tools to help you since they already have an idea of what you enjoy. This could lead you to finding out about watches you might not have seen before. If you're looking for a Tag Heuer, he may suggest that perfect Omega. Sure you may have heard about the brand, but your knowledge of them was quite limited. He has the knowledge for you. By exposing you to the brand even more, you may find out that the watch you wanted is not the watch you need. Just having a relationship with a reputable seller can open you up to some of the best deals out there on the watch that's truly right for you.
Developing Relationships with Watchmakers
Along the same lines of building a relationship with a respected seller, do what you can to build a relationship with a respected watchmaker. Many of you shouldn't have to worry about this step, but it can be important if you are/become an avid collector. One thing that's almost guaranteed is your watch will need a service at some point. Servicing your watch can be quite expensive. One way to help with those expenses would be to find a well-established watchmaker and build a relationship with them. Chances are there will be someone local to you, but if that's not an option, there are plenty of good guys in the country that will accept a FedEx package and ship it right back to you when finished. The biggest advantage of finding a local watchmaker is the savings of not only money, but time. By avoiding shipping to official service centers, which many are in Switzerland, you will save days if not weeks on the service. Not only will the local watchmaker understand your particular needs better, but they can also become a valuable resource and confidant when purchasing a watch online. A high quality watchmaker will also open you up to new avenues of deals. With him by your side, you will be able to purchase a watch in need of repair, for rock bottom prices, and have him fix it up almost to new. It could be possible to get a high quality watch for a fraction of the cost.
Learn how to Negotiate Effectively
The art of negotiation does not come naturally to many, arguably very few people are natural negotiators. It is a learned skill. When everything lines up, and you are ready to approach the seller, we have a few tips to help you succeed in your goal.
Wait until you are ready to close to negotiate with the seller. This may seem counterintuitive, but many people come to the seller with the questions, "What's your best price?", or "How low can you go?". Chances are the answer to this question is going to be the list price. In the beginning the seller has no rapport with you, the buyer. You need to be prepared to close, since those that are not will be felt out in the conversation. You don't always want to go straight to the price. You want the seller to feel good about dealing with you, and you want to have all of your questions cleared up before price is brought into the equation. Once again, make sure you are ready to close, even though you aren't even negotiating yet. A seller can tell if you are just kicking tires or are serious about purchasing.
Highlight any issues the watch may have. If you've started correctly, your discussions with the seller may reveal something isn't perfect with the watch. The watch may be running out of specs, it may need a service, it may need a simple polish. It's ok to ask the seller for a discount proportionate to the issue, but be specific, and be realistic. You probably won't be getting the seller down an additional $1500.00, but depending on the model, $500-$800 is not unrealistic.
Compare this listings to other ones. We are not talking about comparing an Omega to a Breitling, or a Rolex to an Audemars Piguet, but if you find a watch that is the same model, in similar condition, at a better price, you can use this for your negotiations. This can also apply to similar, almost equal models as well, for example a Superocean Heritage vs. Superocean Heritage II. This later isn't always a good idea, so be smart when doing this.
Give the seller an offer. As stated before, negotiation is not asking what his lowest price is. This is also not a simple number thrown out hoping they will accept. You are going to pitch your
price in an educated manor. If your offer is fair, it could be done right then and there. Deal finished, the watch is sold. If your offer is too low, but educated and legitimate, this will open the seller up to a quality negotiation. He will give you a counter offer that might work for both of
you. If his offer is too high, try something in between. If you are confident and reasonable in your offer, the seller will have no problem discussing the price with you.
Be prepared to walk away. You want the right watch, but you don't want to waste your money. Luxury goods in general are often an emotional purchase. This can cause you to spend more than you wanted. Just remember that emotional purchases are rarely ever financially sound. If you aren't getting a good deal, respectfully let the seller know that you appreciate his time, but have to look elsewhere. The worst thing that can happen is you miss out this time. If it's not an exceptionally rare timepiece, create an alert on some of the resources you now have in your arsenal. When the model is posted for sale again, you will have first eyes on it immediately. You may get lucky, however, and the seller may realize that you are at or near your max on this piece.
In an unlikely scenario, he make take you last offer. The most likely scenario is that he offers to get closer to your offer, just enough where it would make sense for you to buy. If you have done your part of the job properly and built that relationship, a third scenario may come up. The deal might not have worked out on this piece, but there maybe another piece he either has in inventory, or can get for you quickly. It may be the same watch for a lower price for various reasons, or a similar but just as beautiful piece that would make financial sense to the both of you.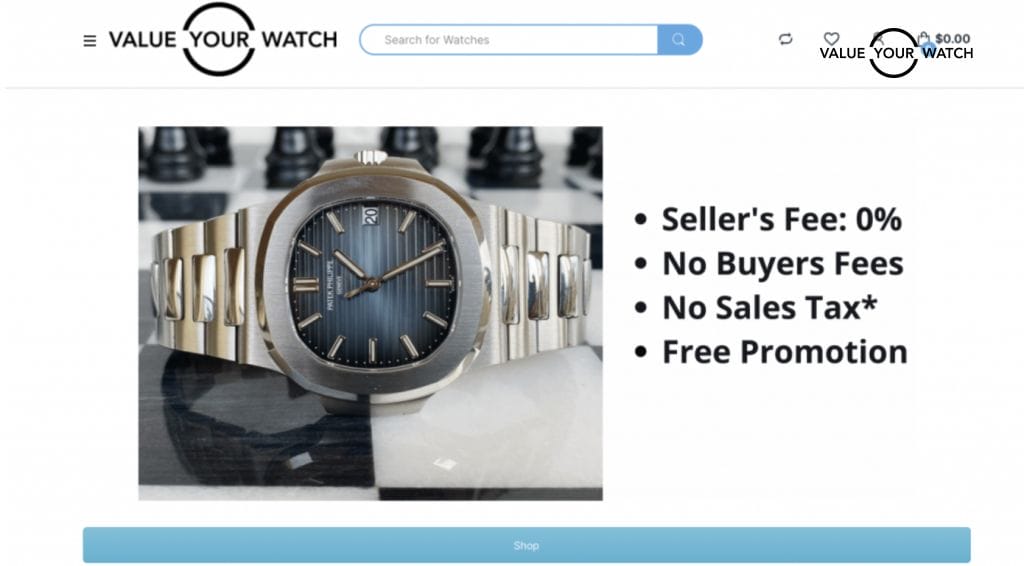 Value Your Marketplace is a leading, cutting edge marketplace. As stated many times before, there are no fees. This allows sellers to pass the savings on to you. This marketplace model leads to quality competition, so pricing is more aggressive which naturally benefits the buyer as well. The website is fully transparent, and highlights the sellers ratings. You control who you deal with and how you deal with them. We don't hide their information from you like some platforms who are after their fees. This enables you to deal with reputable sellers as quickly as possible. Head over to the market and you will be buying quality watches for less in no time .